Congratulations to the Winners of Dave Farrar's Book Giveaway!
My blog contest awarding three copies of Dave Farrar's book "The Perfect Punter" has ended! Congratulations to the three winners who will get notified by email about how to get hold of their prizes!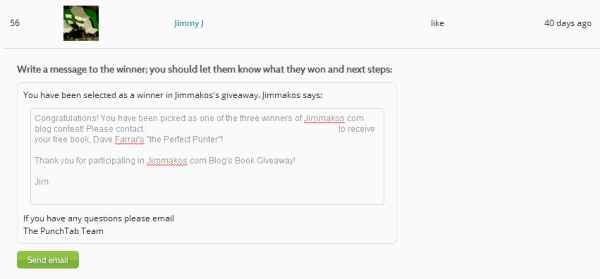 The book giveaway began 40 days ago and 3 winners were picked among 70 entries randomly by Punchtab.com itself. I was worried about how to pick the winners but fortunately the website offers as many random picks as you wish, if you happen to host your giveaway with them. So, clicking three times the "pick a winner for me" button got the job done without any hassle. You also have the option to contact the winners immediately after picking and you get the message along with their email addresses in your inbox as well for follow-up. I will surely use Punchtab for my future blog contests. In the meantime check your inbox and if you have been contacted by Punchtab on behalf of Jimmakos.com, enjoy your new book!