Betting odds analysis of rivalry games at Oklahoma, Michigan
The opening moneyline of sportsbooks rarely stay steady. Punters make sure they prove them wrong and that is the case in these two NCAAF games.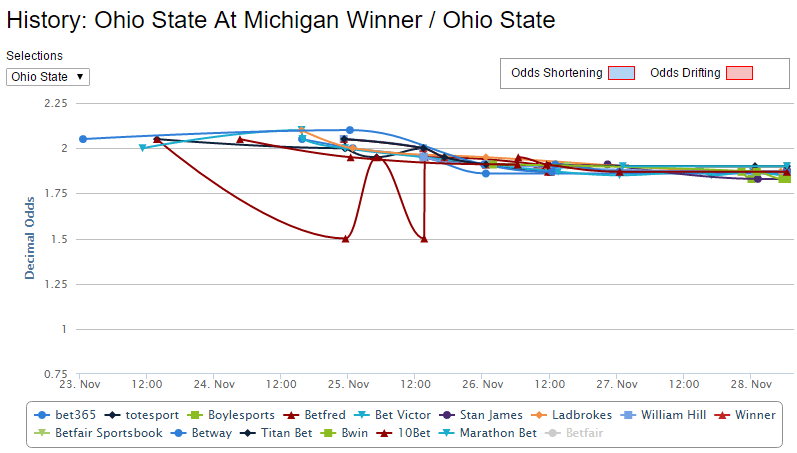 Being far from your common college football expert, I have trouble catching up with all the happenings in the NCAAF world. But that isn't much of an issue, as I am mostly interested in analyzing punters' behavior and betting patterns. Chart analysis of the NCAAF odds doesn't require to know much of the football's fundamentals.
Yet, somehow we need to find meaningful and usable charts. And for that, we need liquidity and volatility.
Betfair's NCAAF markets are dry as the African desert; no liquidity. That's not a surprise, given their customer base is mostly Europeans. That makes their betting graphs useless, with not many ups and down; no volatility. Compared to my previous articles, you won't find any Betfair charts below for that reason.
Next step is to take a look at other sportsbooks.
So, I checked today's NCAAF schedule. Lots of games going on; how can I sort out the games that I can work with?
Instead of going through every team's chart, I began with the games being televised by ESPN. That's a good start. If ESPN is covering live a game, it must be interesting, which translates into increased liquidity. Most bettors will be looking to get their hands dirty in those specific games, thus any odds movement is much more credible.
Ohio State at Michigan
I hear this game is known as The Game by some followers. Not surprisingly, the betting odds are showing activity that we can work with. It turns out people have been betting on Ohio State Buckeyes more than on Michigan Wolverines. That led their odds to shorten over the couple last few days from 2.10 to 1.83. Converting those decimal odds to US odds, the decline equals to +110 dropping to about -120 for better understanding. Unfortunately, the charts can show the move only in European odds, but the result remains the same: punters believe sportsbooks' opening lines were false – and generous.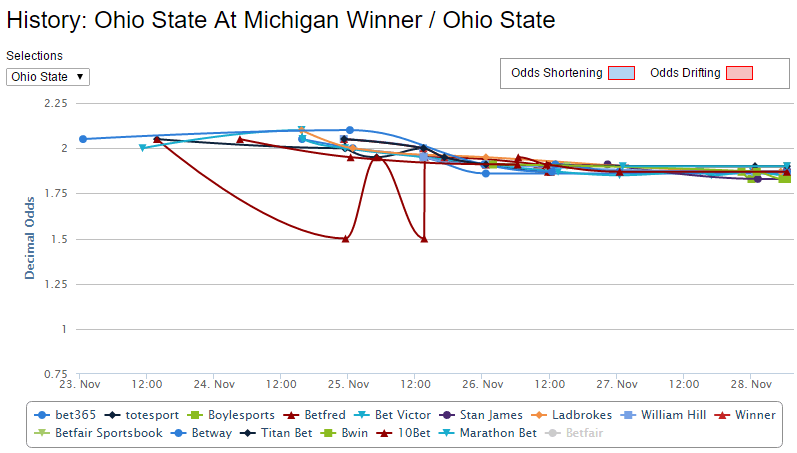 As expected, Michigan's odds are slowly drifting towards 2.00. In effect, sportsbooks expected punters to price up Michigan as the game's favorite but the market proves them wrong. The underdog became the favorite, although it's still a close call, given the game's popularity and heat.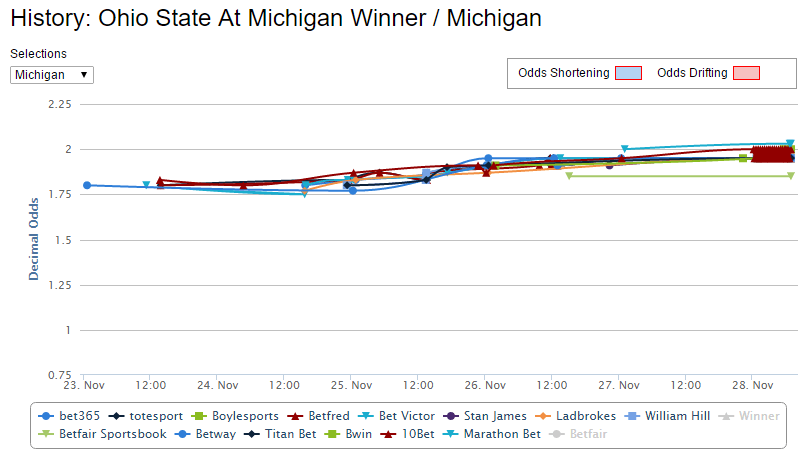 Oklahoma at Oklahoma State
Later into the day, more rivals have much to play for. The Oklahoma-Oklahoma State clash is showing up in the ESPN's schedule, but looking at the current odds, someone would question how irresolute this game might be. Granted, Oklahoma's odds significantly points to an easy win. I am more impressed, though, by the shortening odds of Oklahoma! Not only have the sportsbooks opened their moneyline correctly in favor of Oklahoma, but bettors are not discouraged by the short odds. They keep on betting on such short odds!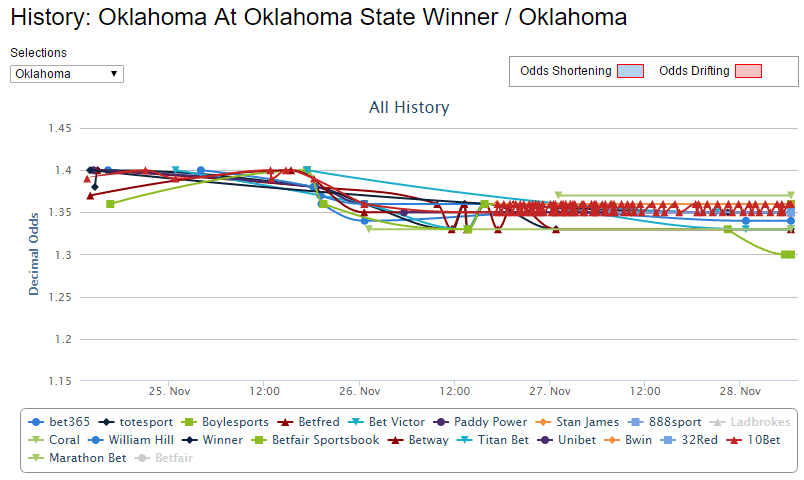 Yet, is there still value at this moment betting on Oklahoma's -285? Well, if you believe they stand a better than 75% chance to win this game, you'd better back them!
Of course, Oklahoma State's betting odds are climbing at the same time. Not much admittedly, yet we seldom watch this kind of behavior at those price levels.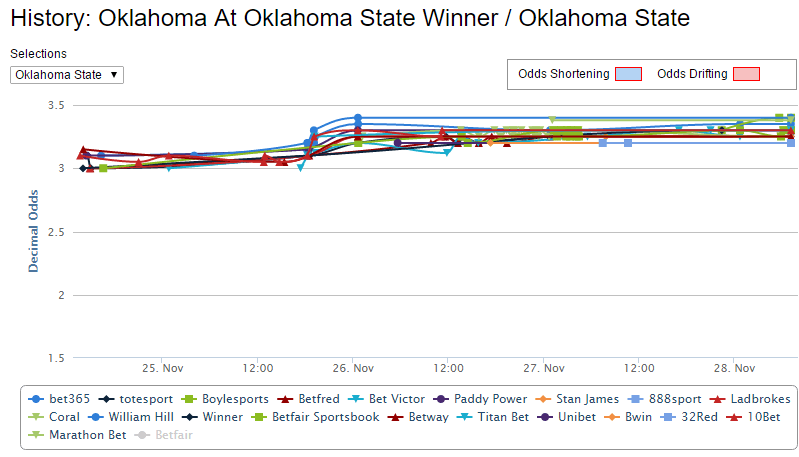 As always, I'm going with the flow in my NCAAF picks and I am expecting betting dynamics to be revealing already the winner in those two rivalry games.