Patriots' momentum to repeat the triumph appears on NFL odds charts
Preseason NFL bettors, trusting Seahawks and Packers with their money are in trouble. Yet, betting on Patriots shouldn't be their only NFL pick.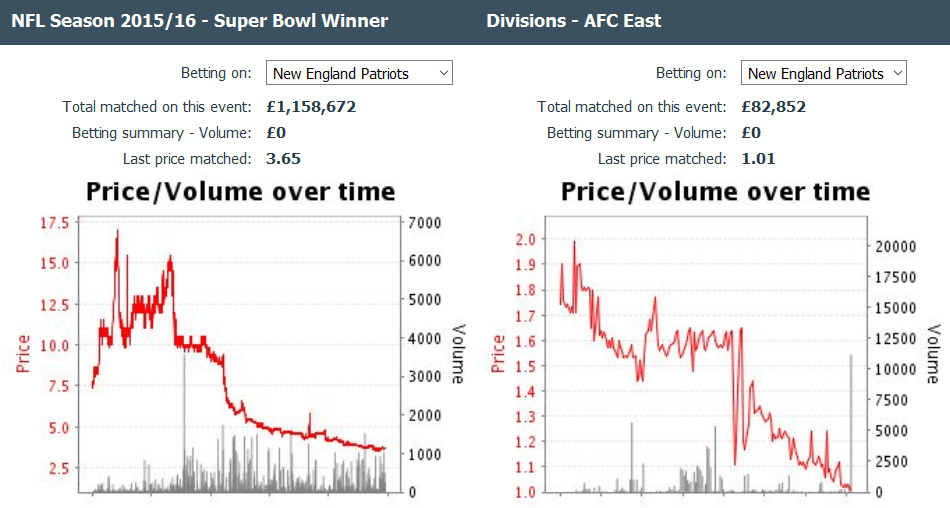 Do you remember when New England Patriots' betting odds were on an ascending trend and sportbooks were forced to offer bigger payouts to lure punters? Well, that's no more the case and it has been since the season's start. Patriots are now safely at the top spot of the NFL betting market for the next Super Bowl winner followed by the Green Bay Packers.
Patriots: Are they up to the task repeating the triumph?
Two markets prove the most popular among NFL betting at Betfair in terms of betting volume: the Super Bowl Winner and the AFC East winner. The odds have hit rock bottom at the latter but it's worth to note how the odds literally collapsed there. Judging by the chart on the right, Patriots weren't once threatened to lose momentum as bettors drove their odds lower and lower.
Momentum doesn't seem to be lost at the most popular betting market either for the New England team. Odds there are trading at 3.65 and while that may sound too short, you are in fact betting on a very strong trend. You should blame bad luck if you bet on Patriots right before a trend reversal following such a strong move!
Packers and Seahawks: The once-upon-a-time favorites
Green Bay Packers suffered quite a loss in terms of odds moving upwards. Although odds declined below 5.00 at one point, their trend is currently pulling back if not reversing. It's this kind of pullback/reversal you need to be cautious of, when deciding to back Patriots. Yet, Packers' odds do seem quite tempting at this moment. As they are closing the all-time high (10.0), betting on Green Bay doesn't sound all that out of place.  You may either exit the trade at 11.0 should the resistance level fail, or take profits if the trend resumes. Besides the crowd is waiting for Packers to win their trust back, so any bad outcome for Patriots may result into punters jumping on Packers once again, forcing their odds lower.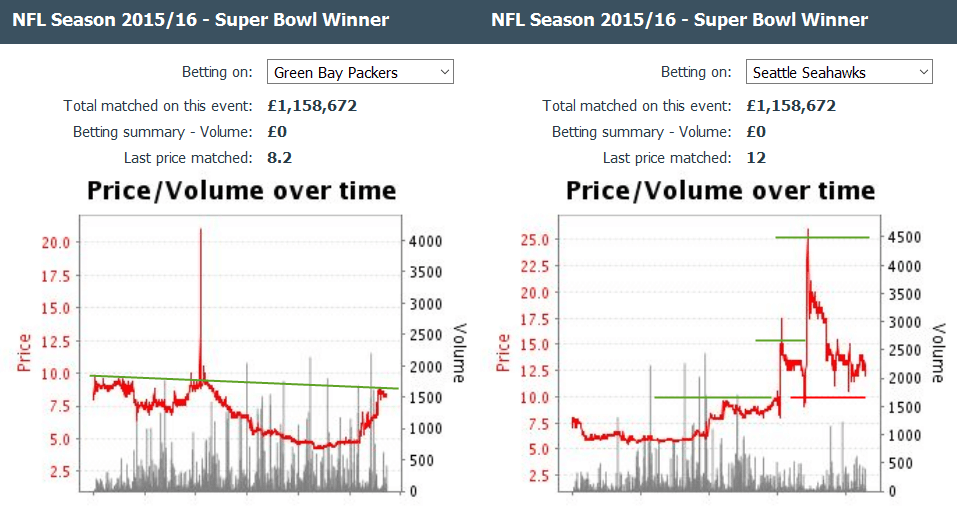 Although hope may return to bettors in favor of Packers, that's far from the case for Seattle Seahawks. Why Seahawks, you may ask. Well, Seahawks' odds were the lowest of them all preseason, posing as the top favorites for the Super Bowl 50. Nowadays however, they are found at the fifth place of the NFL odds tables. Still, higher prices keep on printing on their chart and while pullbacks do happen, punters make sure they send the odds skyrocketing once again. Just watch how odds climbed from 8.00 to 15.0, and then from 10.0 to 25.0.
A spike from the current 12.0 price to 30.0 wouldn't surprise me.
Other impressive NFL picks and moves
Carolina Panthers' odds decline is surely impressive. You don't have to check the team's performance in recent fixtures. That performance is pretty much printed on their odds chart by punters themselves who flocked in to bet on double-digit odds, before those dived. You don't get to see odds diving from 100.0 to 10.0 every day, and it's even easier to see them skyrocket back to 100, if bettors believe that's their fair value. It all depends on the results, of course, and at this point there isn't a strong indication for that to happen.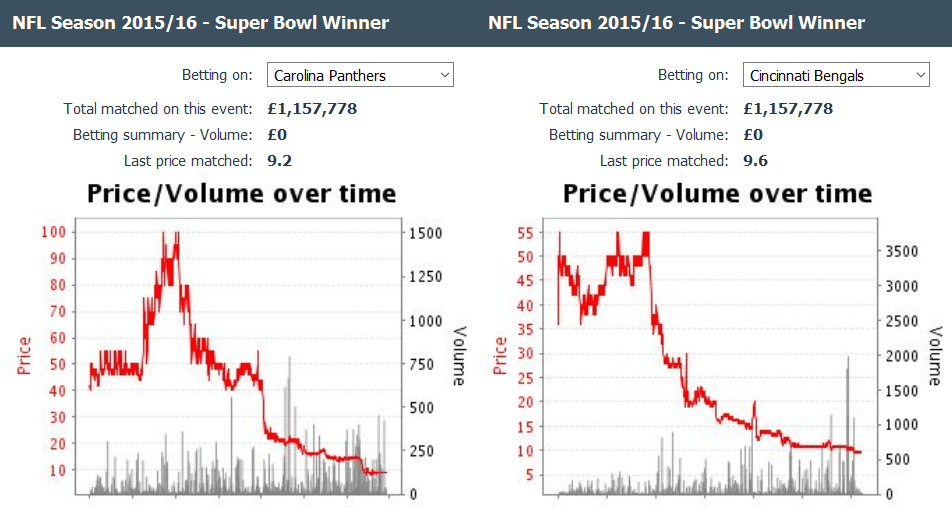 The same holds true in the case of Cincinnati Bengals, except the support level at 10.0 seems quite stronger. I would steer clear of them at this point and won't include them in my most promising NFL picks, unless bettors drive their odds below 9.00.