NFL Picks: Betting on declining odds of Browns, Redskins and Bucs
Plenty of odds decline on Sunday's NFL games, ranging from favorites to big underdogs. We single out five games that got our attention.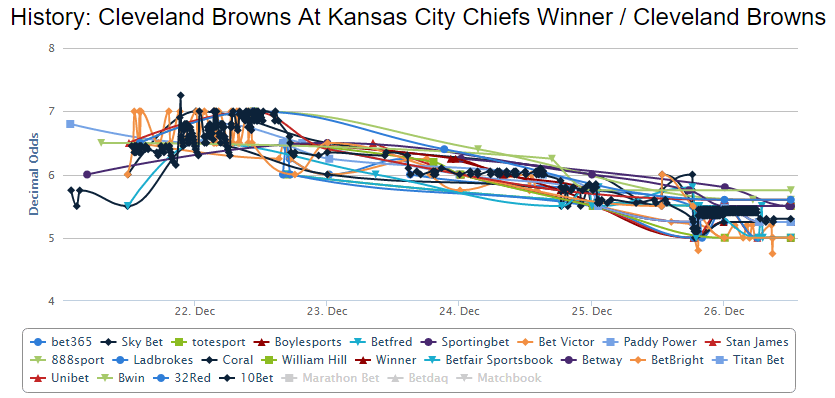 Lots of declining NFL odds grabbed our attention this weekend. While a decline is the best proof of how the crowd – and possibly sharp bettors – is reacting to sportsbooks offerings, it shouldn't be the only criterion we should take into account when deciding where to bet. Yet, knowing how the moneyline moved over the past few days will help us make an educated selection when the time comes to risk our hard-earned money. The question is which of those declines we should trust and I am here to help.
Redskins vs Eagles
The home team's odds are drifting on a steady pace since the first day this market became available. Eagles' odds have climbed from 1.60 to around 1.70, indicating that cappers preferred the higher odds of Redskins. The visitors began trading at about 2.50 but don't expect to back them any higher than 2.35 at this moment. In fact, you'll be lucky enough if you grab 2.30.
The betting trend in Philadelphia's game is apparent across all sportsbooks, as shown in the chart below.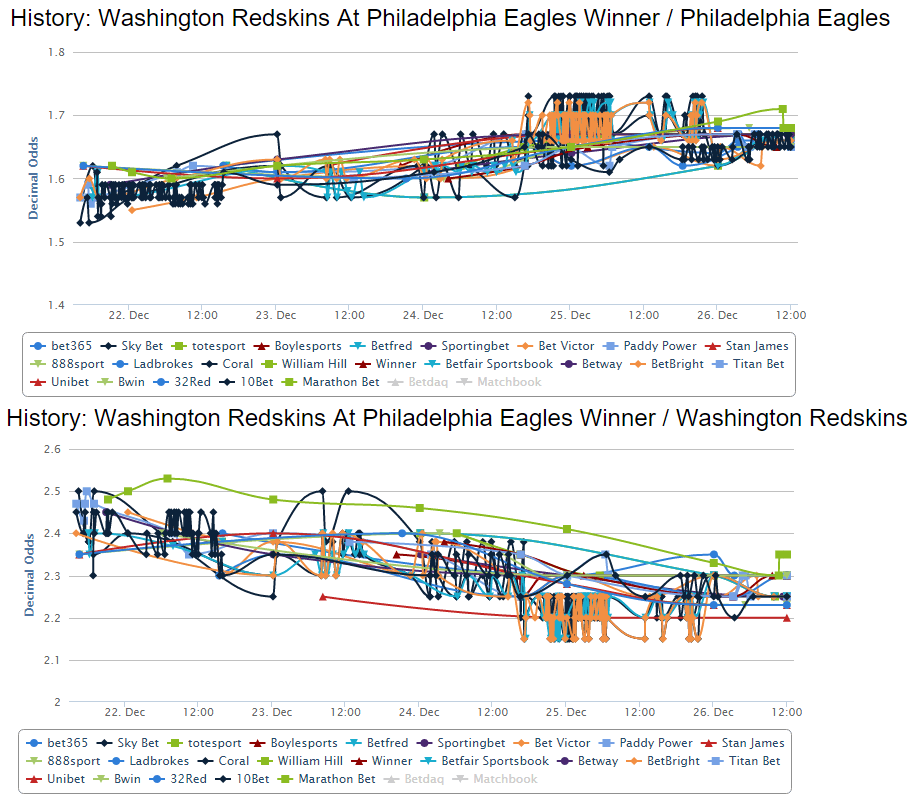 Bears vs Buccaneers
The exact opposite trend is evident in the next NFL game. Bettors show a tendency to overbet the home team in the Bears vs Buccaneers as demonstrated by the home odds' decline. Skybet and Coral were quick to serve this market, yet cappers were even quicker and got the rewarding odds of 1.70. In a matter of hours, bookmakers offered the Buccaneers' win at 1.65 and odds went south on Saturday when the lowest price was recorded at 1.53.
Unsurprisingly, Chicago's odds are on a strong uptrend, starting from 2.20 and climbing all the way up to 2.60 at this time of writing. I doubt this trend will reverse by the time the game kicks off, so I would snatch the highest available odds to back Buccaneers.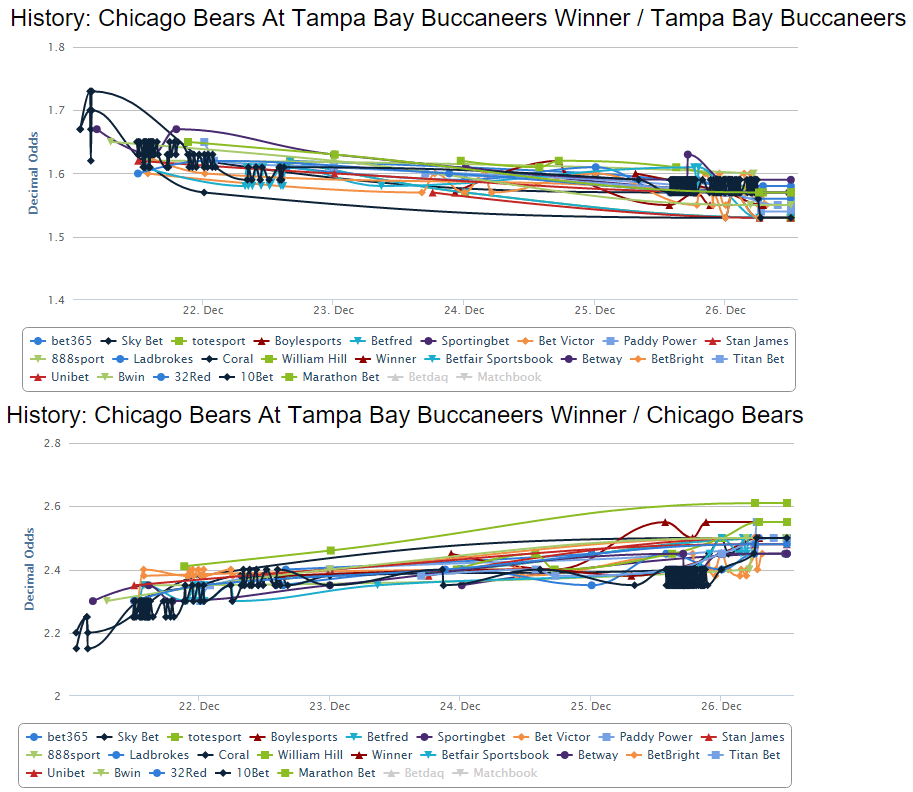 Browns vs Chiefs
Are you looking for a longshot this weekend? NFL odds for the Browns' win are heading south since December 22. The drop from 7.00 to 5.00 is certainly worth mentioning, if not enough to convince me to bet on an upset by the Cleveland team. Again, odds action is similar to all sportsbooks, although the difference from the maximum and minimum available odds fluctuate a bit. Notice for example, how the spread narrowed on December 24 and substantially increased on Saturday. Usually, this is the result of significant movements, as bookmakers try to balance their books while bettors are on a hunt for the best odds as news make it to the headlines.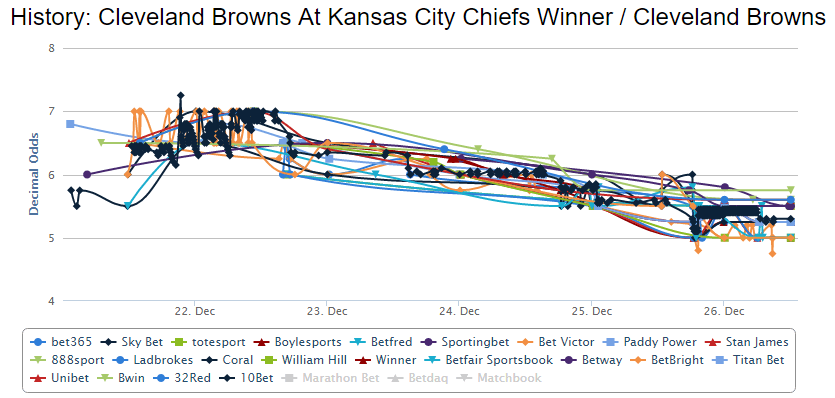 Colts vs Dolphins
The next decline might not be that spectacular, however, cappers should not ignore it. Dolphins' odds dropped from 1.80 to 1.70 on the first day the market opened. Simply put, bookmakers expected 55% of their customers to be backing Miami, yet more than that placed their money on Dolphins. Since Christmas day, it seems that 60% are betting on the home team and 40% on Colts, keeping the market calm and odds unmoved.
If the trend resumes, which isn't unlikely, sportsbooks will be forced once again to lower their home odds. Of course, depending on the news, a reversal is not out of the question. Yet, most often than not, the initial trend picks up speed at some point, as more people are betting close to the game's starting time.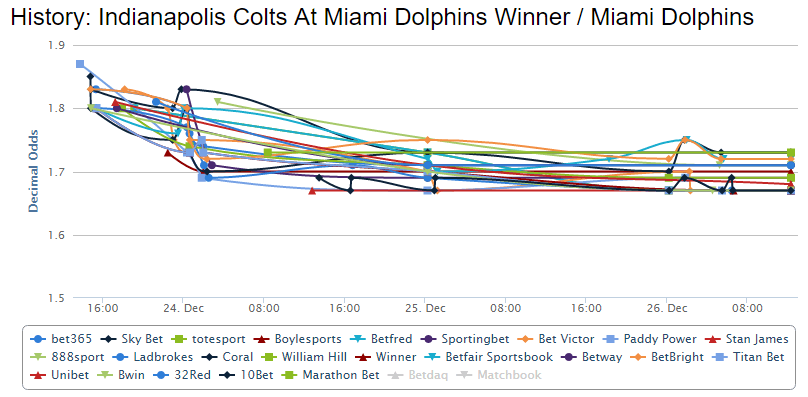 Steelers vs Ravens
Another underdog that shows an odds decline is Baltimore Ravens against Steelers. Although the odds remain unchanged, similar to the price action I just described in the Miami game, sportsbooks definitely estimated the market wrong when they put up odds of 6.00 on Ravens. Cappers bet heavily on December 22 and brought those odds down to 4.50, where they seem to have balanced out. Marathonbet offers the highest odds now for anyone wanting to back Baltimore and hope for a big reward.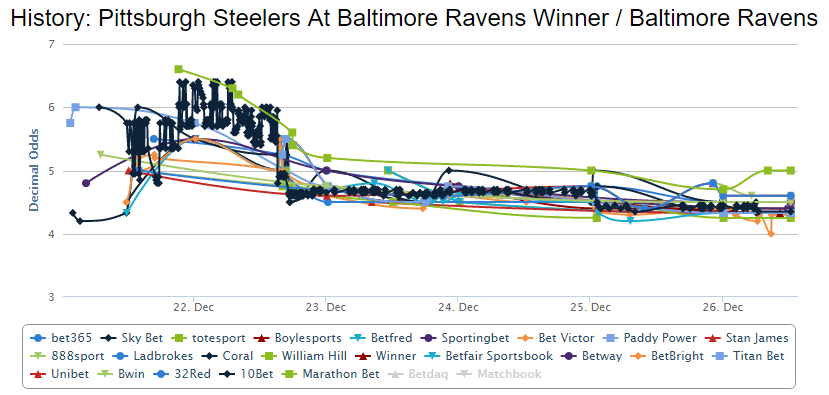 Among those five games, I'd rather include declining odds that are shorter than 2.00 or at least 3.00 in my NFL picks. By doing so, my bankroll will experience less variance instead of waiting for a couple of miracle wins to get back on my feet, suffering consecutive losses in the meantime. Having said that, short odds don't necessarily guarantee a sure win, as we witnessed on Christmas NBA games.