How to Read Champions League's Betting Charts
After tipping some winners in Champions League's midweek games, I explain how we can use betting charts and trends to find these tips ourselves.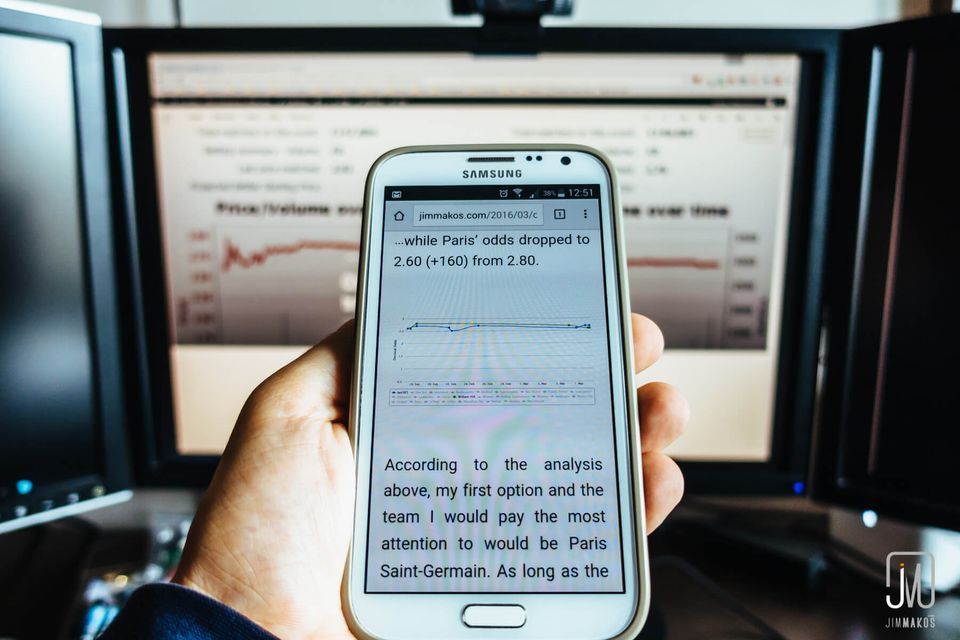 On Tuesday morning, I had written that my top pick for Champions League's midweek games was Paris Saint-Germain. PSG beat Chelsea (FT: 2-1) and progressed to the Round of 8. I also wrote that if the betting market hadn't been disrupted in Wolfsburg's odds chart, the German club would have been my top Tuesday's pick. Wolfsburg scored a 1-0 win versus the Belgian Gent. Now that I don't have a deadline to beat before I deliver the article, let's examine how I ended up tipping those clubs based on odds movements and betting trends.
Betting odds, as mostly understand nowadays, constantly move in online gaming markets worldwide. A long time ago, when punters were betting on traditional bookmaking shops, these odds fluctuations went unnoticed. As broadband internet penetration rates increased, monitoring and scanning sportsbooks for significant odds movements have become a trend nowadays. Of course, that is desirable, given their importance. At the very least, they provide additional information, which the astute bettor should take advantage of before submitting their bets.
Thus, if I was posting this in 2005, most would think I am talking of something out of this world – similar to the time when they read my decade-old articles on Betfair in this very blog. These days almost every punter grasps the meaning of shortening and drifting odds. Some actually understand why they shorten or drift!
Recently I stumbled upon an article at PinnacleSports, which explains the odds dynamics in layman's terms. In fact, it shows how to figure out whether you are a profitable handicapper judging by the opening and closing odds! You see, Pinnacle is one of those rare sportsbooks (maybe the only one), that isn't afraid to educate the average sports bettor. Respectively, there are sports betting bloggers with the same exact goal.
These few introductory lines will come in handy now that we are going to talk of Wolfsburg's and PSG's declining odds.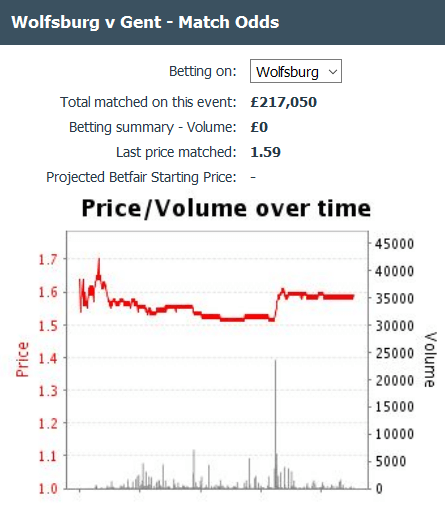 In Wolfsburg's case, the pre-match decline was disrupted by a sudden spike, when a relatively large bet moved the odds back to their opening price. That occurrence forced me to avoid tipping the German club on Tuesday with the same confidence as in the case of PSG. Despite not having a clear picture of the odds behaviour for a football game that was set to start in 36 hours, I was more confident in trusting the odds decline of the Frenchmen.
Still, the punters' preference in favor of PSG had already been shown on charts. Quite soon Chelsea was no longer the game's favourite, as sportsbooks had initially estimated. Unfortunately, I didn't watch how odds moved on Wednesday, or if Wolfsburg's downtrend eventually resumed. Yet, the final outcome justified the bettors who believe that declining odds are the proof of a value bet.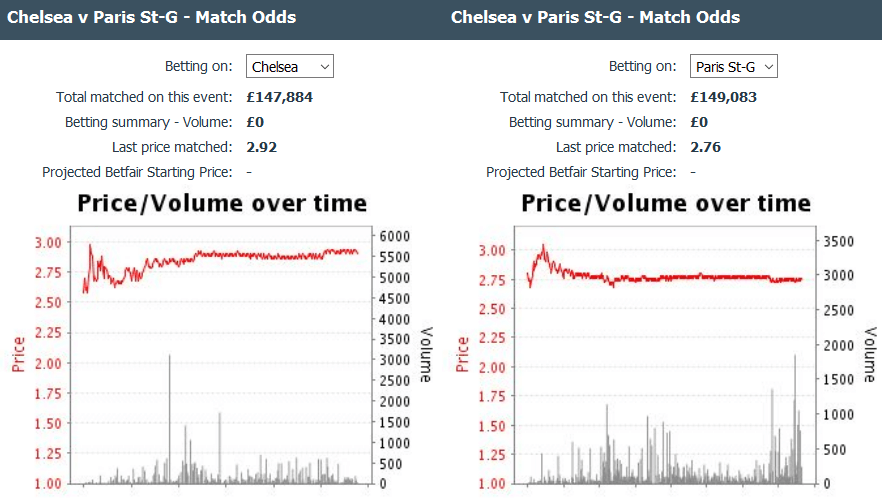 Obviously, these are just two of innumerous bets we place in our lifetime. Let's not forget how big the sample needs to be, before we come to safe conclusions for our betting performance. This analysis is enlightening in that regard, and will also help you evaluate your own betting system.
Nevertheless, it has been a good occasion to discuss betting odds movements and punters' trends once again. Would I have written this post if my "tips" weren't proven correct? Probably not, since winning tips are more attractive than losing bets. Besides, by doing so when the result confirms the prediction, it's easier for me to convince you to keep an eye on odds movements, no matter the betting method you are following. Perhaps in the process you will find out that you are among the few who bet on a specific selection.
Let's say for example, that you'd bet on Zenit. Even on Tuesday we could see that bettors would rather bet on their rival, as Zenit's odds were climbing from 1.95 to 2.10, which I mentioned in my last article. Zenit – Benfica, full-time score 1-2. Convinced already?