Calculate Commission in Betfair
How much commission did I pay this week to Betfair? Here is an easy way to calculate it. We access "My account" and we view "Betting History". We set to view the "settled" bets for the period we are interested in and we download it to excel.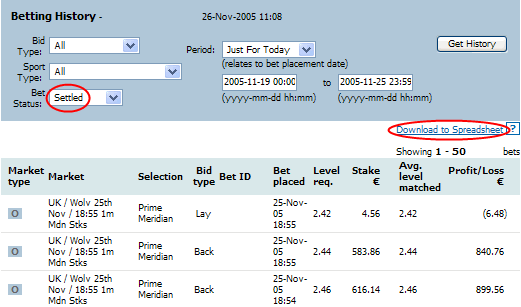 Since we now have it in excel format, we calculate the sum of the column (Profits/Loss).

Then we access Betting P&L and view our total P&L for the same period we are interested in.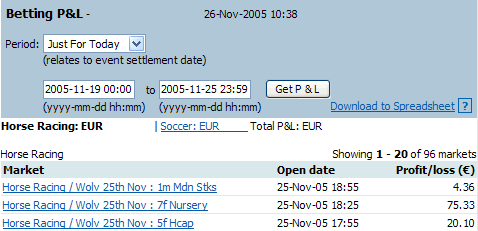 We subtract this amount (P&L) from the sum we calculated in excel and there it is, the commission we paid during this week.
However, there is a necessary requirement for this to work correctly. We should have NO unsettled bet (open position) before the start of the period, which will be settled during the period. In the above example, that is not to have an unsettled bet at 00:00 of 19th of November, which eventually will be settled during this week. In that case, the bet will not appear in the betting history but it will be added in this week's profit and loss. This will result in a reduced commission than it should be and even perhaps a negative one.