Welcome to JimMakos.com, my personal blog!
An introduction to my very personal blog. New readers can start from here to get familiar with me.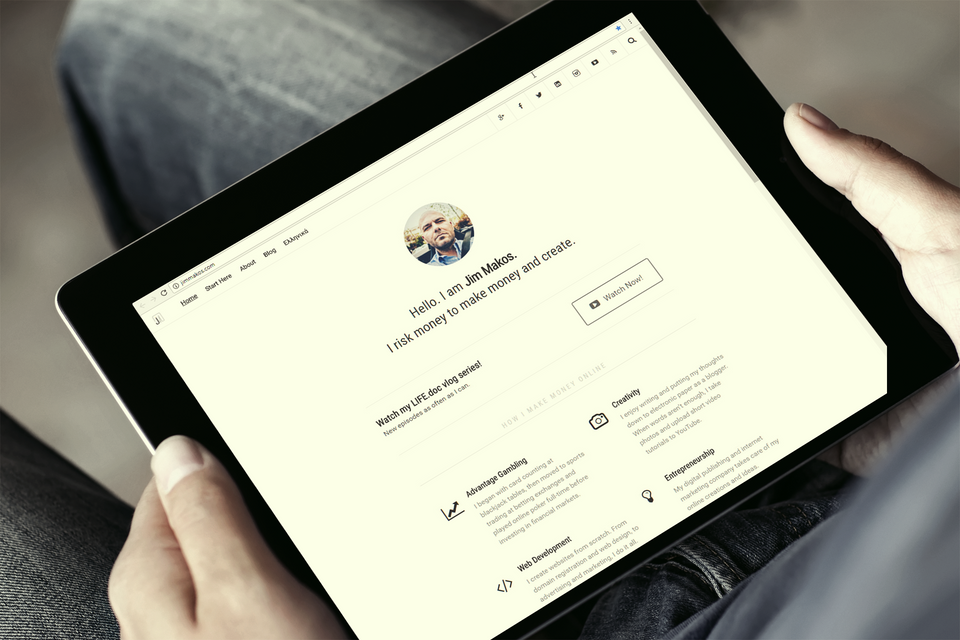 Hey, I'm Jim, a Greek advantage player who moved to web publishing and became a solopreneur working from home. I document my journey to financial freedom and share what worked for me in gambling, personal finance, and running a web business as a company of one. As I get older, I also document my focus on healthy living. But most importantly:
I have nothing to sell you!
Yeap, you heard that right. I don't offer any services. I don't have products to sell, although I did start a paid newsletter, and I'm not affiliated with any brand (*).
I am free to tell you my unbiased opinion and to share my personal thoughts with you. Let's also take care of that asterisk right now.
(*) In my articles, I link to products and services that I have benefited from and have personally used it. Some of those links are affiliate links, meaning I get a cut if you buy any of them at no additional cost to you. I do this because I, like you, enjoy a side income. It's also a way of you showing your appreciation for my work. Don't worry; no hard feelings if you highlight and search for the products. I do it myself!
I do NOT make a living from this blog. I have other streams of income to sustain my living standards and raise my family.
How is my website different than the rest?
Actually, it isn't. It's a blog where I'm sharing everything I believe will help people become better solopreneurs, gamblers, and human beings in general.
Don't expect a punch line at this point. This blog is just like any other regular blog that features:
Quality posts: I try my best here to create good content. Good English content. And it's a bit difficult if you consider I come from Greece! Although I double and triple-check every sentence, my posts will have more mistakes than your favorite English-speaking blogger.  So, I will take whatever criticism comes my way, and I promise I will try to improve—all the time. I aim to publish meaningful and grammatically correct articles in my blog at all costs.
Eye-opening topics: Sure, I could write how much money I won last month (although I shouldn't) or, even better, how much I lost on a single poker hand (a lesson to be learned). But that won't interest you or find it beneficial. On the contrary, there is a lot more value in posts where I explain my thought process! I have already published hundreds of posts, but admittedly the majority of them are below par, and in all honesty, I hope you never find them (I did delete many)! You see, I didn't regard blogging as a serious business in the past. Thus, I am looking to post topics that will stun the readers of this blog.
Authentic community: As a creator, creating content online and putting myself out there is for building a community. I'm looking for like-minded people to connect with. So, this blog acts as a landing page for people watching my videos on YouTube, reading my tweets on Twitter, or coming across my photos on Instagram. I build on those rented lands as a doorway to invite people here.
Honest and fearless content: This is my personal blog, if anything else. I am not afraid of sharing my views. Of course, I will also back up my words with evidence when needed. I will not post bogus information or fake images for traffic. If you read it in my blog, you can bet it is the absolute truth.
So, this is my blog. My gambling, financial, entrepreneurship, photography, filmmaking, web publishing, personal blog.
Yes, yes, I know; every blog out there should target a specific niche.
Well, not mine.
I could build several blogs with distinct niches and spread myself thin. Yet, I chose differently. I picked this blog to share whatever I think will benefit the visitors, such as yourself.
As a web publisher, I have built other websites, but none is as personal as this blog.
This blog is more like a personal diary, and you all have the keys to it!
What do you think? Can we be friends? Subscribe to stay in touch.
Regular internet guy working to make a difference, not a paycheck
Did you make it THIS far? Great! We must have something in common and share the same passion! Or you just like to read, in which case you could read more about me!