Can you make a living from gambling?
Yes, you can make a living from gambling, such as online betting, trading, playing blackjack or poker. At least those are my fields of expertise and I am sure they are profitable. But don't just take my word for it. There are proof all over internet that successful professional gamblers do exist and prosper. You may find stories of success in gambling in forums, blogs or personal sites and most of their authors are willing to help you in your first steps into successful gambling.
I received an email today asking whether it is still possible to be successful in gambling nowadays. That was the reason for this article and made me realize that all that is needed is a little motivation. I suppose many people would dream of becoming profitable gamblers but they'd rather not lose the comfort of their established careers and jobs and the steady income those provide. That is totally acceptable and quite frankly I myself don't know what I would do if I were in that situation.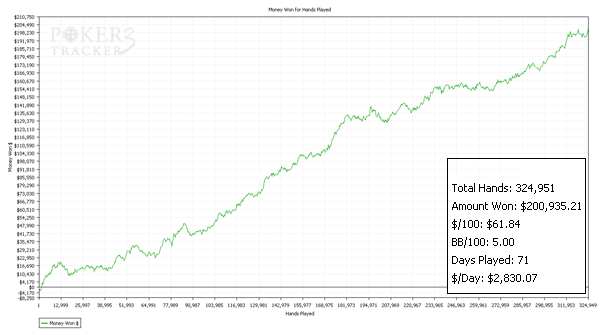 However, given the fact I have been a professional gambler since 2003 and have never had a "normal" job, I can only talk from this point of view. I have already said a couple of things about the advantages and disadvantages of professional gambling and today I'll discuss about the necessary capital requirements in order to make a living from gambling.
Bankroll to have in order to make a living from gambling
If you have wandered around in forums and gambling sites, I'm sure you already found out that the general advice is to always have about 1-year salary in bank deposits aside from your betting or poker capital. The reason is that gambling already contains a lot of anxiety and nervousness and having a healthy money reserve to support yourself and your loving ones is essential. Apart from that, your gambling bankroll should also be adequate to sustain big drawbacks and losses. You can read more on that in my article about Betting Capital and Correct Staking and Maximum Losing Run (or winning run).
You must have already guessed that I suggest having available a big bankroll. You aren't wrong. You see, I am an exception in that specific rule. I started with €1,500 playing blackjack and turned them into €15,000, then started Betfair trading with a trading capital of €2,000 and made more than enough (you can read more in my About me page) and now play online poker having started with a $2,500 bankroll. If I were to start all over again from ground zero, I would definitely need €10,000 as a starting bankroll. I was certainly extremely lucky at least in the beginning playing in high levels of risk of ruin but managed to pull it through. Betfair trading was quite easier than it is today (even these days there are successful traders with steady profits) and it seemed like printing money. Poker on the other hand gets harder every day but it can still show huge profits.
And of course gambling doesn't end in those three fields. Stock markets, currency trading, casino games and so on are all considered gambling. It is the way of playing that makes the difference between gambling and investing. And you can make a living out of gambling if you are devoted, disciplined and open-minded.
So, start saving money today and start your professional gambling career when you feel ready and your gambling bankroll permits you to. Until then, study the games!