How to Register and Develop Keyword-Targeted Domains
As a domainer, I need to register and develop keyword-targeted domains in order to make money. By studying popular practices and tips by other webmasters, I learnt how to register a domain name which is keyword rich and can easily be monetized. PestleAnalysis.com is a domain I bought in 2010 after SEO keyword research, but I have neglected building a website. I finally decided to develop the domain by designing a website using WordPress and buying a couple of articles at Elance. These are the steps I am following to turn my domain into a profitable investment.
How to Register a Domain Name
My first advice: Don't register the first attractive domain name you find available! Picking up a domain that cannot make money unless you REALLY spend a lot of time and effort isn't exactly the brightest idea when you are starting up in the domain business. Whether you want to create your personal website, a niche blog or a mini-site, you are better off registering a domain name that is keyword rich. Google Keyword Tool will help your SEO keyword research greatly.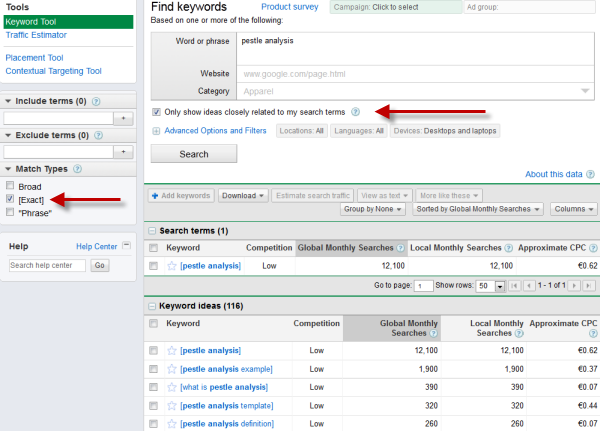 Since I had found that the domain PestleAnalysis.com was available – don't ask me how I ended up there, can't remember – I entered the two keywords as a phrase in the Google Keyword Tool. I ticked the option to receive ideas closely related to my search terms (in other words, phrases including exactly both of my keywords) and I selected [Exact] under the match types. Since I expect PestleAnalysis.com to work best and rank in the first places of search engines under the exact keywords of the domain name, I wanted to find out the potential of such a domain name. The results of the SEO keyword research turned out to be quite impressive in terms of search volume (12,100), but quite bad in terms of Cost Per Click (EUR0.62). The advertising competition is also ranked as "Low" so no day dreaming of designing a website that will make millions.
In brief if the domain likely ranks first when people search "pestle analysis" and 30% of those click on my domain (20-35% click through the first result of any search), the domain's traffic will be about 3,500 visits per month. Setting an average pageview per visit around 1.5, that equals to 5,000 pageviews per month.  Assuming 1% click through ratio – that is 1 out of 100 click on an advertisement – I am expecting about 50 clicks per month and given the cost per click, the final result is around EUR30 per month. As the domain name registration cost $7 per year and the annual hosting cost is calculated at $10, I would consider that domain name registration as a profitable investment. However the costs increase as long as I'm outsourcing the content of the website. Having a profit target though helps to work out a budget and keeping myself inside its limit.
How to invest in the website design
Now that you've got yourself a relatively rich in SEO keywords domain name, it's time to invest in website design. Depending on the website you want to develop on that domain of yours, you need to install the appropriate software. I opted for Joomla when I created the front page of my personal website, but I consider WordPress a much easier piece of software to design a website quickly and effortlessly.
Read more about comparing Joomla and WordPress as blogging software.

Installing WordPress is done in seconds using QuickInstall or Fantastico De Luxe utilities found in your hosting provider's Cpanel. Then comes installing a WordPress template or using the built-in one and it's time to fill the website with content. In case you are creating a personal website or a niche blog discussing your hobbies, you will be writing the articles yourself. However in PestleAnalysis.com case I have no idea what Pestle Analysis is. I found out that PEST analysis is an even more popular search term to include as a major SEO keyword into my domain keyword list. Anyhow, I'm going to hire authors to write some articles on pestle analysis for me. I use Elance for hiring contractors and my job offer has already attracted 7 bids.
As the website will be running at least until its expiration date (2015) and having invested about $100 or so when I registered and hosted the domain name, I'd be happy to invest a little more for SEO articles that will help rank the website a bit quicker. A little more keyword research will provide the necessary titles of the posts, while sending keyword targeted articles to other websites including backlinks to my website might give a SEO ranking boost.
When the question how to register a keyword-targeted domain comes to mind, it's always best to first pay a visit to Google Keyword Tool and try out that phrase you thought of before you register a domain name. Doing so you stand a better chance to make money from your domain, rather than having it sit idle in your GoDaddy account!