Facebook Starts Charging Extra to Promote Posts in Pages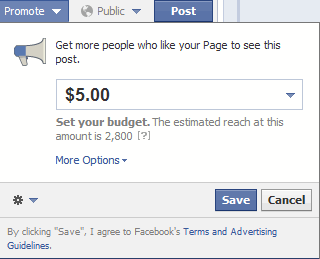 There were talks lately that Facebook was going to charge for every post. What a joke, right? Well, it turns out Facebook has just switched on the extra cost for delivering your posts made from your Facebook page to a larger audience. It seems I am still able to post in my Facebook pages, although the post will reach less than expected fans. Most probably that's why a new "XXX people reached" message was shown in the most recent posts made in Facebook pages. We now know that in order to promote our post to more people, we need to actually pay Facebook! They even suggest a $5 extra so that 2,800 – in my case – fans read the new post! I guess those disappointed Facebook shareholders need the extra money after the IPO disaster!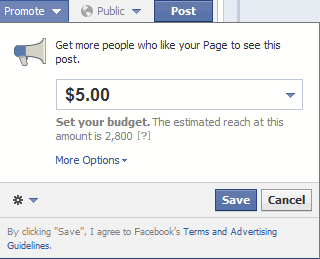 I haven't done any research about this new option of Facebook. I was about to share something with my Facebook page's fans when I noticed the "Promote" link. Clicking on that link, Facebook was kind enough to inform me that I could now reach more fans by simply clicking on a single button. Of course my Paypal account would suffer a 5-dollar loss, but who cares when the post is reached by more fans! Well, I do. Facebook's success depends on sharing information between friends and fans. Charging extra for sharing updates is more or less the same as a free tipping service who kicks off a subscription service. Traffic drops significantly (down to even 10%) but visitors are now customers willing to pay for the service. And it's not like there are no other free tipping services. Accordingly, there are plenty of (still) free social networks, like Twitter and Google Plus to move my online business. I'd happily do that and I suppose I'm not the only one.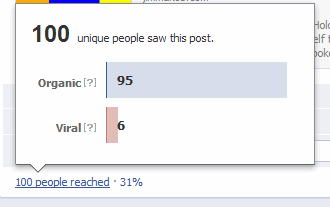 I've also advertised a couple of websites through Facebook Ads in the past. The result? A financial disaster like the recent Facebook IPO, when first day buyers invested in a $40 stock and watched their shares lose 40% in 2 weeks' time! I am not going to advertise in Facebook for years to come and I certainly won't be paying Facebook to promote my new posts to more people, so that (NASDAQ:FB) shareholders win their money back – if ever. If my blog's content is attractive, word of mouth will increase my blogs' traffic. It's not like I need to spend money on Facebook's service to annoy other Facebook users. I'd better buy some text links at reputable websites and increase Google pagerank, instead of costly Facebook promotion. After all, Facebook needs us, we don't need Facebook. At least, for the time being the extra charge for promoting posts is applied at Facebook pages and not users (imagine you pay $5 for every time you "like" a post!!). That's enough for me to say:
Goodbye Facebook, welcome Google+!