Stand out at Google Search Results with Authorship Markup (rel=author)
Google Authorship markup can make your blog post stand out from other results in Google search. All you have to do is add your Google Plus profile link somewhere in each post of yours and include ?rel=author at the end of that link. The authorship markup isn't something new but I heard it this month for the first time by an advertiser who contacted me recently regarding a new deal (Emily M. – Many thanks for that!). I implemented the new code two weeks ago in all of my blogs but I just noticed the result in a Google search I completed, so it takes time to come into effect. Besides, Google states that they don't guarantee to show author information in Google web search results according to their guidelines.

Most blogs feature a small biography box at the end of each post. Including your Google Plus profile link there is usually the best choice. There are many plugins for both WordPress, Joomla or other content management systems which offer this feature, but you must not forget to add ?rel=author at the link's end. This is how my Google+ profile link looks:
plus.google.com/1049[…]1?rel=author
To check out if you implemented authorship markup correctly, visit Google's testing tool.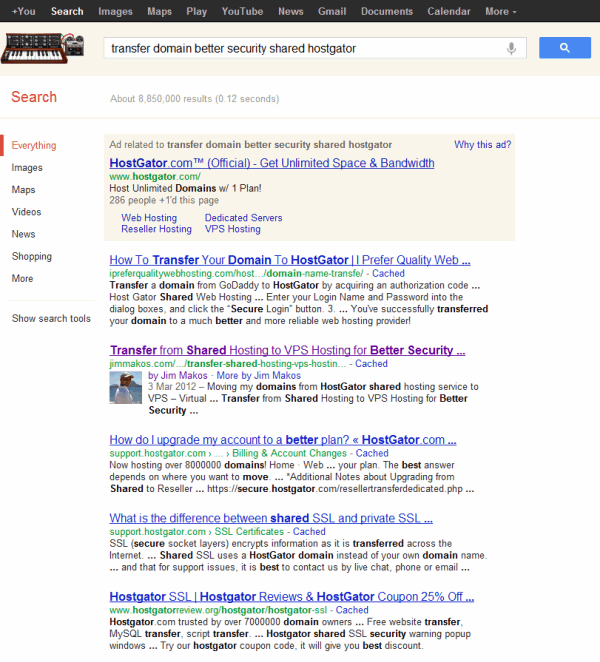 Since I own several blogs, Google is able to show all of my posts right at the web search page! Say a random search brings up a post written by me. Clicking on "More by Jim Makos" will load a new search result page featuring all of the articles Google has found authored by me! Then people can search any term they like and find out if I have posted something similar. For example, I searched for "sports trading" and posts from both of my blogs appear in the results' page! There's also my Google Plus profile page at the right column, driving people to add me in their circles!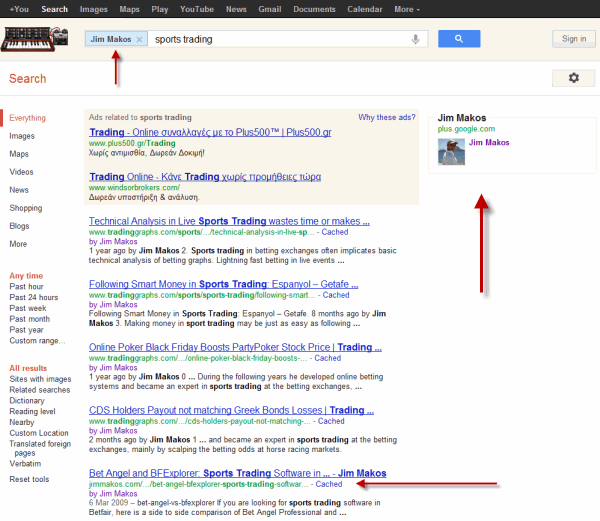 Cool, isn't it? +1 for Google Plus from me! Take that, Facebook!