Responsive web design recommended by Google Analytics mobile report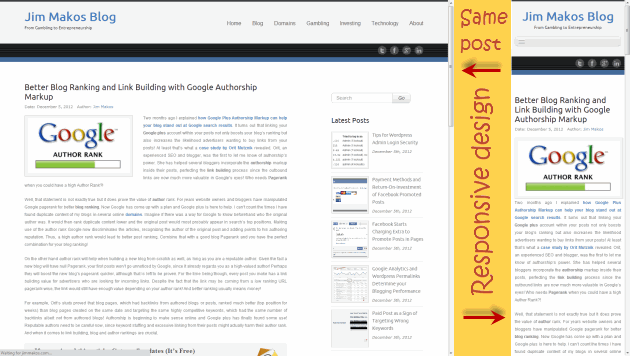 According to my Google Analytics traffic report, all of my blogs are being accessed via mobile devices on a daily basis. Most importantly about 10% of my blogs' traffic is coming through smartphones or tablets! Is that enough to update a blog with a new template featuring a responsive web design?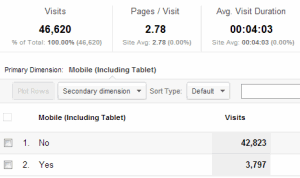 Wait, what is a responsive web design? I myself hadn't heard of the term until I recently decided to change the templates of my blogs, mainly for speeding up the websites and removing unnecessary code. In case the blogs are created via WordPress  changing templates (or themes as they are called in WordPress  isn't as hard as it sounds. At the same time a new template that has been recently published, would most probably incorporate the latest trends in blogging and include up-to-date features. That is why I searched for 2013 WordPress themes and stumbled upon web design software that used the responsive design.
So, responsive web design refers to templates or themes that are created for mobile-friendly websites or blogs. This kind of web design basically changes on the fly the dimensions of the content area, the images and any other elements of the web page such as menus, so that people accessing the website via smartphones or tablets can see the whole page without zooming in or out. Personally I really enjoyed reading the posts without scrolling horizontally or zooming in trying to fit the text area inside my Android's phone display limits. In addition, I could now actually see the images of the posts without zooming out while reading the text. The blog is automatically resized to the display's viewing area, which I am sure visitors will find very eye-appealing. Try it now by resizing this very post!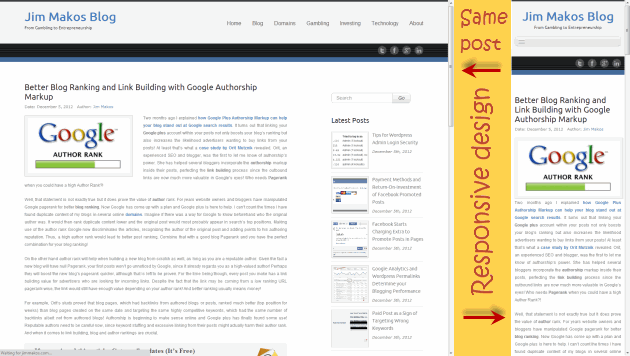 And here comes the Google Analytics report that shows an increased bounce rate by visitors using mobile devices, when the blog didn't feature a responsive web design! By the way, high bounce rate means that visitors are quickly leaving your site. (

Would the new responsive WordPress theme of my blogs decrease the bounce rate? Honestly, I am not sure and there is not sufficient data yet for any meaningful Analytics report. At least I have tried to offer a better experience for any traffic originating from a tablet or mobile phone. I still have to focus on creating useful content as every blogger should do in the first place!