Build a gambling city with Sim City 2013: Learn from the best!
One of my favorite video games has always been SimCity. The latest installment, SimCity 5 or Sim City 2013, allows players to build a gambling city, and by that I mean a city that focuses on gambling. The city's main revenue is expected to be coming from casinos that players build. The feature is called "specialization" and it includes 5 more areas of expertise, like mining, drilling, trading, electronics and culture. As I am quite familiar with gambling in the real world, it would be fun to try my skills and actually manage an entire gambling city in the digital world!
The last time I played a version of SimCity was SimCity 4 Deluxe, which was published in 2003. Ten years later Electronic Arts and Maxis decided to create a new promising SimCity game, but the game release must have been one of the worst ever, given the negative reviews online about EA's server issues and not being able to play single game without an internet connection. That didn't cause much damage to EA at the stock market though, as EA stock has gained 20% this year.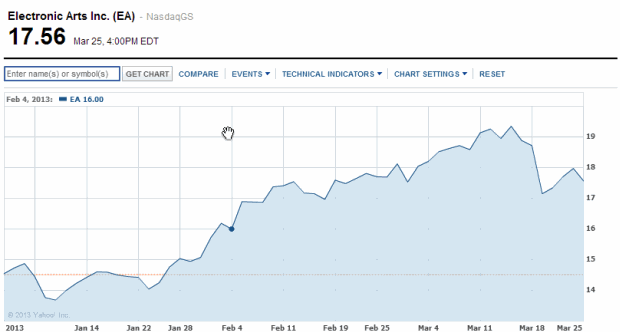 Back to building a gambling city in SimCity 2013, it was a bit of surprise for me to find that feature in the game, as Simcity is played by mostly youngsters. Society has been trying to keep teenagers away from gambling for years.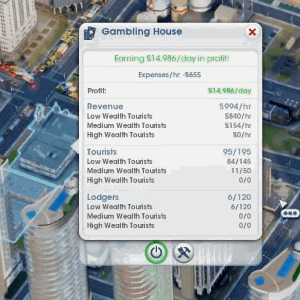 Obviously it won't be a life-changing experience for young players getting accustomed with building casinos and creating a virtual gambling city. I'm not saying that they would turn to gambling because of their success in this video game. After all it's about gambling as a business and not as a hobby, meaning they have to manage casinos' income and expenses. Yet, by having gambling take such a big part in SimCity might generate some talks. It's one thing to allow players to build a casino to help the digital city's funding (and increase its crime rate like in early versions of Simcity) and another to have an entire city's success depend on gambling!
Say for example a 11-year-old Simcity player create a profitable city that is specialized in trading. Perhaps that would lead them subconsciously to pursuit a career in merchandizing. Imagine the same scenario in gambling. I suppose it would be more tempting to become a gambler rather than a casino businessman!
Anyway, enough with the "responsible" talking! Simcity experts have already uploaded numerous videos online, showing how to manage your sim city profitably and sharing their gameplay strategies depending on the specializations. It turns out gambling as specialization in Sim City is regarded as tourism and experts use strategies that are best employed by tourist guides. For example, SimCity 5 producer goes on to explain in this first sneak peak of the game back in October, how building a railroad station next to his new casino immediately showed a profit for the gambling business.
Jump to 7:00 of the video:
But that was just an introduction to the gambling specialization of Sim City and admittedly right to the point. For a more thorough analysis of the Sim City gambling specialization, there are a couple of Sim City gambling guides at Youtube. For instance, in the next 5 minutes of the tutorial video made by IGN Entertainment, SimCity players are advised to begin investing in a gambling city only after they have created cities with enough population to spend money on the casino business. Otherwise their casinos will just hurt their monthly budget.
After spending some time reading reviews about Sim City 2013 and watching a couple of videos, I am putting SimCity in my gaming watchlist. The game is selling for about 50-60 euros, while the deluxe edition goes for 80 euros, which I find quite expensive. For the time being I might re-install SimCity 4 and wait for the price to come down. Until then I may do a research and come up with my personal Sim City gambling strategy by the time I build my first cities at SimCity 5!