Why I joined BettingExpert, the Social Network of Sports Betting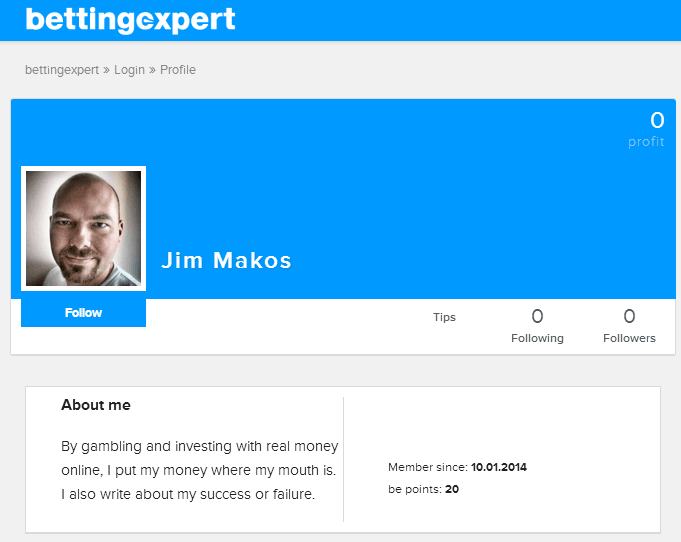 BettingExpert welcomes all visitors by introducing itself as the social network of sports betting. Moreover, they offer monthly prizes worth £3,000 to the best 40 tipsters. Yet, that's not the reason I joined BettingExpert today.
The past months I have become a lot more active at social media and generally on the internet. I am discovering my creative side of myself, as I realize that writing about gambling is a lot more fun than gambling itself! That doesn't mean though I have stopped risking my hard-earned money online. It's that my main concern nowadays is to tell interesting stories, share any knowledge I have acquired and, most importantly, discuss with like-minded people.
People interested in online gambling and specifically in sports betting usually search for betting tips. Not how to improve their betting skills, unfortunately. And although that is not beneficial for them in my opinion, I totally understand their purpose; to make money fast. And finding the best tipster online is promising exactly that.
No, I'm not trying to prove I am the best tipster out there. Because I am not. Because I am not even a tipster! I am not used sharing any betting tips or betting according to other people's tips.
Yet, people are looking for betting tips. There's no doubt about that. And in order to get in touch with them, I'll need to provide some from time to time. But my philosophy does not allow me posting any tips, without explaining first my reasoning for my betting tips. I have shown my reasoning and betting philosophy in my Greek blog. And as I am now translating those posts day after day and have them published at my English-speaking betting blog, it's time to get closer to sports bettors.
That is why I joined BettingExpert, which promises to become the social network of sports betting. If it succeeds, more people will see my tips, will join the discussion and eventually, connect with me. That's my goal.
No, I'm not building a following. I'm connecting. I'm interacting.
So, today I posted my first betting tip. Let's see how you do that.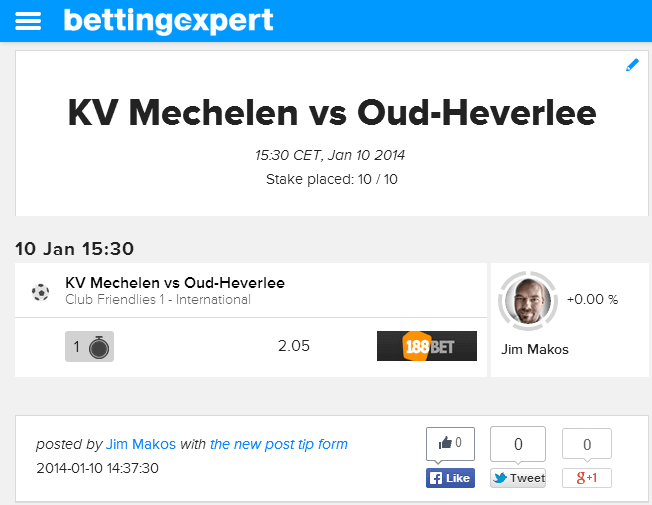 How to post your first betting tip at BettingExpert
My first attempt to publish a betting tip failed miserably. As it took me too long to get familiar with BettingExpert's user interface and compile my post, the game in question started. This is the message I got when I clicked on the publish button, after spending at least half an hour to learn the whereabouts of the post tip form.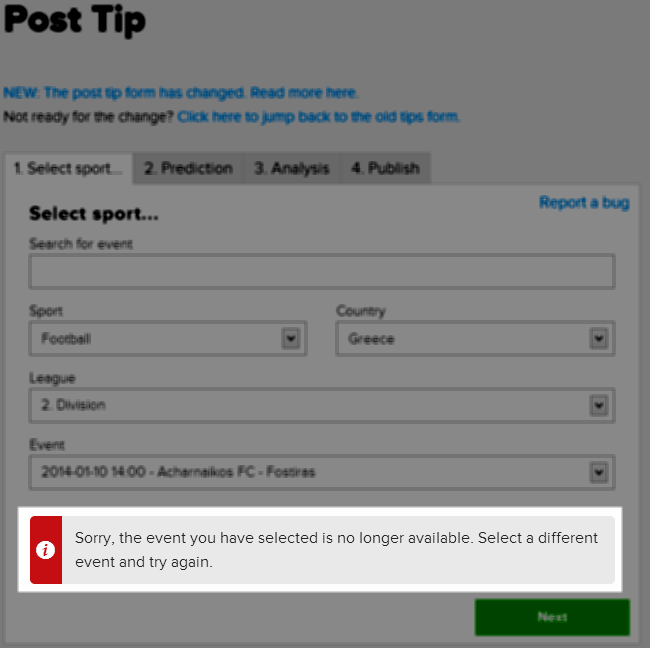 Ok, that didn't go as planned. I moved on and found another game I was happy to give out a tip for. It was the friendly game between Mechelen and Oud-Heverlee. I'm sure some of you may have never heard of these teams! Believe me, I haven't either, but if you read my tip, you will understand why that doesn't really matter in my betting strategy.
1. Load the so-called post tip form. In the first screen you'll see, you can search for the event you are interested in. By making the appropriate selection, the rest of the fields are automatically filled with the corresponding details. Next comes our prediction.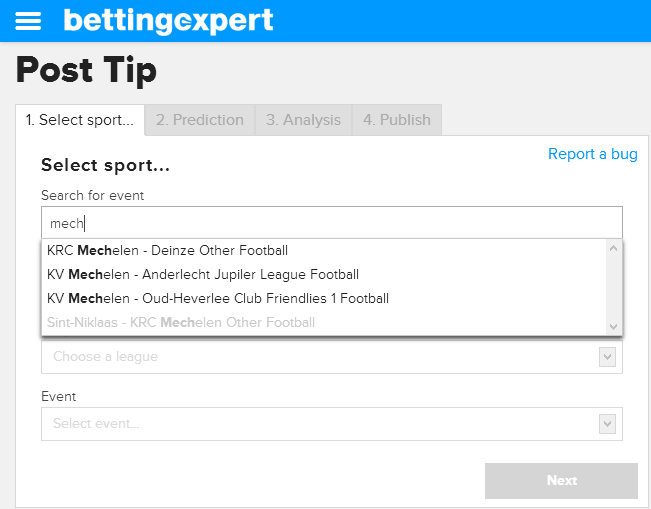 2. Describe your betting tip. What kind of a bet are you suggesting, does that apply to half or full time, what's your prediction? You also have to decide the bookmaker you are preferring to bet with. Although it makes no sense to me to choose a bookmaker with lower odds than the competition, you still have a variety of choice. Finally, pick your stake from a scale of 1 to 10. My choice is always flat betting and I elect the maximum stake available.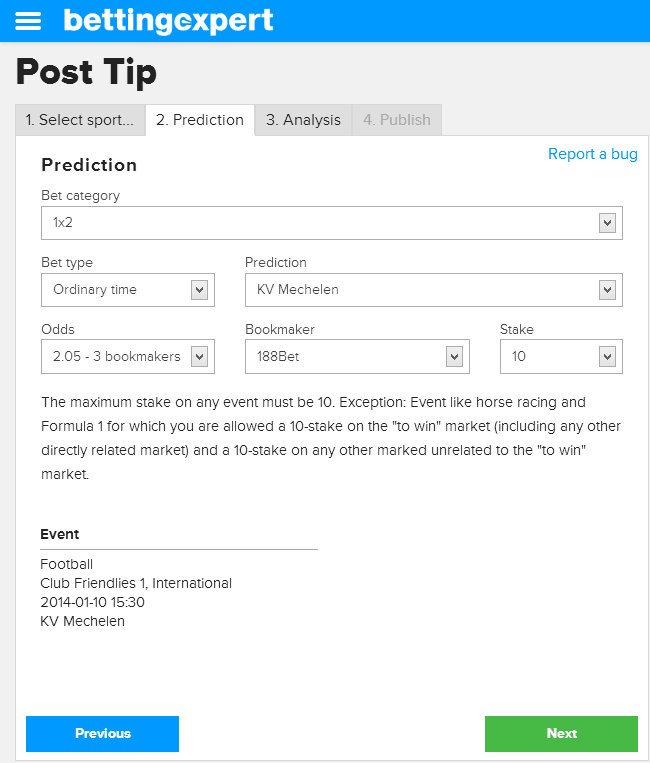 3. Write your analysis. Here's the discouraging part for most tipsters; your tip must be accompanied by an analysis of 100 words minimum! The majority of so-called experts don't care explaining the reasons behind their tip. They just pick tens of games so that they can brag when they succeed in some of them later on. Thus, there's no time or willingness to justify their picks. BettingExpert does an excellent job here as far as I am concerned, driving away the less talkative tipsters. True, if you want to be remembered as a social network, you need communicative members in your network. Also, BettingExpert warns you that they won't be accepting duplicate content. So, you'd better rephrase your original blog post in case you shared your tip elsewhere first.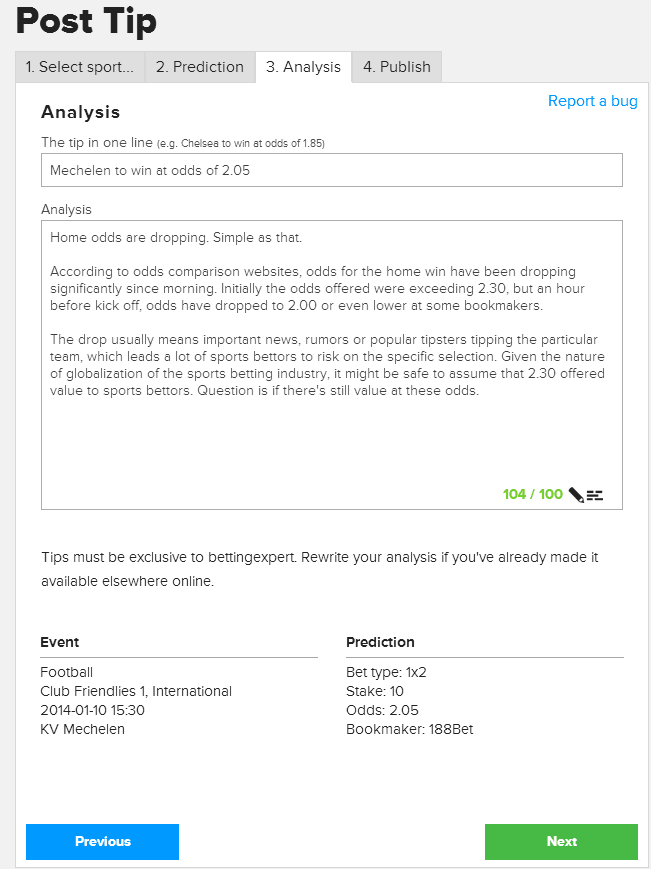 4. Time to publish your tip! The last tab is about reviewing your tip and making sure you've not made any mistakes. By now you must have spent at least 5 or so minutes, filling the form. Don't let 30 seconds ruin your betting tip. Pay attention to every detail you see at this page.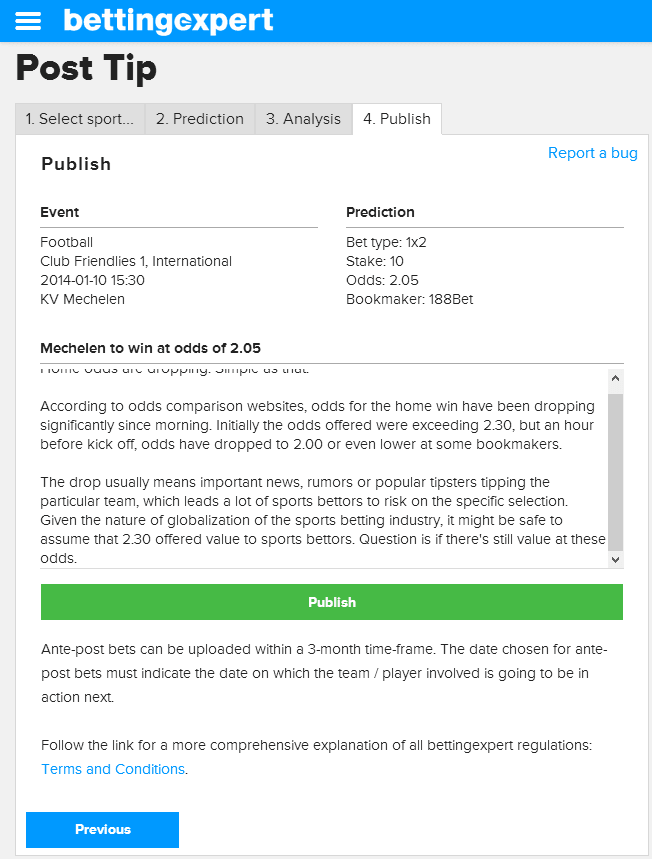 That's all! Your betting tip will be shown to the public after it's approved by the stuff. Or at least that's what I think, since my own tip was "waiting for approval" at one point. Good luck!

What do you think? Will BettingExpert succeed in becoming the social network of sports betting? Let me know in the comments below and don't forget to connect if you create a new account! For the record, I lost that tip (draw).