How to improve your writing skills the easy (and free) way
This is my writing workflow. It will show you how to improve your writing skills by adding these easy and free web tools in your writing arsenal.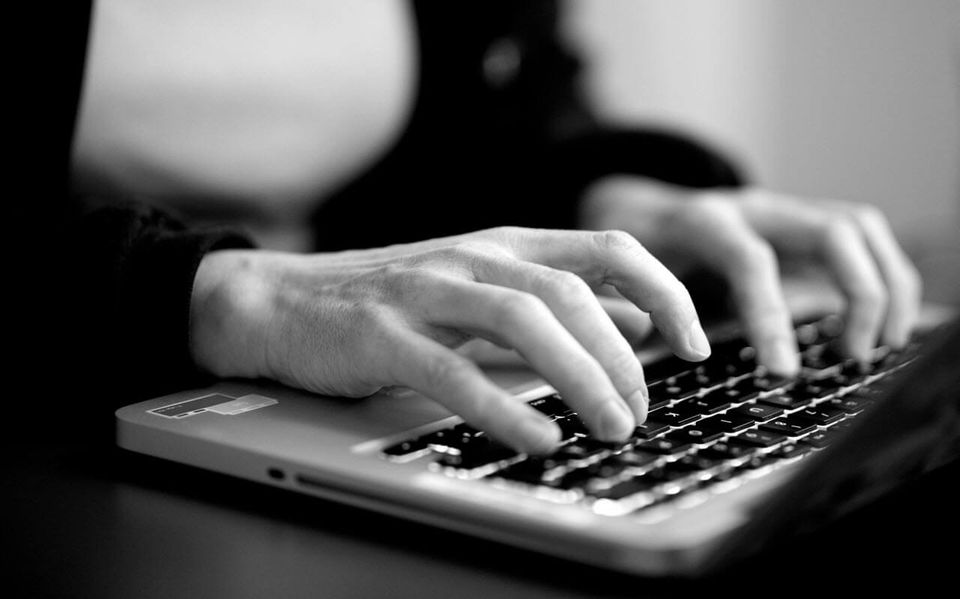 I am not a native English speaker. Having said that, I find it embarrassing to be giving advice on writing and how to improve your skills. But as I have written over a thousand articles in English online, I want to share what I've learned. Your writing may benefit from using the tools and software you'll find below. And, for the most part, they are free.
Before discussing how to improve your writing skills, let's bust a myth in online writing.
You do not need a word processor to write
Most people think that they need a word processor such as Microsoft Word to write down their words (pun intended). That is not the case. As long as you can type words on a white, blank screen, any application will do.
You can go minimalistic and write on your computer's notepad. There's no harm in that. Sometimes it will be the better choice, by cutting down all the clutter on your screen. Not having distractions is paramount in writing, and anything you see on screen beside the white writing space is a distraction. Go full screen!
On the other hand, a writing software application may come in handy. Spelling and grammar checking are usually offered with those applications. Formatting your text might also appeal to the newcomer writer as well. Yet, if your articles are going public on the internet, formatting is of little importance. Actually, you'd be far better off leaving your entire document unformatted for now. You'll have a much easier job after you import it into your online blogging platform.
I don't even use italics or boldface; that's clutter, not clarity. Fancy fonts are fine for blogs, just as calligraphy is fine for diaries.ANDREW VACHSS
So, just write!
Still, if you feel better writing on a dedicated writing software:
Microsoft Word is available for free if you have a Hotmail/Outlook email account! Surprised? In fact, the entire Office Suite is available online to Microsoft accounts for free!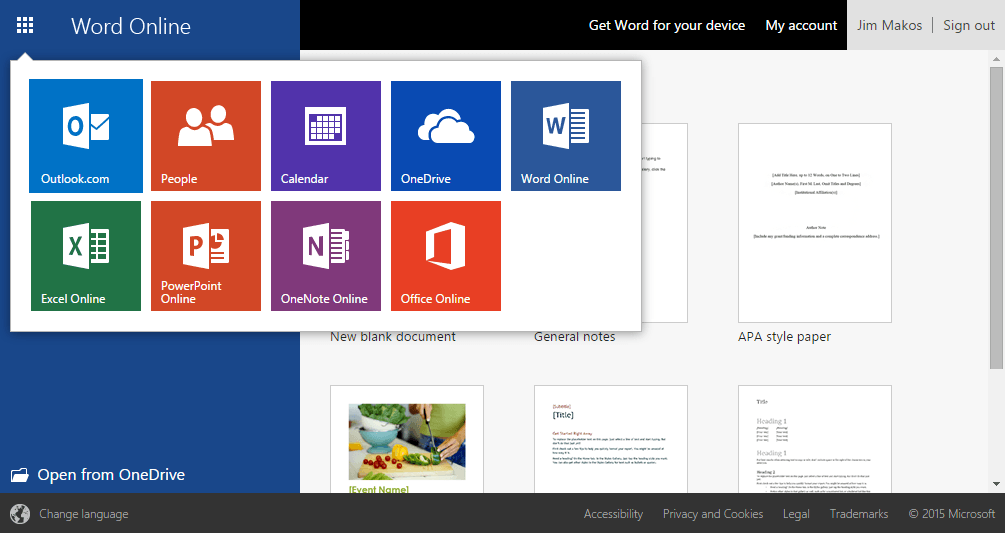 Google Docs is also free and available to any Google user. You do have a Gmail address, don't you? Of course, these two solutions require an internet connection at all time, but your document is automatically saved in the cloud, each time you pause for a second. Accessing your article from another location/computer later would be just two clicks away.
Standalone software, such as Word or OpenOffice, allows you to install helpful plugins, such as the Associated Press StyleGuard.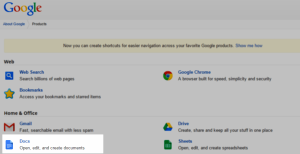 No, that doesn't come for free. But your writing will look similar to the articles you are reading on big media sites and newspapers. As long as you follow the rules and you do need that professional look in the first place!
Alright, by now you should have written your article in plain text formatting. Your article might have spelling and grammar errors, but it's not the time to have them corrected. You'll do it later. For now, you should worry of your article's readability.
How to improve the readability of your articles
Write as simple as possible. That is the general advice by many reputable online writers and bloggers. It's a welcome tip for any non-English speaker like myself!
The road to hell is paved with adverbs. - STEPHEN KING
Again, sticking to rules will improve your content's readability:
Avoid passive voice. Write with action in mind.
Avoid long sentences.
Use plain words instead of trying to impress with your vocabulary.
Cut down on "which, who, that" and replace them with verbs.
Think of writing for a 10-year-old. Will they understand your article?
That last tip will help you start writing. Always think of your readers. Think of a specific person before beginning to write your next post. How would you discuss with them? Put that discussion on electronic ink and maintain a talkative tone in your writing.
All the information you need can be given in dialogue. - ELMORE LEONARD
See how engaging that is?
Fortunately, we are not alone out there writing our articles. Help is on the way. We don't need to remember any rules. Besides, there are more rules than the ones I mentioned above. Although it's beneficial to have those in mind so that you don't write constantly in a passive voice, for example, you can apply them in editing afterwards.
These are two online tools that will improve your content's readability for free:
The Hemingway app. You paste your finished article and the online app will highlight the sentences or words needing attention. Keep in mind of the additional suggestions found in the right column. The tool is also available in desktop version for a small fee.
The Orwell app. It's pretty much the same tool with slight differences in rules. After I finish writing my document, I paste it to this online app. My aim is for a Grade 9 or less.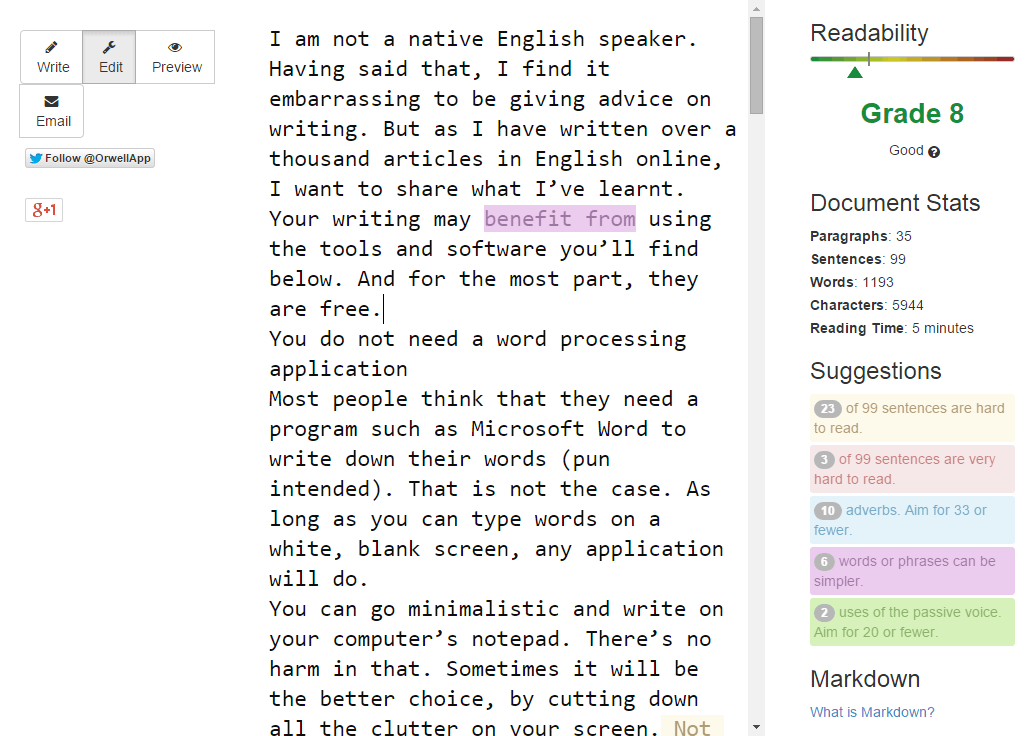 Notice that you lose any formatting you've done before importing your words into these web tools. Remember when I told you not to worry about formatting your text? As a side note, I would use these tools strictly for editing. Despite their attractive distraction-free editor, writing online without auto-saving is a recipe for disaster!
Grammar and spell-checking your document
At this point, your article is edited for readability but there might be spelling and grammar mistakes. You should never publish a document under these circumstances. Always have your article checked for errors. A hurried up and full-of-mistakes article looks unprofessional and will harm your reputation as a writer.
If you opted for a commercial word processor, chances are your document is already checked for spelling and grammar mistakes. A grammar and spell-checker are usually built-in with commercial software.
How about when you write online at either Word Online, Google docs or even in your WordPress' editor?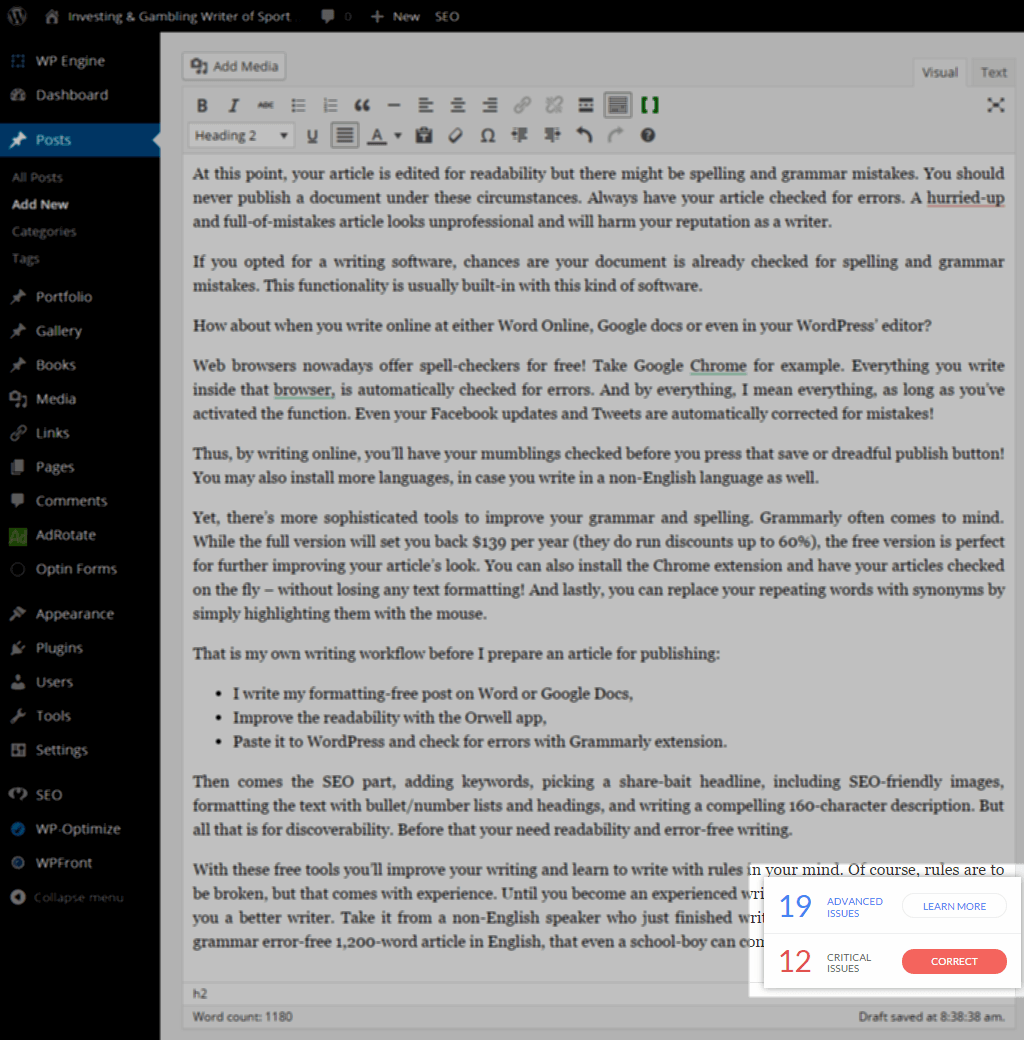 Web browsers nowadays offer spell-checkers for free! Take Google Chrome, for example. Everything you write inside that browser is automatically checked for errors. And by everything, I mean everything, as long as you've activated the function. Even your Facebook updates and Tweets are automatically corrected for mistakes!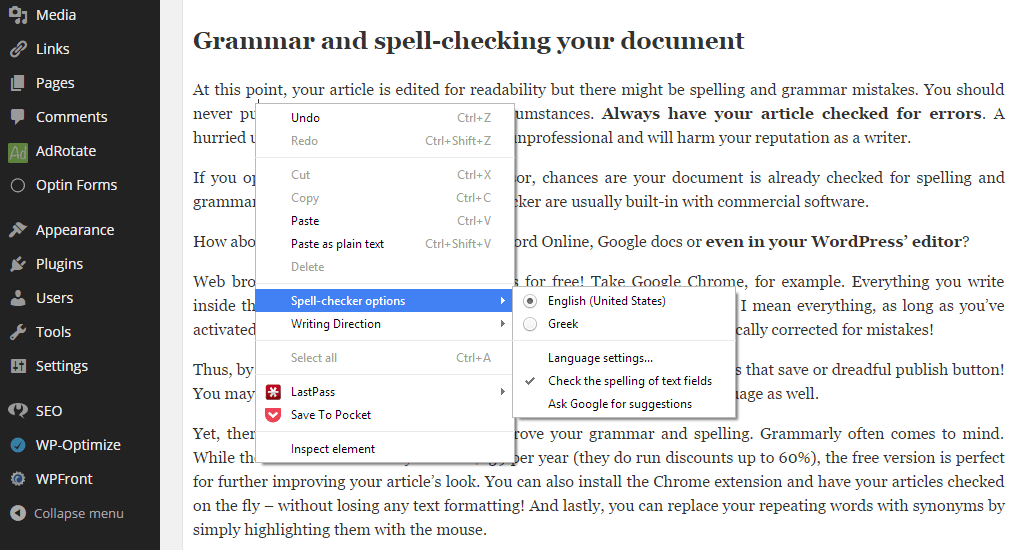 Thus, by writing online, you'll have your mumblings checked before you press that "save" or dreadful "publish" button! You may also install more languages, in case you write in a non-English language as well.
Yet, there are more sophisticated tools to improve your grammar and spelling. Grammarly often comes to mind. While the full version will set you back $139 per year (they do run discounts up to 60%), the free version is perfect for further improving your article's look. You can also install the Chrome extension and have your articles checked on the fly – without losing any text formatting!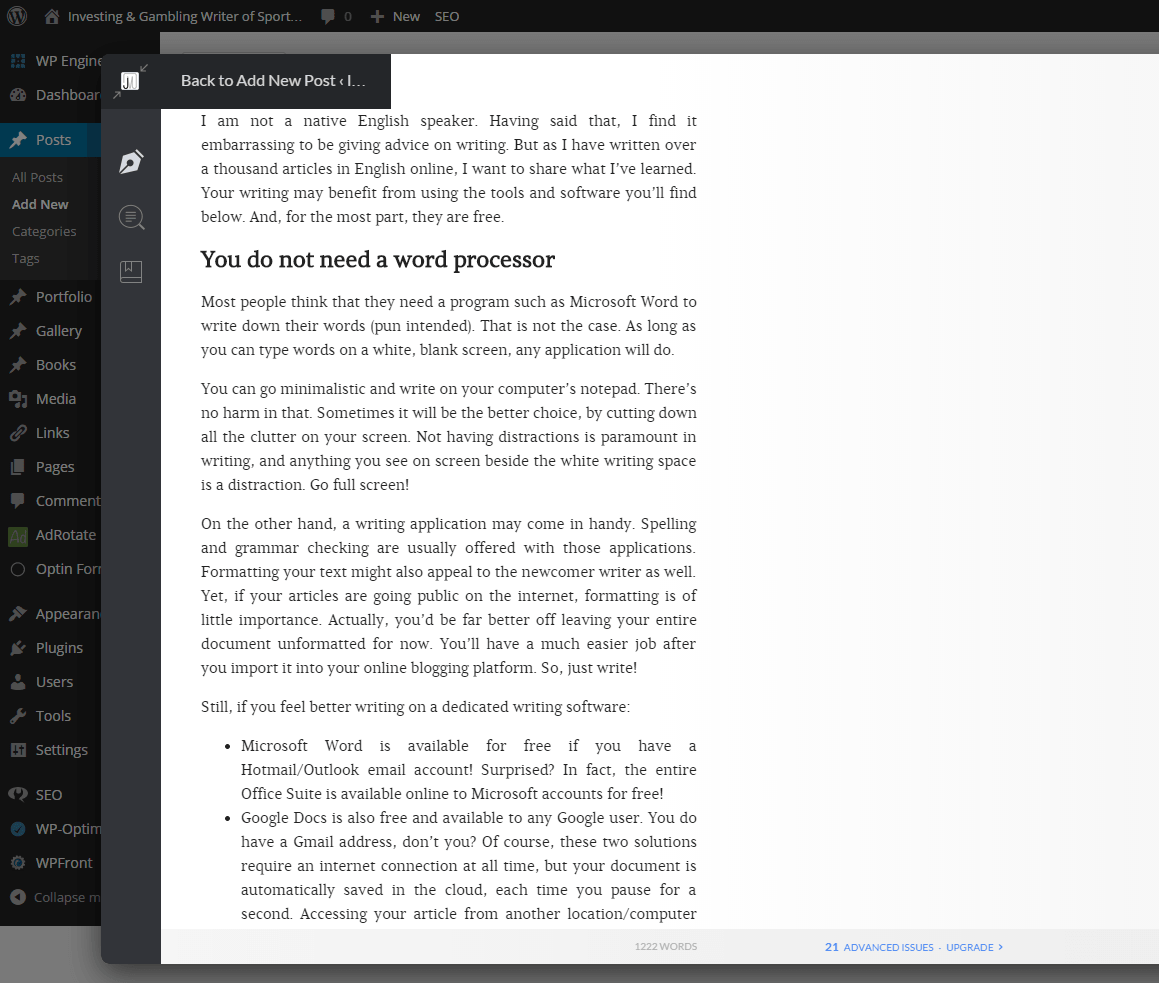 And lastly, you can replace your repeating words with synonyms by simply highlighting them with the mouse. Improving writing skills does include enriching your vocabulary.

That is my own writing workflow before I prepare an article for publishing:
I write my formatting-free post on Word or Google Docs,
Improve the readability with the Orwell app,
Paste it to WordPress and check for errors with Grammarly extension.
Then comes the SEO part, adding keywords, picking a share-bait headline, including SEO-friendly images, formatting the text with bullet/number lists and headings, and writing a compelling 160-character description. But all that is for discoverability. Before that you need readability and error-free writing.
Style is to forget all styles. - JULES RENARD
With these free tools you'll improve your writing skills and learn to write with rules in your mind. Of course, rules are to be broken, but that comes with experience. Until you become an experienced writer and know why you are writing, sticking to the rules will make you a better writer. Take it from a non-English speaker who just finished writing and editing this spelling and grammar error-free 1,200-word article in English, that even a schoolboy or girl can comprehend!
Featured image by Kristina Alexanderson