The 2015 Rugby World Cup bettors' preferences
A brief analysis on the ups and downs of 2015 Rugby World Cup's betting odds charts: Which of the teams did punters prefer to lay their money on?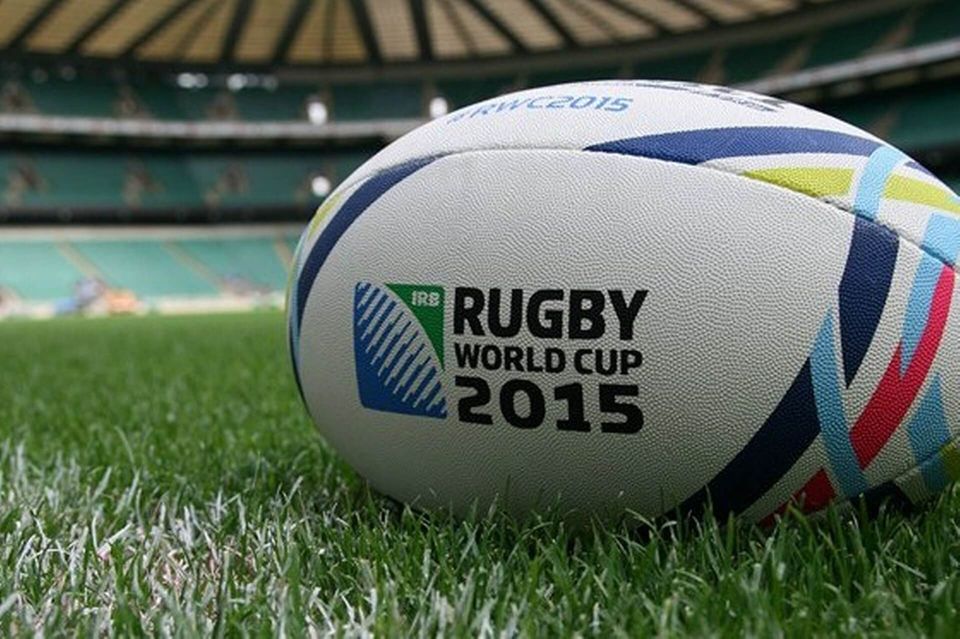 On September 18, the 2015 Rugby World Cup is set to begin, with New Zealand appearing as the top favorite in winning this year's trophy. Second on the list of favorites according to the betting odds, we find the host country for 2015, England, followed by South Africa, Australia and Ireland, which complement the group of top 5.
Would this be an accurate depiction of bettors' true preferences?
A brief look at rugby odds charts
Rugby… This is one of a few sports I know very little about. In fact, I may have never written anything about rugby in my whole life, as far as I can recall!
In any case, my primary concern is focusing on the charts at all times. To the extent that demand and supply can be well represented on a graph, analyzing market trends is my favorite endeavor. This is also true as regards 2015 Rugby World Cup betting, or any other sports for that matter. In this case, we are going to look closer at the demand curve, as evolved since the time punters placed their first bets.
First of all, let us start with the teams that seem to attract most the interest of gamblers. This punters' preference has driven the odds down as bookmakers have adjusted their books, hence we'll be talking of shortening odds first.
New Zealand, Australia, Ireland, but also… Scotland!
Again, as mentioned multiple times in the past, we witness the "principle of declining odds" for the top favorite being reaffirmed. We've said this before and we'll say it again: bettors tend to lay their money on the team that appears having most chances of winning the title/championship/tournament/cup. This is also true in the case of New Zealand.
However, do not expect a strong dive, unless specific events unfold or news hit the headlines. Nonetheless, the decline from 2.50 to 2.10 is not to be regarded as mediocre or modest by any means.
Let us forget, for the time being, the next two favorites' odds charts and concentrate on the performance of Australia. August befriended the country of the kangaroos, as players speculated in favor of Australia forcing the odds to move downwards. An 11.0 stake was very soon replaced by a mere 8.00 even though a significant increase was also recorded in 2013. True, gaming operators start offering their odds very early for such games; sometimes the betting market is available for several years!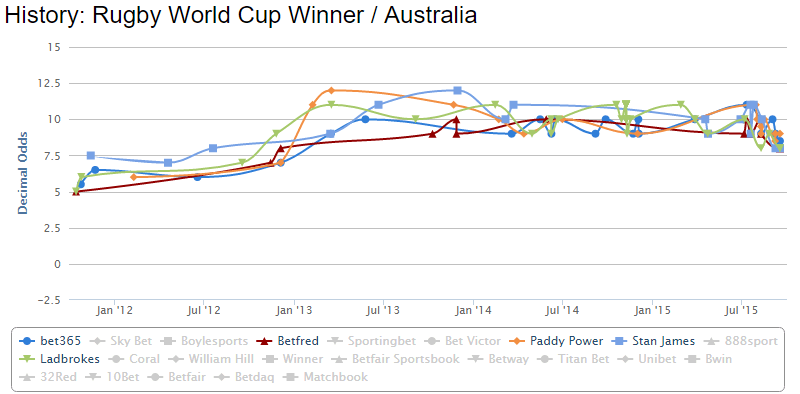 At the very next place, Ireland saw a solid decline on its betting odds. Starting in 2014 its odds shrank continuously, tumbling from 20.0 all the way down to 10.0!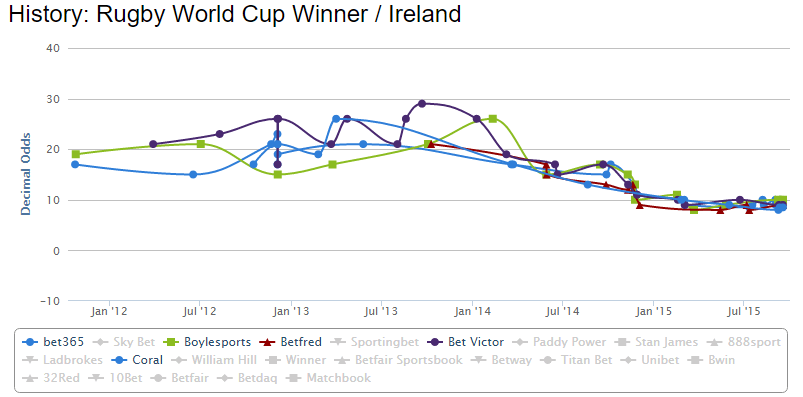 However, plummeting odds isn't exclusive to the top favorites! For example, Scotland has been referred to as an underdog so far. Nonetheless, its recent decline may entice some bettors to reconsider. The team could surprise us notwithstanding the recent odds' volatily, which should not be viewed yet as concrete indication of future performance. I am not convinced to bet in favor of Scotland, although the team deserves our close attention on this World Cup.
Let's go on with the drifting odds that drew my attention.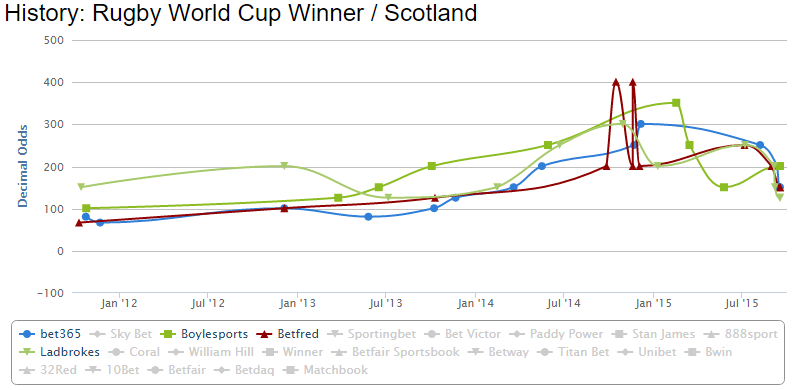 England, South Africa, France, and Wales
There you go, England. This is a surprise. Very rarely will a host country experience a decline to the bettors' preferences. Still, this is the case with England, since the beginning of 2015 at least. Starting at 4.50 the odds climbed to 5.50 and then to 6.0 on several sportsbooks.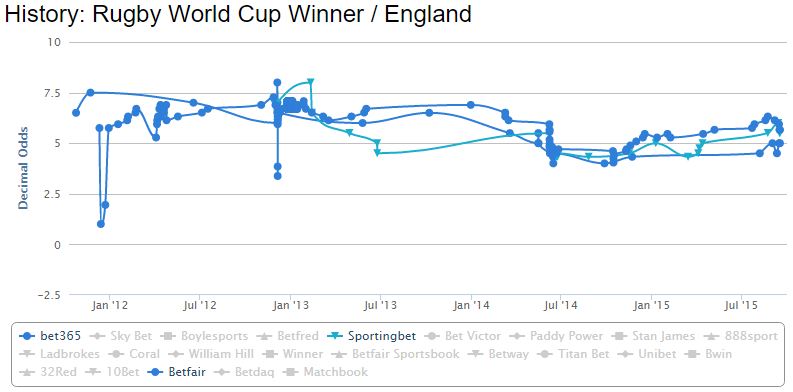 We witness a similar path for South Africa, a fact that made punters having placed their cash on the team very nervous. Initially, the team accumulated some kind of winner's momentum but soon thereafter South Africa bounced back to higher levels.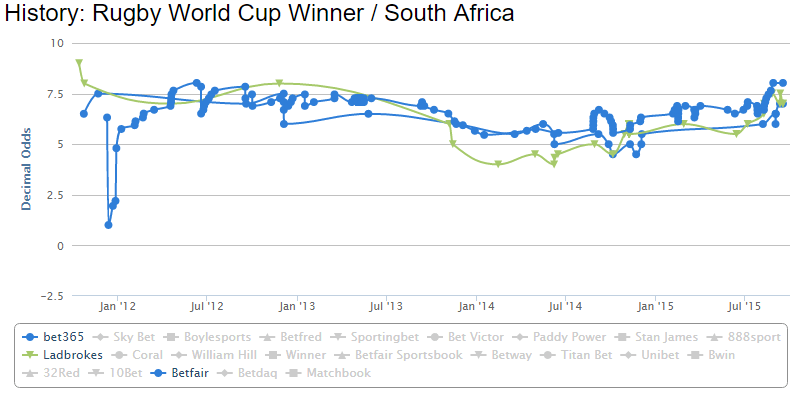 In contrast, France suddenly gained steam, an abrupt reaction which is quite obvious by the declining odds printed on the following chart in the last few weeks. Soime might say that this trend resembles the performance of Scotland or even Australia explained earlier. Personally, I would consider this drop to be a correction that will end soon, before the long term uptrend resumes.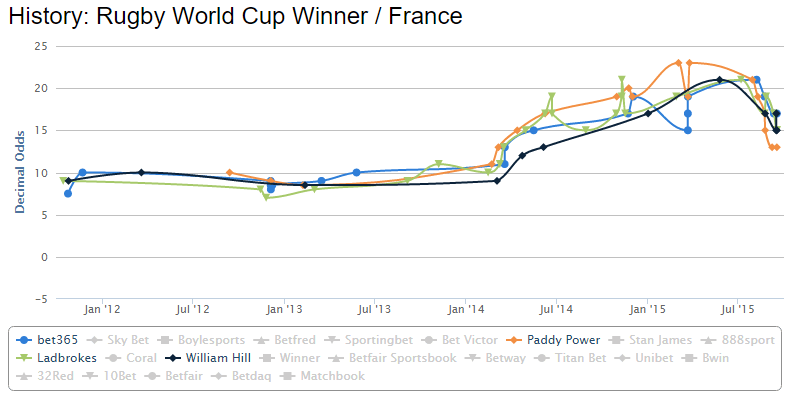 As far as concerns Wales, I think there is no objection regarding the strong revulsion expressed by the bettors that led the team to skyrocketing odds, from 10.0 to 25.0 in some major sportsbooks. I should rather underline at this point that the chart – as well as the previous charts – does not include several gaming operators. This is on purpose in order to present the graphs in an orderly fashion. More lines would render the charts incomprehensible because the curves would overlap and look like a mess, forbidding any analysis on market trends. Similarly, the reader must take notice that the odds appearing on the chart are not the actual lower and higher values in the market, as they would appear if all sportsbooks were included on the charts. For example, in a number of betting exchanges the odds for Wales have already reached… 40.0!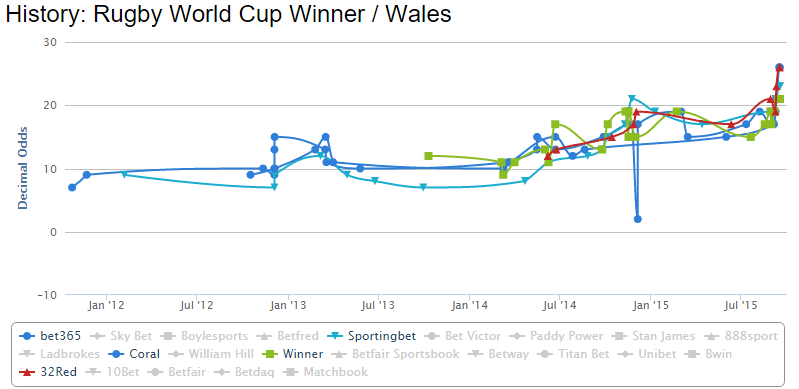 How about Top Tryscorer market?
I confess… I had to google Tryscorer to find out more about the term, which should give you an idea about my relationship with rugby. Anyway, in this market of try scorers something strange happens. Specifically, the odds of the second favorite, the New Zealander Nehe Milner-Skudder, are plummeting from 40.0, advertised by bookmakers in July, to hardly 10.0!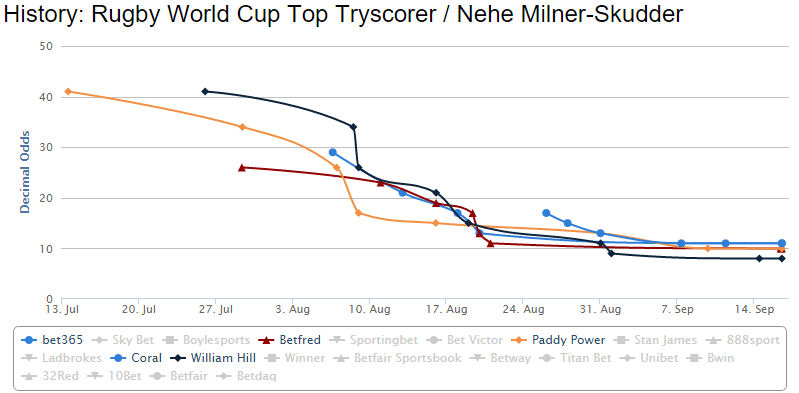 Based on the above, I would highlight the decline of Ireland and the slump of Nehe Milner-Skudder. These options offer satisfactory returns if things go as expected, while the odds should find plenty of room to continue their decline in lower prices. However, I would be skeptical to wager on Wales as well as South Africa. At the same time, Australia could be an alternative to the bettor who is looking to bet on single-digit odds but consider the odds performance of New Zealand uninteresting. On the other hand, if you are looking for a bet to brag about for years should it win, do take a closer look at Scotland. Sure, a tough call but… never say never.