Formula 1 betting trends after Singapore
How Formula 1 betting markets reacted after Singapore Grand Prix? Would this be the right time to bet on top drivers, before they visit Japan's Suzuka?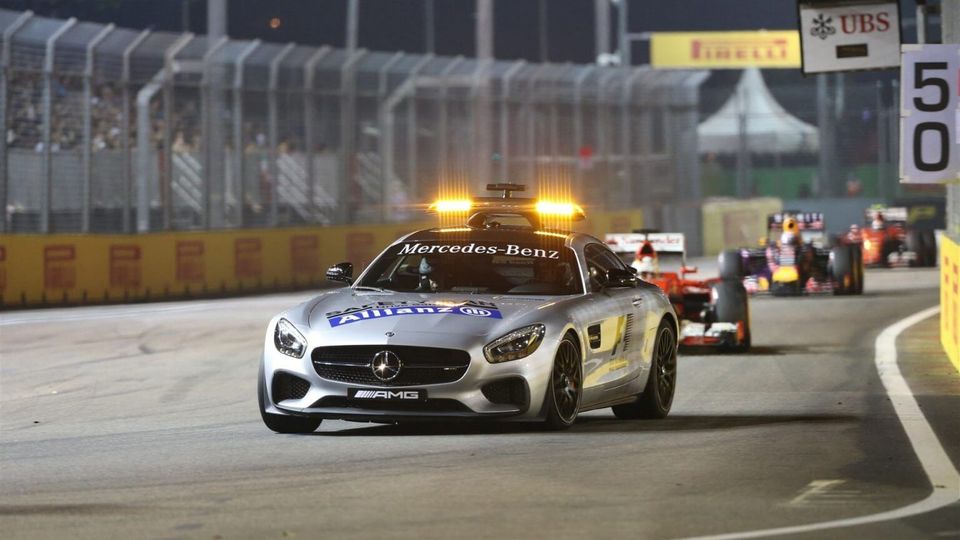 Mercedes has been on the crest of Formula 1 wave during 2015. Till recently, both its pilots, Hamilton and Rosberg, have been monopolizing the very top positions of the Grand Prix. Surprisingly, that awesome blockbuster performance fell short in Singapore, when Vettel crossed first the finish line, driving a Ferrari. Mercedes had no place at the winners' podium, where the pilots of Red Bull and Ferrari appeared smiling after they came up trumps at the race. In fact, the only Mercedes that led the race at a time was… the safety car.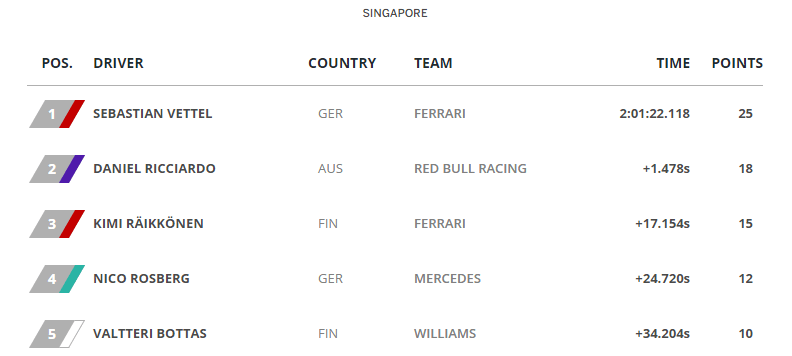 How did betting markets respond to the news?
Would Hamilton's limping be enough to deter bettors from placing their money in favor of his winning this year's F1 championship? Before we take a look at four charts that drew my attention at Betfair's betting exchange, let's go over the scores of the drivers in this year's Formula 1, six racing events on the calendar prior to the grand finale.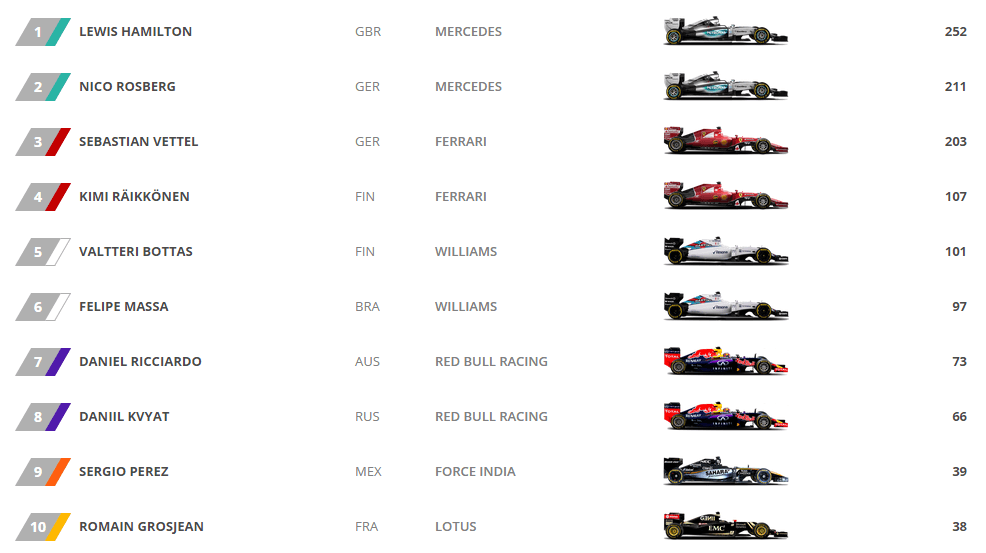 Hamilton: A promising opportunity
Hamilton's odds have been sliding downwards steadily since day one, thanks to the driver's impeccable performance. The decline was hardly decelerated during the preceding months, finding support at 1.07, which is the lowest odds ever recorded in favor of Lewis Hamilton in 2015.
However, following his retirement in Singapore on Sunday because of mechanical failure, punters rushed to "confront" him in speculation, forcing the odds a little higher at 1.20. Supply and demand found equilibrium at 1.15, a level which should remain steady till the next Grand Prix of Suzuka.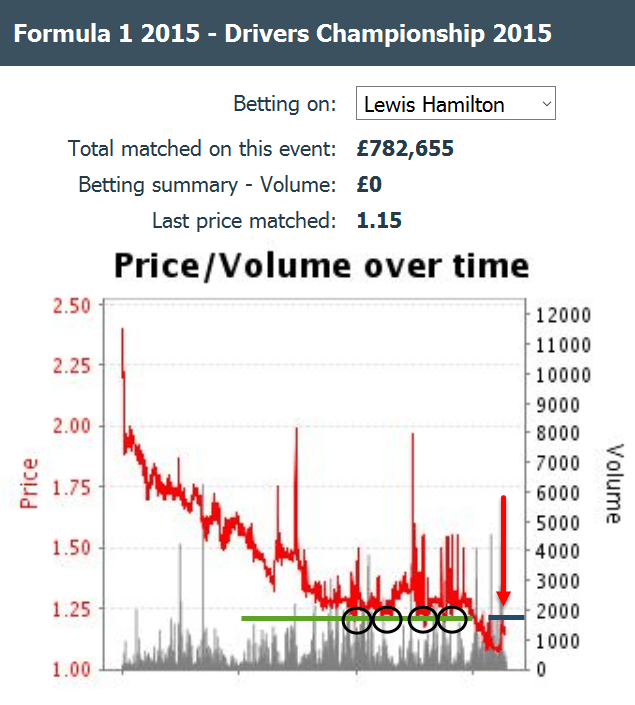 Yet, the race in Japan is not that far away! It is scheduled for the next weekend. Therefore, if you think that everything will come up roses for Hamilton in the end – so that the decline on the odds is more likely to resume – this is your chance. It is not really a matter of "value" but rather of trading strategy, because support was tested in the past at 1.20, as I point out in the chart.
In other words, layers had not allowed the odds to dip below that level, till strong pressure from backers rendered that level unsustainable. Usually, when that occurs – not only in gaming but also in financial markets, support level is turned into resistance against any possible rise of price. Hence, this might be a convenient moment to place your bets, following the general trend.
Rosberg: The exact opposite!
Everything we said about Hamilton would not stand true to Rosberg. The odds on Rosberg's winning the championship have already reached double-digit levels, despite his fourth place in Singapore.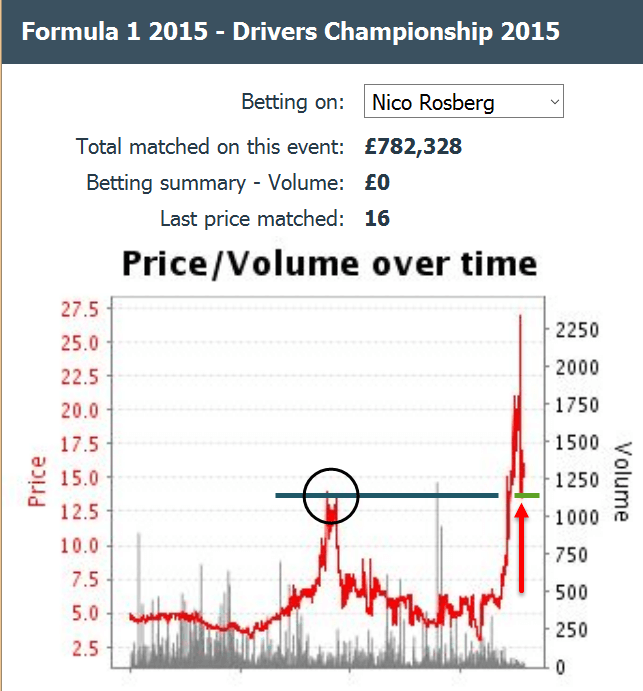 On the chart, we see what I explained earlier on Hamilton's graph about the formation of strong support and resistance levels. Several months ago, backers have been reluctant to bet in favor of Rosberg, a fact that allowed layers to push the odds higher to 13.0. Soon, bettors got hold of the market, ditching the odds to previous levels. One way or the other, a new level of resistance was formed at 13.0.
Note how the odds on Rosberg nowadays are being "corrected", as we say, up to… 13! Coincidence, right? At this moment, you could make your wager in favor of Rosberg at around 15 – which I would be cautious enough not to do. I expect an increase further up since previous resistance is more likely to act as support.
Vettel: A surprise in the making?
Lacking 49 points behind Hamilton, hardly anyone would fantasize Vettel to be this year's champion. This is also reflected on his current odds, at 15.0. Based on the above analysis, we could argue that support is strong at this level, which may be a good opportunity to bet against Vettel under the same principle that we analyzed earlier when discussing the performance of Rosberg, apart from one very important detail.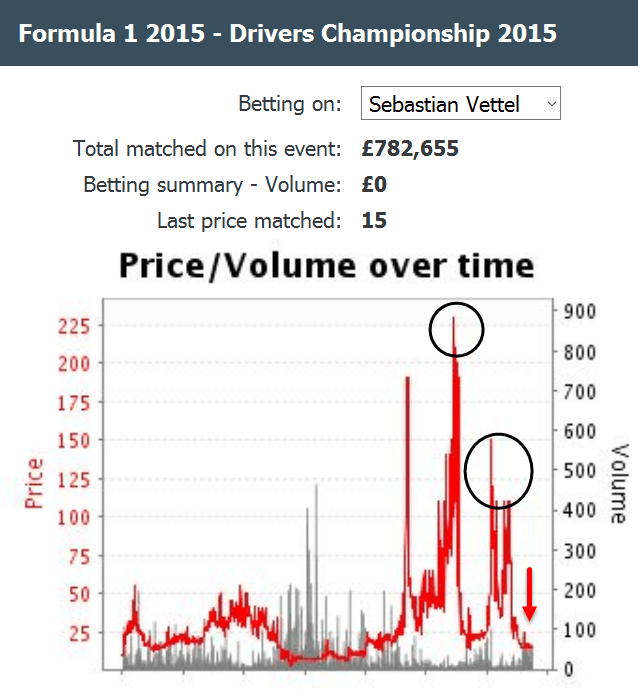 The odds a few months ago were hovering around 200.0, before they plunged again into the area of 25.0. Ever since, layers tried repeatedly to push the odds back to higher prices but they were unsuccessful, as a rise near the 100-zone was the best they have achieved. Today's equilibrium between backers and layers is tested a little lower (15.0). Consequently, these two marks (lower high and lower low) make me wonder if we could actually see Vettel… unexpectedly snatch victory from the jaws of defeat. He is the underdog, no doubt about that. However, I could be teased into taking that long shot the moment Vettel's odds record a new spike on the chart.
Alonso: A long shot indeed, but…
Don't get excited. I am not going to lure you into betting on three-digit odds! Alonso is not even among the top 10 in tFormula 1 2015 championship. So, why would I mention Alfonso?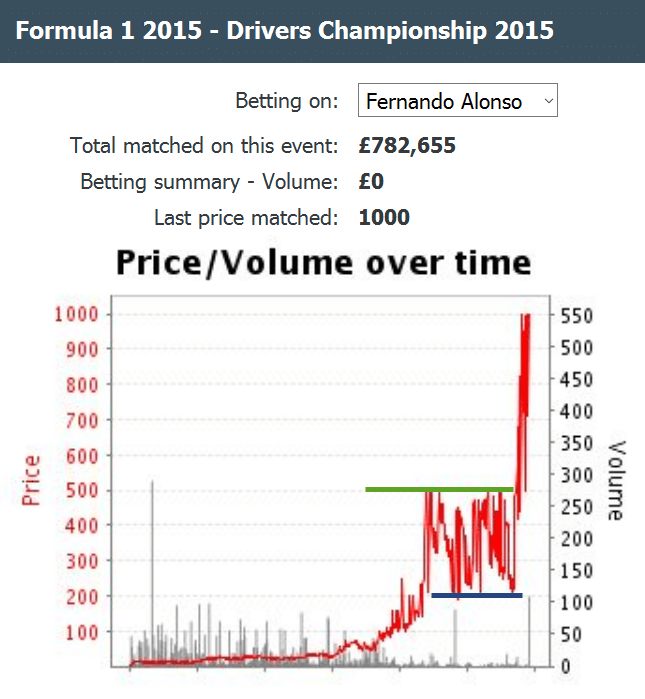 The reason is quite simple, as you may have already understood by looking at the graph. His performance helps me highlight the importance of support and resistance levels in odds charts, and further in the betting psychology. Note the range formed between 200.0 and 500.0. I guess nothing more is to be added here, except that the trend may often gain momentum depending on its direction when it breaks through that range. In that sense, it is no surprise that when the 500.0 level failed, the next bet was immediately matched at 1000.0 at the betting exchange.
Read through the betting charts to discover the punters' psychology
The betting odds charts revealed once again the attitude of bettors. Trends usually emerge more intense in case of panic, which happens when important support or resistance levels are broken (because of unanticipated events, especially in the case of motorsports).
In contrast, calmness is obvious when the dust is settled and fair (?) balance between supply and demand is achieved. This would be the best moment to place your bets if you are gambling on the big picture. On the other hand, if you are after "fast" but not "furious" (easy) profit and gamble in a shorter timeframe, conditions of panic may offer the best opportunities. Provided that you are not in panic yourself!
Photo courtesy of Formula 1