NBA picks based on odds activity before market turns in-play
NBA 2015/16 season is just around the corner, yet punters have been active in betting markets already. We take a peek on the developing trends.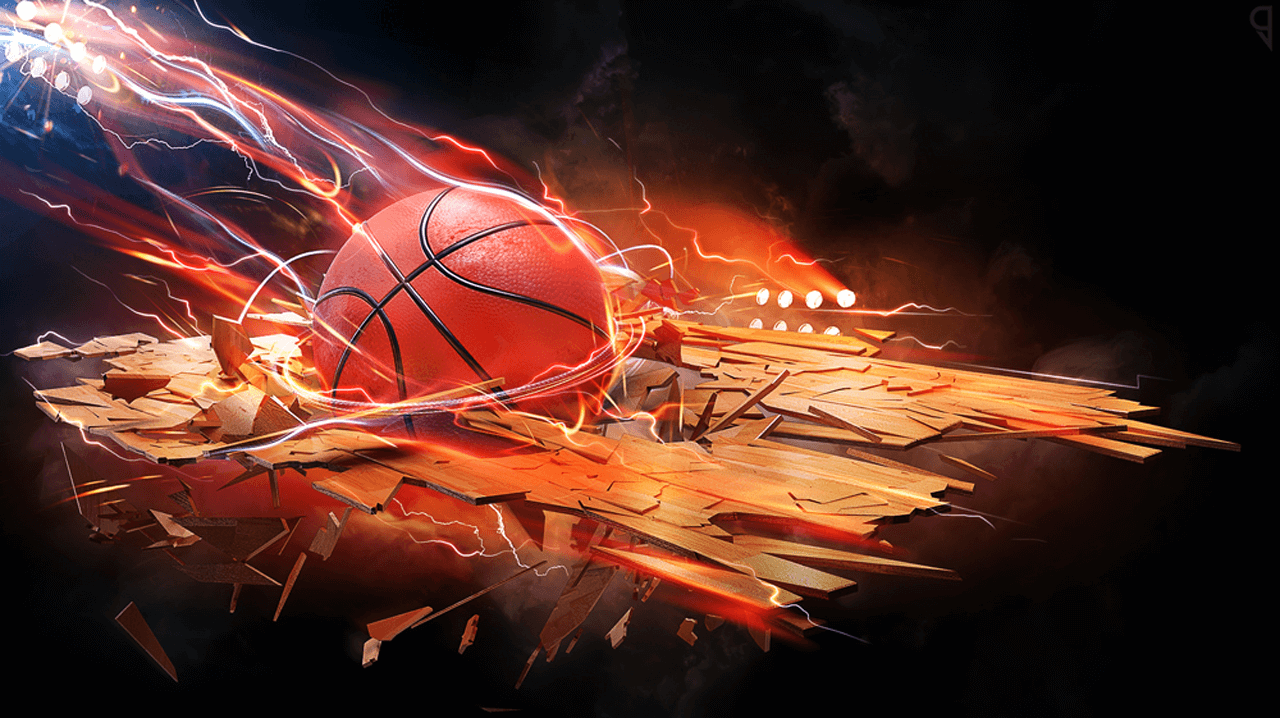 NBA regular season is on! Punters, though, have already been risking their money in sportsbooks and betting exchanges for quite a while now. This betting activity is shown on odds charts and based on that, we examine the betting trends and market dynamics in the following paragraphs. Can we also make some NBA picks that don't necessarily sound like wild guesses? Let's find out.
My general practice is to examine the charts in a descending order of the odds. Thus, we start with the top three teams.
Cavaliers, Spurs and Warriors
Don't expect much at this point of the championship. The current liquidity is the bare minimum needed to make any sort of chart analysis so soon. Most of the betting volume is accumulated on the top three favorite teams, if not on the team that tops the list: Cleveland Cavaliers. The current trend faces north and that's not a common thing when it comes to long-term betting markets. Often, the odds of favorite teams show a declining line, but not in the case of Cavaliers. Despite the sudden drop in the first stage of betting, the odds are slowly drifting towards 5.00, having hit a low at 3.00.

If you are a trend-follower, you should stay away from betting on Cleveland before a reversal takes place.
San Antonio Spurs also show a similar uptrend. After a clearly mispriced bet at 13.0, the odds dropped to 5.00 and they are now calm at 6.00. You got two strategies here: either lay Spurs if the odds trade above 7.00, or back Spurs hoping the resistance at 7.00 won't fail.
The Warriors' chart shows a ranging market. Betting on Warriors has taken place between 6.00 and 7.00. Given the odds are not going to trade inside that range forever, I would keep an eye for a breakout and trade towards the direction that the market will point to. By the way, we see the liquidity getting thin enough already on the third favorite team, to the point the chart is almost meaningless. But let's move on to the rest of the field.
Oklahoma, LA Clippers and Chicago Bulls
Out of these three NBA teams, the one with the most interesting betting activity before the season begins is definitely Chicago. Just omit the first couple of bets. The big picture here is that punters are betting on Bulls on quite rewarding NBA odds. Even still without an official game in regular season, bettors are happy to risk their money on a likely big return on their money. Question is, will the downtrend last till the end?

LA Clippers' betting chart is also attractive, though. Fancy a bet on them? Just wait for a breakout to single-digit odds to take advantage of the momentum that will build up, following the collapse of the support level. Don't like their chances? Lay them now, betting on the support level at 10.0 to hold up.
Up next, Houston Rockets
And that's pretty much it. Rocket's odds chart is the last one of the charts that make any sense to do some analysis. Here, the established support (20.0) is failing and odds are trading at 17.0. Layers evidently couldn't keep the odds above 20.0 due to backers' strength, which is picking up lately, after odds hovered between 20.0 and 30.0.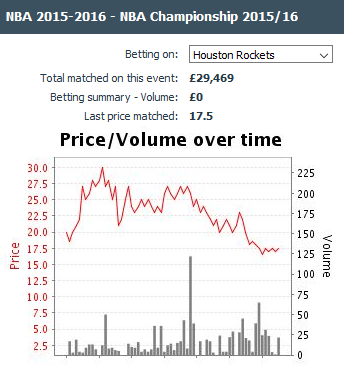 It's another downtrend to trust, or not.
And with just $45,000 volume on NBA winner market in the betting exchange, liquidity dries up from that point downwards. The remaining teams don't show much activity on their odds charts, given their small chance of winning the NBA Championship 2015/16 at this time.
Therefore, pick your spots, decide whether you like a trend-following strategy or not and act accordingly. Or just wait for the first couple of official games, before you make up your mind. That strategy is actually preferred and it's called, "sit on your hands". It will save you money.