Arsenal & Olympiakos on different paths at Champions League
As Arsenal drifts away from the next Champions League phase, we examine the betting dynamics printed on the odds charts of betting exchanges.

Champions League soccer odds have been moving up and down as the fourth match day drew to a close this week. There was little action for the top three favorites. Yet, strong drifters were printed on several odds charts with Arsenal's being the most spectacular of them all and one that was actually predicted!
Bayern's odds drop again
Barcelona and Real Madrid's odds continue trading inside the range as described in the last article. While not much has changed in those charts, odds resumed shortening for Bayern Munich, as predicted. In fact, it turns out that backing the German team at 4.50 when odds pulled back to the trend line, already proved a wise choice. As odds now are consolidating at 4.00, I expect a collapse on the next match day, as long as Bayern does not mess up versus BATE Borisov.

Picks looking good on the Englishmen
Next, I discussed the three English teams in my previous article and I will keep in line with that article flow.
Apparently, I have been spot on when I predicted an odds decline below 15.0 two weeks ago for Manchester City. The odds currently seem to be retracing a bit, but at this point I am expecting them to drop to at least 12.5 or even touch 10.0. Besides, that's what I was expecting back then.

Odds for Chelsea haven't yet exited the range between 20 and 30. Previously, I stated that "I would avoid betting in favor or against Chelsea at this point, though, unless the odds ascend to 30 or drop to 15.0 respectively". In that regard, someone who backed Chelsea at 30 when odds spiked to that level can already take some profit. Given though the long-term uptrend, I would hesitate to bet in favor of Chelsea anymore, until odds print a price below 17.0 at the moment.
My pick on laying Manchester United is also looking good. I pointed out the strong support level at 25.0 posing as a great entry for betting against United and the odds have drifted up to 35.0 since. With the current price action in mind, I would wait for the odds to come back down to 25 for another lay, should that happen. If not, so be it. I won't bet against the trend that is pushing their odds upwards and go against the crowd.
Arsenal confirmed the crowd
I stand on my recent high-risk pick to lay Paris St-Germain, since the support level at 12.50 is holding up till now. Yet, there are other, much safer bets. Take Arsenal for example.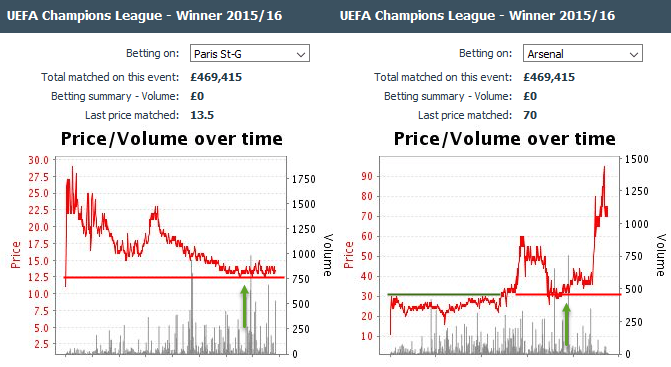 Did you lay at 30.0? I quote from that previous post: "Yet, an even safer lay soccer pick is on Arsenal. […] I suppose this is a great opportunity to bet against Arsenal and make a profit during the last three games in the group stage."
The odds skyrocketed to 90 and I suppose there is a very little chance that this pick will end up a loser. Even if it does though, you can trade out and take your profit now.
Olympiakos for the win!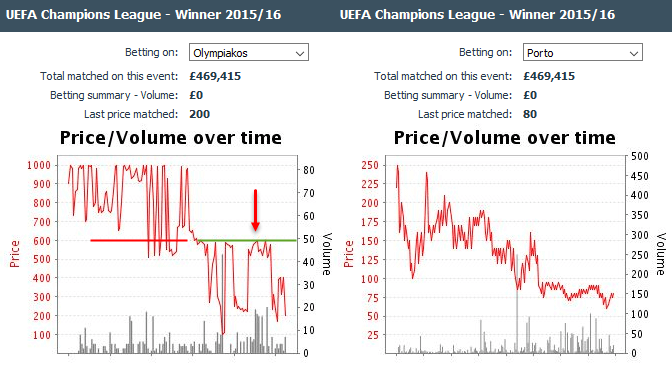 Finally, concerning my long-shot soccer picks, Olympiakos seem to be doing better than Porto and Dinamo Kiev. The odds shortened down to 100 from 600 since my pick, so again, punters who followed the advice can already secure some profit. I would recommend against that, though, given the momentum of the Greek team's odds. Should they advance to the next round, the odds will shorten even more, offering a bigger reward and one that you should take, due to the high risk of the Knockout phase. Thus, betting on Olympiakos that late into the current stage, might prove rewarding.
With two more games in the qualifying stage, the Champions League's top 16 should be becoming clearer. It would be interesting though to examine the charts right before the final leg in the next article. Perhaps we can spot a surprise win or an unlikely result. Stay tuned.