MLS Cup Picks: Punters don't expect a Portland's win
Betting odds for Sunday's MLS Cup final have moved slightly. Does the Major League Soccer chart analysis warrant a bet on either team?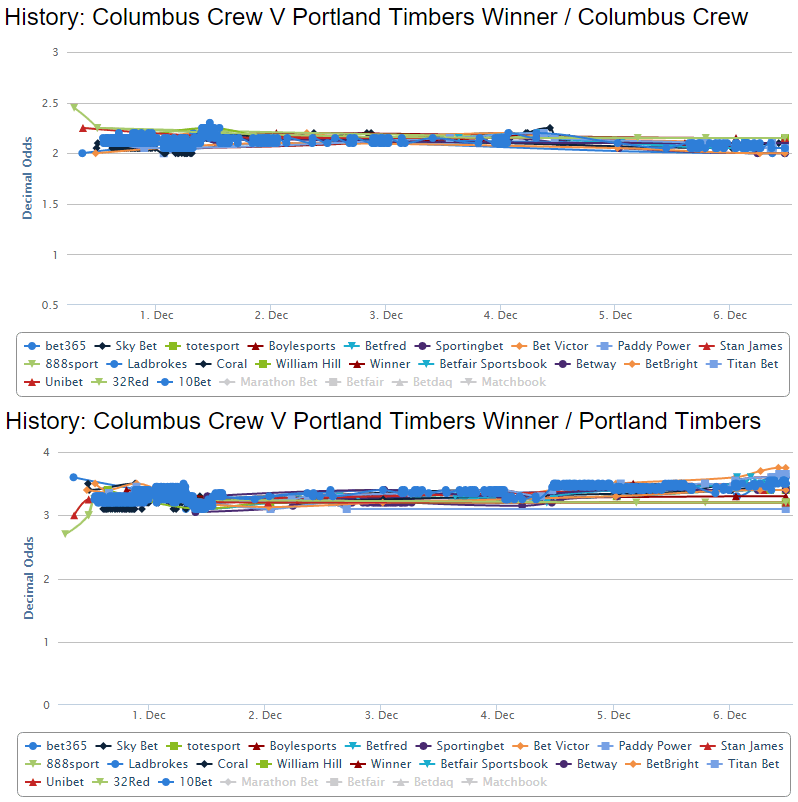 A couple of hours before the Major League Soccer's grand finale, bettors seem to be trusting their money on the Columbus team. At least that's how we can interpret the slightly drifting odds of Portland. The question is, has smart money been betting on Columbus, or do sharp bettors wait till the last minute to snatch those lucrative betting odds on Timbers?
Columbus / Portland odds charts
Without further ado, here are the two charts that tell the story this far.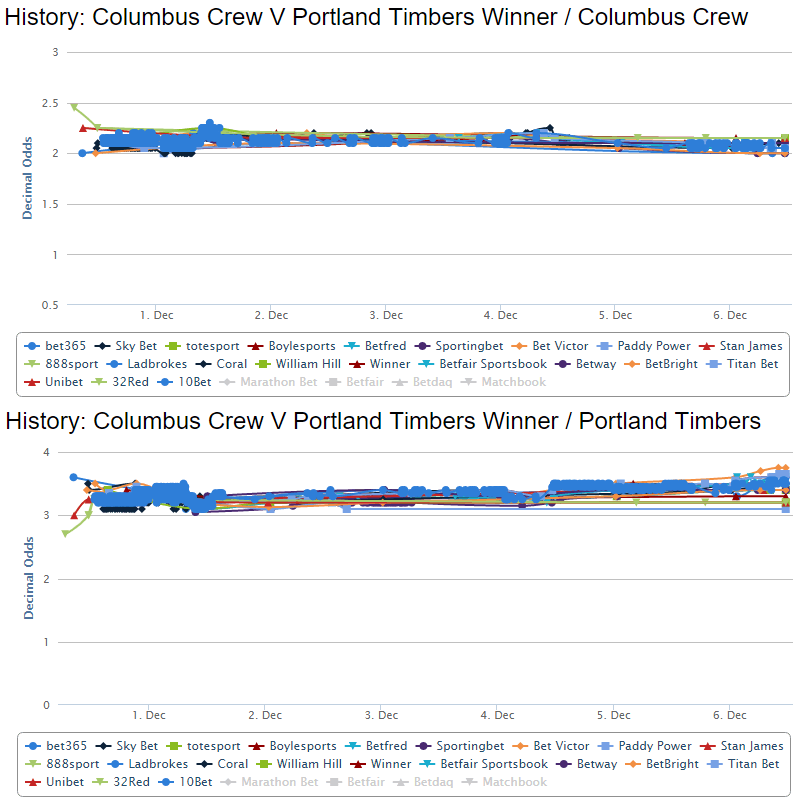 We notice that the host's odds have been shortened a little. Admittedly the drop isn't that apparent, so let's say they haven't drifted at all. For example, when SkyBet offered the Columbus win at 2.25 (+125) on Friday, that out-of-line offer didn't last long. The market immediately took advantage of the higher odds and the sportsbook had to revert back to 2.10.
And by market, of course, we mean the punters who are creating supply and demand, moving the money lines as a consequence.
Meanwhile, bookmakers try to lure more bettors on the away win. Portland's win is priced as high as 3.75 (BetVictor) at the time of writing, having drifted from the lowest price of 3.10 (PaddyPower) since December 1st.
Some sportsbooks are keeping their line unchanged, but most have been moving it during the weekend. The general trend is facing upwards and sooner or later that may affect Columbus' line as well. It would be really interesting if the final odds for Columbus Crew drop below 2.00 (+100).
Verdict
What do we make of all this? Well, if we are following the trend and estimate the hosts' win at more than 50%, we should bet on the Columbus win. On the contrary, if we believe the sportsbooks' opening lines were correct and the crowd is wrong, back Portland as high as possible.
The choice is yours to make. Just remember there is only one correct choice here!