NFL Picks Review: Rams' odds rocket as Lions' plummet
Are bing predictions up to the task for NFL picks? Can they predict betting patterns, revealing future odds movements? Read how they perform this weekend.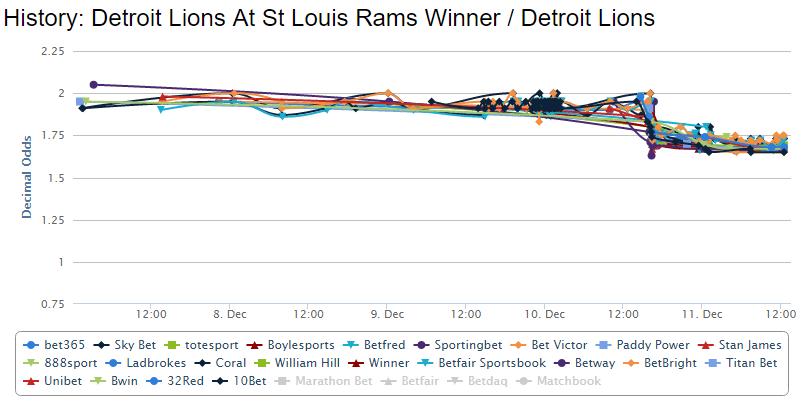 On Tuesday's post I explained how we can take advantage of predictions made by Bing's team. In short, bing's estimates may reveal future declines.
As the weekend's NFL games are closing in, it's time to take a quick look at the odds' behavior. Did we successfully foresee shortening and drifting odds with our last NFL picks? Can bing predictions really predict betting trends and spot sportsbooks' mistakes?
The case of Lions v Rams odds
I will start with the most notable, favorable odds movement. Three days ago, you could back Detroit Lions at 2.05, while bing predicted fair odds at 1.92.
We expected some sort of a decline. Yet, we got something more; a plunge!
At this time of writing, the highest available odds available are found at BetBright; a measly 1.75. Most sportsbooks offer Detroit's win at 1.67.
Here is the odds chart to make things clearer.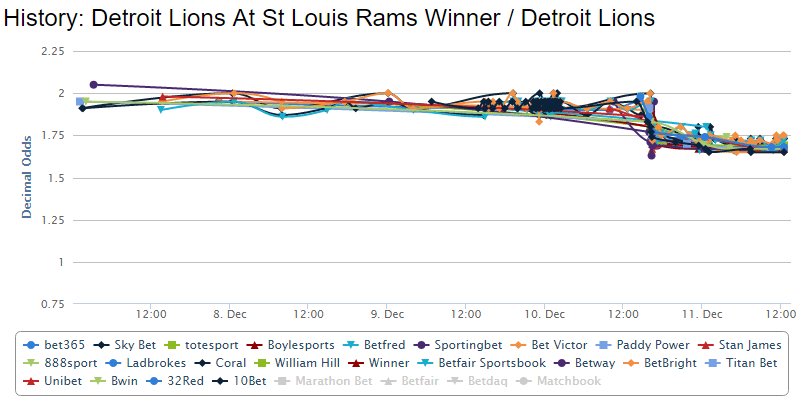 If you were quick enough to snatch odds over 2.00 on Lions I know you are now smiling. If you didn't, you might want to bet that the downward trend will keep going till Sunday. You may be risking backing at very short odds, though, compared to opening lines and fair value.
No, you still haven't won your bet. Yet, by constantly backing teams at 30% better odds, I believe you stand a better chance of becoming a profitable handicapper.
How NFL Week 14 moneylines moved
The rest of the promising declines didn't perform that well. In fact, some markets reacted in the exact opposite direction, such as in Bills vs Eagles game. Buffalo's odds drifted from 1.95 to 2.00, despite bing predicting 1.82 fair odds.
Saints' odds moved just slightly and Raiders' didn't move at all (4.00). Notice that bing estimates 30% win probability for the Oakland team, hence we still expect some kind of drop from those enormous odds.
Still, one can observe a pattern developing. Although the NFL odds didn't move that much towards bing's estimates, they did move towards that side, except Bills' and Steelers'. Surely, the moves aren't that encouraging, when we see odds shortening from 1.62 to 1.59 (Patriots vs Texans), from 3.95 to 3.90 (Titans vs Jets) and drifting from 2.06 to 2.10 (49ers vs Browns).
I'm sure though you'd rather have backed Giants at 2.00 on two days ago than at current 1.90 (bing: 1.92) against Dolphins.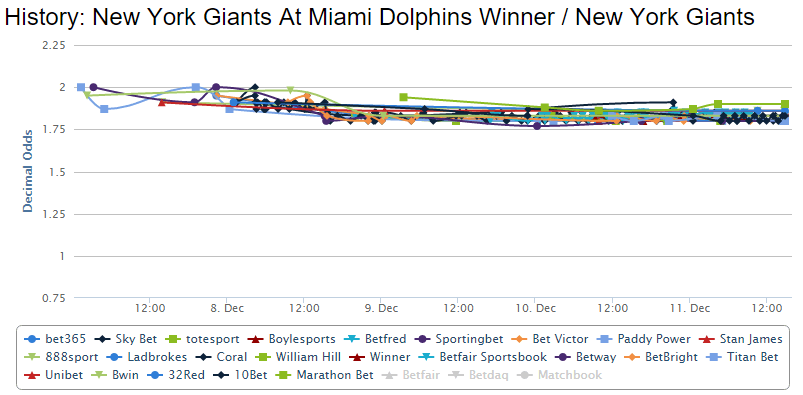 I figure sharp bettors have already taken the value out of that game, setting off on Tuesday. Are you one of them?