NFL picks: Seahawks and Steelers odds are shortening
The theory behind odds movements is a bit complicated. We examine a part of it on Sunday's upcoming games at Minnesota and Pittsburgh.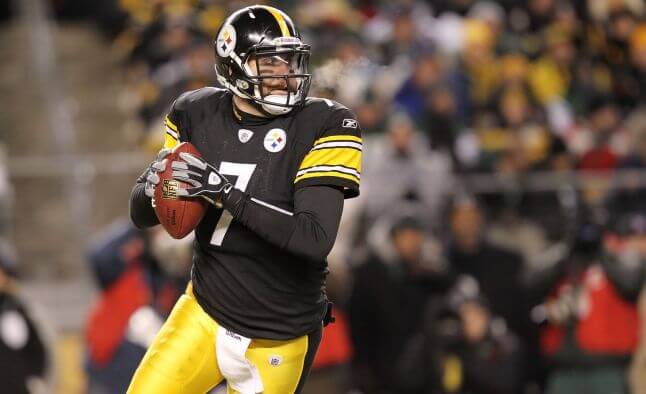 Have you noticed that betting odds move? They do so, not only on the day the event takes place, but a few days before as well. These odds movements may reveal a wrong moneyline by sportsbooks or simply the punters' psychology and tendencies.
Today, I'll be taking a quick look at Seattle and Pittsburg's odds that are already shortening.
Seattle Seahawks at Minnesota Vikings
I'll start with the team from Seattle. Their odds began dropping on Friday, two days before the game. Till then, most sportbooks had priced them at around 1.85 (-117.65 US odds).
On Friday morning a couple of bookmakers, namely Unibet and 888sport, offered the win for Seahawks at 2.02. Punters quickly snatched that offer as we can see from the chart below. At the same time, Betway was the quickest to react, bringing their odds on Seattle down to 1.70!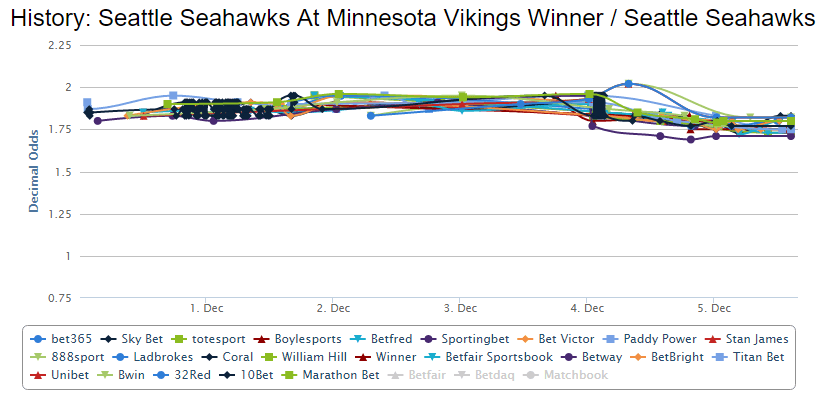 Now think, would you rather you had bet at 2.02 or 1.70? In the long run, this kind of difference separates the winners from the losers.
Indianapolis Colts at Pittsburgh Steelers
Current odds for Steelers' win trade at 1.30. That's maybe too short for many punters, who are looking for bigger rewards. Normally, favorites are priced a lot lower than their fair price by sportsbooks, taking advantage of the bettors' favorite bias. What that means is punters overestimate the favorites' chance to win, betting more than expected on them.
This sometimes makes the underdog a value bet. However, it's quite rare to see short odds shorten even more. This is the case in the Colts vs Steelers NFL game. Pittsburgh's odds have shortened from 1.35 to 1.25 on Saturday.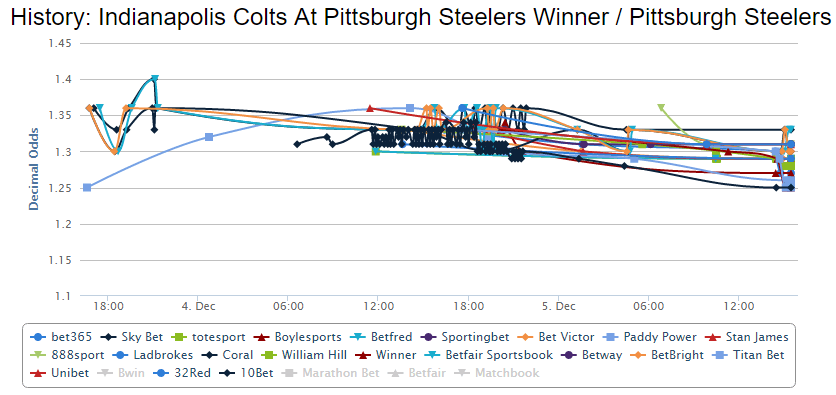 Does that mean gamblers are falling for the favorite bias even more, or 1.35 is still generous for the home team compared to their fair value? There is however, another scenario. If smart money is into this one, they either like their chances on such short odds, or they are simply pushing Indianapolis' odds higher. Their plan? To get higher odds on the underdog, when the time comes. And we'll know it a few minutes before the game kicks off. Make sure to check the charts before you place your bets.