88th Academy Awards Picks: Betting on Favorites
Flashes. Glamour. Red Carpet. And of course, envelopes. The Oscar betting markets may already be revealing the names that they will be written inside them.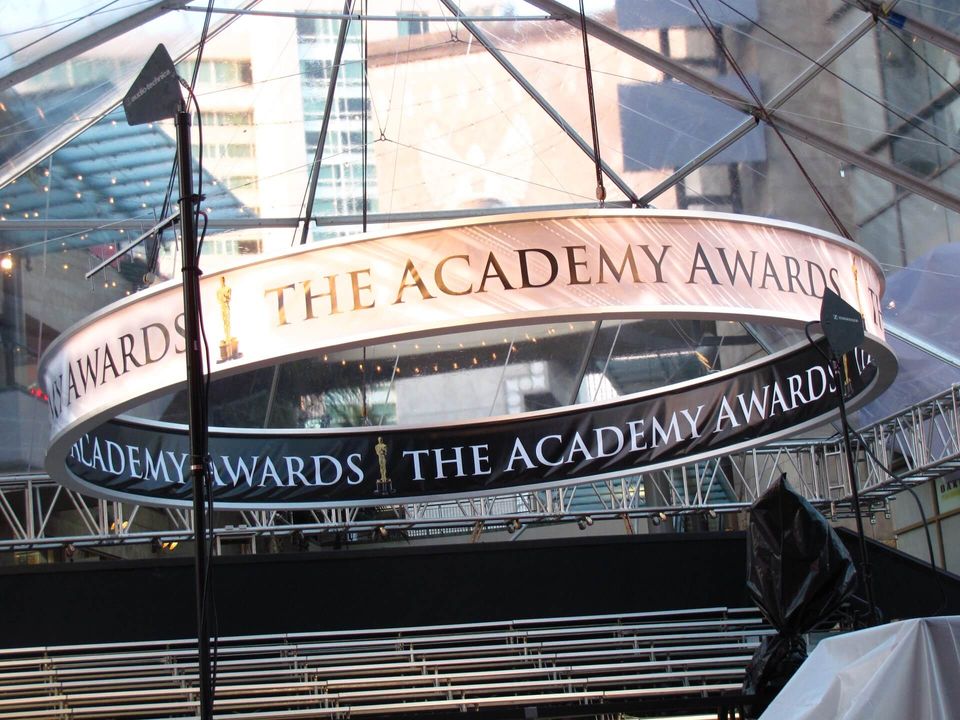 Originally published at SportsBookReview.com
And the Oscars go to… Judging by the very short odds of several nominees that you will find in the e-gaming world, it's safe to predict some if not all the winners even before the celebrities take their seats. Surprises? Yes, there might be surprises in the 88th Academy Awards but in all honesty, I can't recall a single one that had upset the betting markets in previous Oscar nights. Let's just hope 2016 Awards will be no different.
The Big 4: Best Picture, Director, Actor and Actress
The Revenant, Alejandro Gonzalez Inarritu, Leonardo DiCaprio, Brie Larson. And there you have it. The four most-talked names you'll be hearing both before and after the Awards. Most likely because they'll win themselves an Oscar statuette.
The safest to bet on is DiCaprio. His odds? Well, they really can't shorten any more now that they have dived down to 1.01 (-10.000)! Last time you could bet on the American actor to win his first Oscar this year at better than even odds was in last November!
Similar price action can be seen on Larson's chart for her performance in Room. There is really no room to maneuver here, given the shortest of short odds.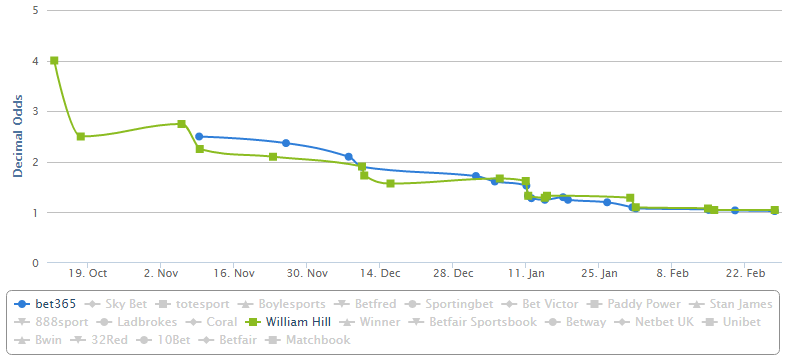 Inarritu's odds also trade very low, although there were some bumps along the road. Posing as the favorite since this bet became available for Best Director, he never was in danger of losing that top spot at sportsbooks' markets. Smart money and sharp bettors made sure to snatch those long odds before they diminished to meaningless reward. Hopefully, you were smart enough to have backed those even odds in the first days of February.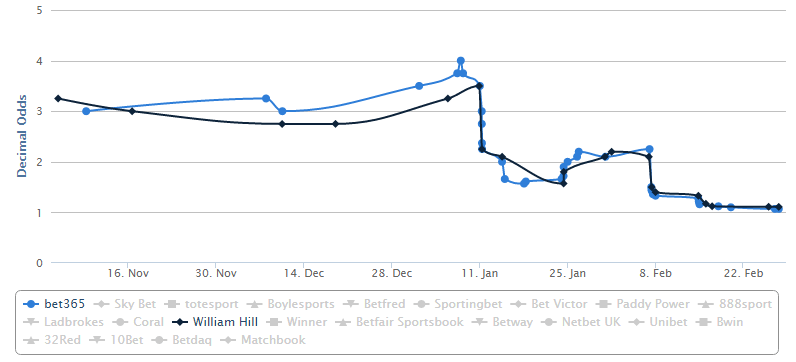 Finally, the Oscar for the Best Picture is not decided – yet. True, you can bet The Revenant to win the Oscar and get paid about half of your money back plus your stake. Compared to the odds we just talked about, 1.50 (-200) seem huge at this point.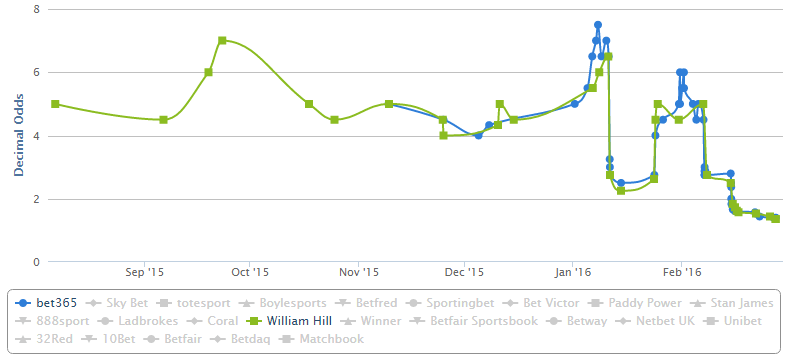 Would I include them in my today's picks? Sure, it's easy to pick big favorites such as these. They rarely lose, that's the whole meaning of being a favorite. Given the strong downtrends and momentum that these odds show in their corresponding charts, I'd be crazy to bet against. I'd be going for the Revenant though, solely because of the bigger reward. I suppose the risk of losing any of these bets is very low, as history tells us. Just don't forget that sometimes, miracles and misfortunes do happen.
Focus on favorites
Scanning through the available betting markets for the night of Oscars, I had trouble finding a tight market. You want to bet on very, VERY short odds? Wait for February each year and bet on Academy Awards. Job done.
This year? Pick Inside Out for Best Animated Feature Film (1.01), Son of Soul for Best Foreign Language Film (1.05), The Revenant for Best Cinematography (1.04) and Spotlight for Best Original Screenplay (1.07). Don't need to have psychic reading skills to predict the winners in these categories.
Having said that, you might want to revert to your skills, if you are going to back Mad Max: Fury Road for Best Costume Design (1.66)…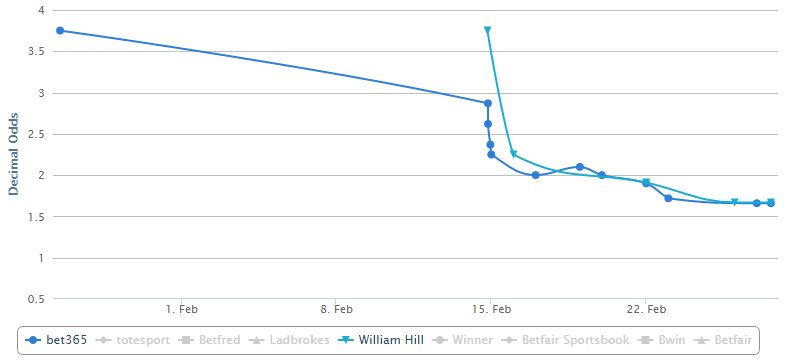 …or Star Wars: The Force Awakens for Best Visual Effects.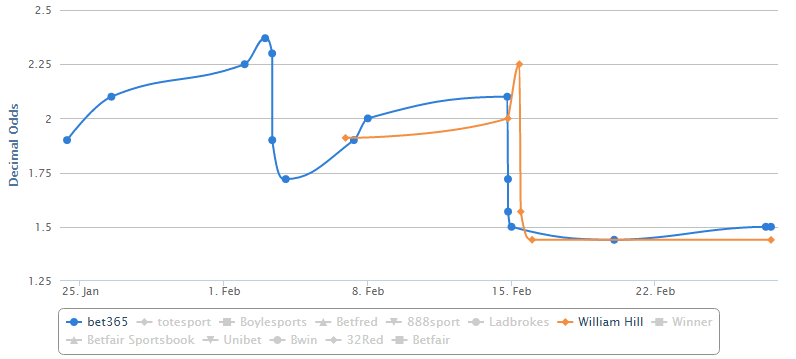 Of course, the trends are all facing south. How can it go any other way, given the very nature of this betting market? There are no injuries, no defense tactics, no football stats. Only closed envelopes and awards given by the film industry itself.
In fact, I think that backing all favorites to win an Oscar should probably net us a profit, even if we get unlucky and run into an unforeseen result. Stallone, Vikander and Til It Happens to You among so many others winning their respective Oscars for Best Supporting Actor and Actress and Original Song will make it up for us.
Finally, there's another bet that should get your attention – or laugh. Betfair accepts bets on who DiCaprio's date will be. Once again, very short odds (1.25) for the favorite date: his mother.
Featured photo by Loren Javier