Champions League's Betting odds and trends for midweek games
How betting odds have moved for Champions League Round 16 second leg games on Tuesday and what we predict based on their trends.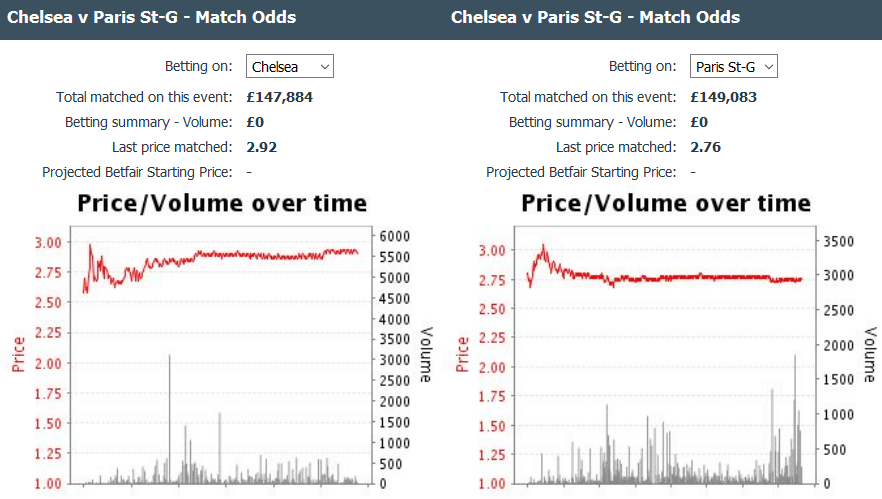 Champions League's Round 16 resumes today with the second leg, as Wolfsburg hosts Gent and Roma visits Real Madrid. Let's take a look on how soccer odds are moving at sportsbooks on Tuesday morning, both for today's and tomorrow's games.
Wolfsburg – Gent
Wolfsburg had won the first leg against Belgian Gent scoring 3 goals and conceding 2. We would expect the Germans to pose as the favorite in today's game. Indeed, that's exactly the case although a few hours ago their odds jumped from 1.50 (-200) to 1.60 (-165) in a single bet! That is shown in the following chart coming from the betting exchanges, where a bet of £25,000 (about $35000) pushed the line aggressively.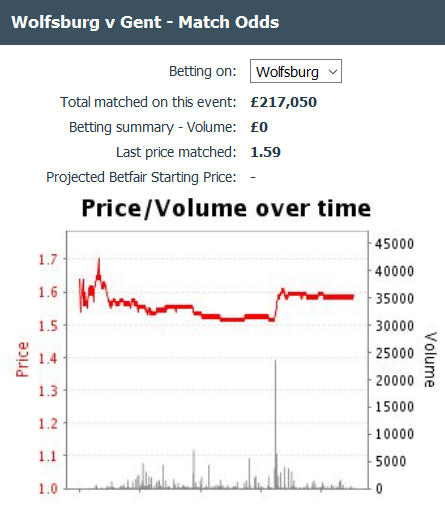 At this time punters' reaction doesn't seem that strong following that bet, as Wolfsburg's odds remain at that level. Nonetheless, home odds are on a decline at Bet365 and William Hill since mid-February, on completion of the first game. Today's spike of the moneyline is observed on that chart as well.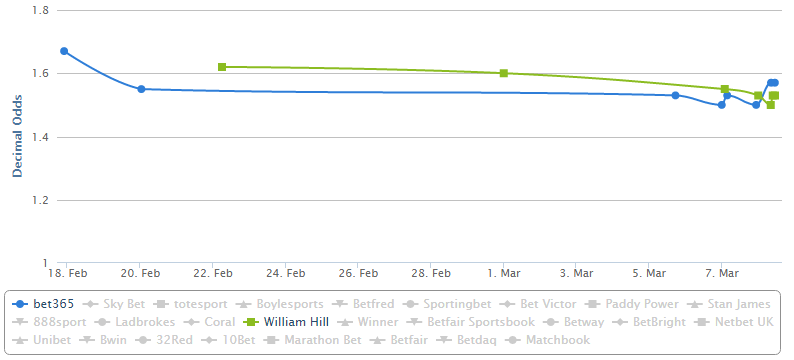 Real Madrid – Roma
Here things appear a lot calmer. Real's moneyline odds keep steady at 1.40 (-250), despite the fact they had climbed to 1.50 (-200) earlier, when the betting market became available for the first time. Let's not forget that the Spanish club had beat Roma away in their first leg (FT: 0-2).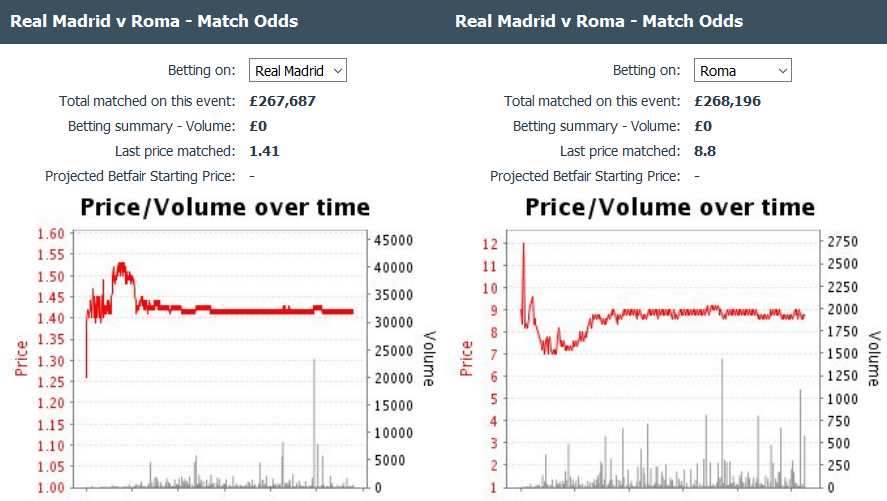 According to this, non-existent betting trend, any prediction would be difficult and in all honesty, just a guess. Still, I wouldn't be surprised if Roma's odds declined 200 points from 9.00 to 7.00 (+600).
Zenit – Benfica
Moving on to Wednesday's games, the current data is undoubtedly limited at this time compared to the aforementioned games. Thus, we can merely aknowledge a somewhat upward trend for Zenit's moneyline odds, as the Russian football club needs to overcome their first game's 1-0 defeat to Benfica.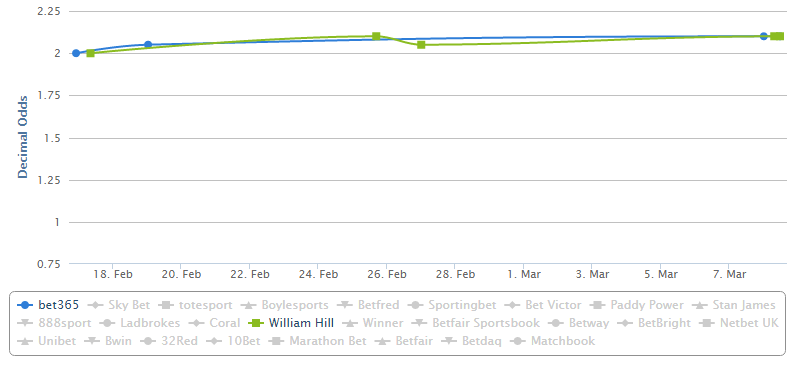 Many bookmakers report drifting odds for Zenit as they are climbing to 2.10 (+110) from 1.95, while the Portugese club's odds show mixed trends. For instance, odds are drifting to 3.50 (+250) from 3.30 at Bet365, whereas they are shortening to 3.30 (+230) from 3.40 at William Hill!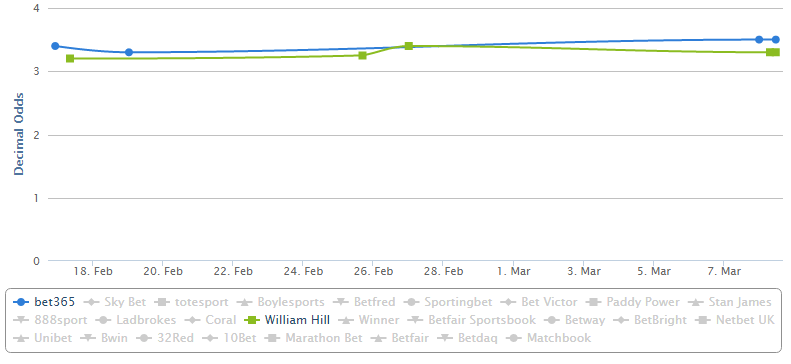 Chelsea – Paris Saint-Germain
Finally, the most interesting Champions League midweek game is Chelsea versus Paris Saint-Germain. Having scored a fragile win of 2-1 against the Englishmen, Paris Saint-Germain must now prove right those who consider them the favorites for tomorrow's game. Despite sportsbooks favoring Chelsea at their opening odds, handicappers quickly bet on the French club and reversed the situation.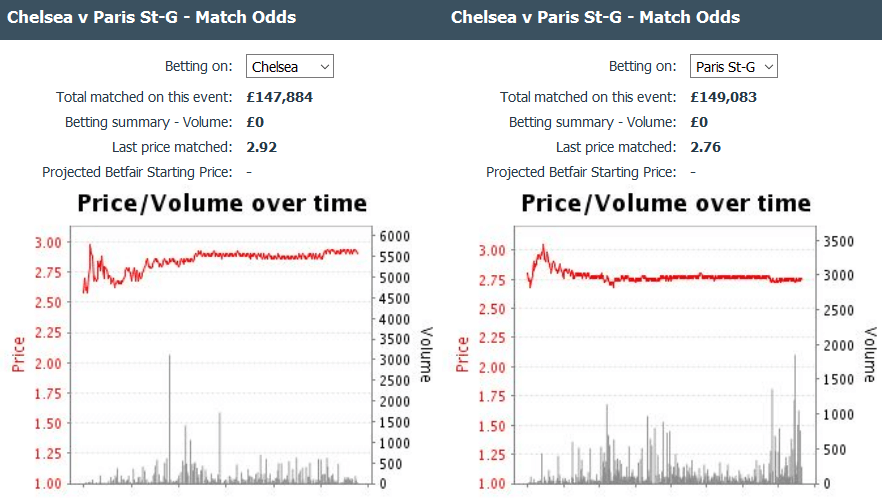 Thus, Chelsea's win is now priced at 2.80 (+180) coming all the way up from 2.50…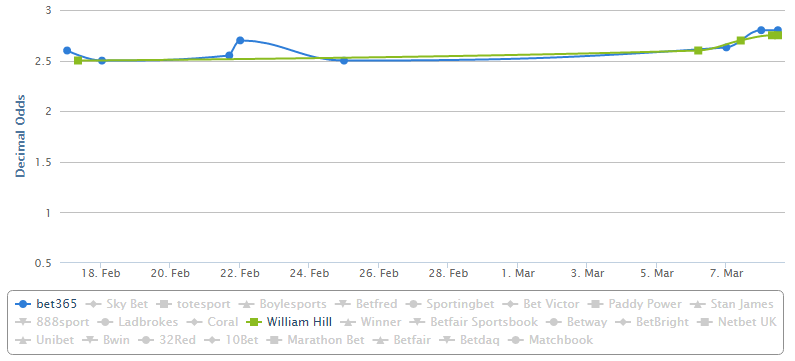 …while Paris' odds dropped to 2.60 (+160) from 2.80.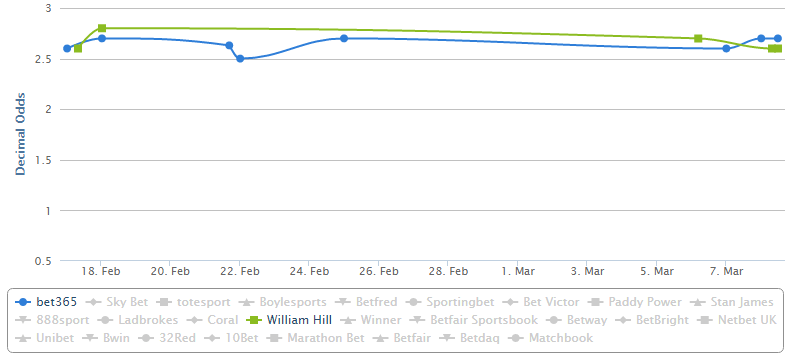 According to the analysis above, my first option and the team I would pay the most attention to would be Paris Saint-Germain. As long as the current downtrend keeps up tomorrow, today's 2.60 (+160) should offer value to bettors. Going forward, Wolfsburg's sudden spike that printed on the charts today doesn't go unnoticed. It's not the spike's size that matters, rather than the way it happened. If it weren't for that jump in price, Wolfsburg would have been my top soccer pick today, given the odds' steady decline that was reported till then. Maybe that's an opportunity for us to bet at higher odds, before they resume trending south once again.