Political betting based on election polls in Greek Election 2009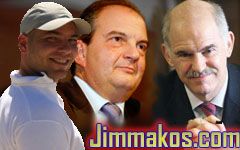 Can election polls be trusted when betting on politics? Greek Election 2009 may provide the answer needed for political betting. The 2009 election results will be known on 4th of October but until then there are a lot of published polls that proclaim an easy win for PASOK. By scanning them and comparing the available betting odds, we could make money by betting in Greek politics!
Firstly, let's take a quick look at some betting odds that a couple of bookmakers and betting exchanges offer. Expect.com offer 1.01 for PASOK's win and 30.0 for ND while William Hill's odds are 1.02 and 10.0 respectively. Betfair, the leading betting exchange, was one of the first to open a Greek Election betting market and PASOK is trading at 1.04 while ND has gone through the roof at 25.0. There are a couple of special bets in Betfair regarding this election, like how many seats PASOK will secure and what will be the percentage difference between the two political parties. The favorite vote percentage handicap is 7% or more for the time being!
Now, let's see some of the election polls which have been published the last weeks in various newspapers and television channels.
The ALCO survey conducted for Proto Thema paper gave PASOK a 6.3% lead. In particular:
PASOK 34.2%
ND: 27.9%
ΚΚΕ 7,1%
LAOS 5%
SYRIZA 3,2%
Greens 2%
The Kapa Research poll commissioned for Vima tis Kyriakis paper suggests a 6.7% gap between the two major political parties. In particular:
PASOK 30.8%
ND 24.1%
ΚΚΕ 7.1%
LAOS 4.3%
SYRIZA 3%
Greens 2.4%
The MRB poll conducted on behalf of Real News paper gives PASOK a 6% lead. In particular:
PASOK 33.3%
NDΝΔ 27.3%
ΚΚΕ 6.9%
LAOS 6.2%
SYRIZA 3%
Greens 2.1%
Finally, an interesting election poll has been published at TV Xoris Synora. It is the only poll that I could find more details about how they actually conducted the poll. Upon reading the survey's detailed pdf, the sample of the poll was 2,118 people, at least 18 years old, there were 3 periods that the poll took place (700 people between 7 and 8 September, 700 people between 9 and 10, and 700 people between 11 and 14 September), the maximum statistical error is 3.77% and they used Curve Estimation for the Greek election results' prediction.
Since PASOK's odds are lower than the last article of mine about betting on politics, it seems that both bettors and traders trust the election polls and believe there is little risk betting on Greek Election 2009.