Mobile solution of online investing: Iphone, Ipad, smartphone or laptop?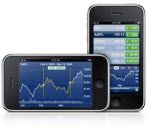 Since I started trading stock markets overseas, I faced the problem of trading on the move. Online trading is just a part of online investing though, since online betting and poker can be done outdoors as well. The past few weeks I keep searching for the best mobile solution, so that I can keep track of my online trades, placing crucial bets at the right time and not missing that important online poker tournament. Will an Iphone or a WinMobile smartphone be adequate or should we opt for a laptop or the fresh Apple Ipad?
I'm sure that online investing when outside is a major concern for anyone serious about the online gambling business. Back when I followed my own betting system I needed internet wherever I happened to be, since I had to place bets minutes before the kick off. My laptop and a 3G mobile connection did the trick and worked just fine. However I had to carry a laptop all the time, and although the laptop had been relatively light (1.6kg) it didn't help when I needed to attend some kind of formal event. Just imagine pulling out a laptop and working on it for 30 minutes during a wedding for example.
However closing trading positions on the move can be done via a smartphone or an Iphone. Not such a big deal, you just setup an alert and given your phone has internet connection, you can send a trading order while you are shopping at the supermarket, saving you big money when that stop loss is hit. But a smartphone or the popular Iphone can't be much of a help if you are also interested in playing online poker. You do need a laptop if you don't want to miss the poker tournaments on Sunday and socializing keeps you away from home.
Ipad on the other hand does offer a bigger display but you can't do much more than what you can do with an Iphone. I have watched a couple of video reviews and I believe working with a laptop offers much more flexibility, specifically in online investing. Surely it's an innovation and keeps you online, but what is the point if no poker room currently supports it? You are left with a big Iphone as many have suggested.
Smartphones with Windows Mobile as operating system offer a bit more capabilities to the online businessman, meaning you can run Excel, watch a trading graph and send an email all at the same time but aren't all those done much easier with a laptop? Besides, Interactive Brokers have a much better mobile solution for Apple products than trading via WAP through a Windows smartphone. But the laptop can't be on all the time, the battery will be dead in 10 hours at most. So you will miss that crucial alert from your stock broker to get rid of the falling stock. You need something big but small at the same time.

Another solution is having a 3G mobile contract to your Iphone or smartphone, so that you are always online and at the same time carry a laptop for more maneuverability. That seems to be the best mobile solution for online investing, but you do realize you will carry a phone AND a laptop all the time. Not the perfect solution, but at least you are able to keep on investing on everything, being either stock trading, online poker or sports betting.
Personally I'm still confused. I hope you aren't more confused than before reading my article! Oh, did I mention that I need to blog as well and keeping up with the domain business when out of office? The tip of the iceberg…