How Betfair changed my life!
Betfair is withdrawing from Greece and I won't be able to even login to my Betfair account in December, according to the Greek gambling law. When I first registered this account back in 2004, I never expected I would be posting such an article in my personal blog. Besides, I didn't even have a blog back then and Betfair was in fact the reason I created it in the first place! Now that I think about it, I owe my blogging adventures to Betfair as well! 8 years later and here I am saying farewell to the betting exchange, an idea that made many of my dreams come true!

When I visited the Betfair website for the first time in my life, I honestly hated the interface showing blue and purple boxes. "What are all those prices moving around?" I asked myself and quickly surfed away. I didn't understand the whole meaning of being able to ask for a better price to back and to offer a lay bet! I am ashamed to confess that I only used my Ladbrokes account at that time! Totally newbie, huh?
I should remind you or perhaps let you know if you are just visiting my blog for the first time, that I had just been kicked out of the casinos here in Greece after "making a killing" in Blackjack (check out more about me). Well, truthfully I hadn't caused that much damage, although during the last month (November 2002) I had made €10,000 by playing 12 hours on a daily basis (risk of ruin was through the roof by the way, as my bankroll was just a couple of K's). I was still a University student (Chemical Engineering, don't ask) and I was looking forward to making somehow at least 5% of what I was making by playing Blackjack before. However 6 months passed and my attempt was a total failure, studying a lot about sports betting and stock trading in the meantime.
Then I came across a method of betting, known as arbitrage! Cool, I thought, I just need to be quick and take advantage of odds' imbalances among different online bookmakers. Given my Betfair account is dated back to May 2004 and I tried arbitrage around that time, I suppose that was the main reason for opening an account in Betfair. I guess the "20% better odds" advertisement made a difference in my early betting days! Long story short, I quit arbitrage a couple of weeks later due to all possible problems that arbitrageurs are dealing with even today.
Now I was left with multiple accounts in many online bookmakers and one at a so-called "betting exchange". Back to the drawing board, I stumbled upon a website (racingtraders.com), the owner of which had uploaded a 10-min video of him trading Cheltenham's horse racing odds! Adam Todd was showing how he made money before the race even started! I was now officially hooked and my journey to Betfair trading had just begun!
That is how all started for me in Betfair. Over the years, I improved my trading methods, I spent countless hours trading the horse racing odds and began posting my experiences in this very blog. In the beginning I was just publishing my daily profit and loss statement, showing that I was making money in almost every horse race! Meanwhile I never needed to deposit money again and I ended up driving a new car (still own it)! Then advertisements came in, I was offered a blogging spot in the official Greek Betfair blog (you won't find half of the articles I published there for some unknown reason, unless you know how to search for them in Google) and people were considering me as a Betfair trading expert, who posts Youtube videos of sports trading! Although I moved on to online poker and trading stocks and forex, I never stopped discussing about betting trends and odds fluctuations in Betfair markets, even when I quit trading horse racing markets or now that Greek lawmakers were determined to put an end to the magic journey.
Betfair is not only about making money though. If it hadn't been for Betfair, I might have been a Chemical engineer by now, either looking for a job or worrying about the austerity measures and cutbacks of the salary. Sure I could have landed a dreamy job, but how often do those come by? I would also have to depend on my parents for a couple more years until I graduated or finished my PhD (long shot) and most probably I wouldn't have been married. Because Betfair offered me the choices I wouldn't normally have otherwise. I was 25 years old and independent because of Betfair!
Betfair taught me to stand on my own two feet, to have the strength and confidence to try things, to invest in myself. Betfair showed me a different world, a world that anything is possible as long as you truly believe in yourself and your skills. If it hadn't been for Betfair, I would still wonder what bid and ask mean, why stock charts are used for and how traders make money by trading EUR/USD! I quite probably wouldn't have created any website and wouldn't know how easy it is to get a blog running in a matter of hours. I wouldn't have learnt about blog monetization, search engine optimization or link building. Buying and selling domains for profit would be unheard of while daytrading, futures trading and technical analysis would still remain a mystery for me.
Betfair made me realize that you can make money by online trading, no matter the security you are trading. I traded horse racing odds for years before I found out that there is flat and jump racing! Then moved on to trading Formula 1 odds, tennis and even elections!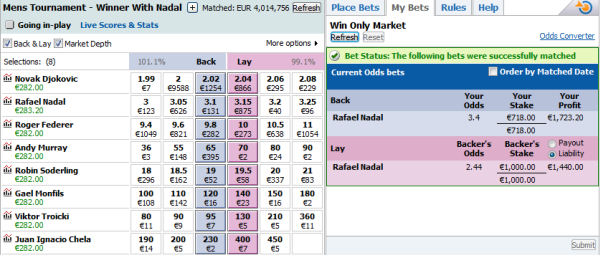 I made new friends because of Betfair, believe it or not! Friends that are also mentioned as "fans" in Facebook or "followers" in Twitter are all friends sharing the same interests and passion with me! I am now contacted by people from all over the world and I am always surprised when a new email arrives from a country thousands of miles away! Answering questions, debating in an online forum or even meeting up with new people that would otherwise be total strangers to me were all made possible by my "success" in Betfair trading. Who would have heard of a young Blackjack card counter in Greece?
Quite frankly though, Betfair made me realize how to become an entrepreneur.
Entrepreneurship is living a few years of your life like most people won't, so that you can spend the rest of your life like most people can't.
And for all that…
THANK YOU BETFAIR!
I hope I meet you again.