The (short) history of my (sick) poker setup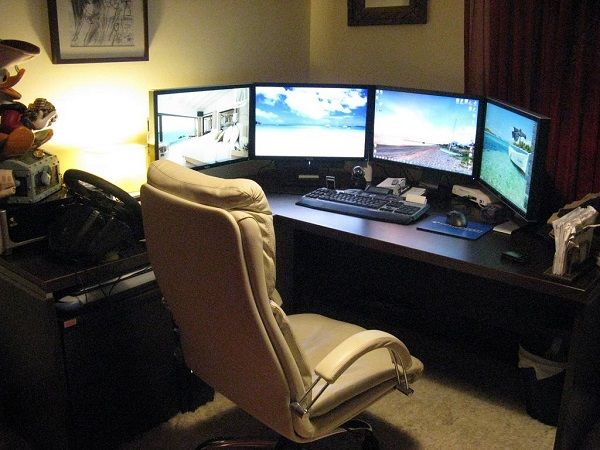 That's my 4-monitor poker setup I shared at Twitter. My computer setup allows me to blog, invest and trade stocks effectively. It also allows me to play poker more efficiently. Much more efficiently than most online poker players. And it didn't cost me a fortune, buying and selling tens of monitors or computers in the process! For example, André Coimbra posted the history of his sick setup for Pokerstars and I truly lost count of the poker setup's changes in 4 years' time! Come on people, have some plan before investing in technology for crying out loud!
Although this kind of post should normally fit into the "technology" category, I opted for the "poker" category as my main subject here is why successful poker players neglect on their computer setups! Or at least don't plan ahead when spending their money on computer stuff. Yes, I know, "easy come, easy go". The cost of a large 30'' monitor might be the equivalent of playing at mid-stakes of poker for just a couple of hours (EV adjusted winnings), but come on! That isn't an excuse for building a new computer setup every year! Build and forget! It shouldn't be that hard to find the most suitable setup for playing poker online before spending on new screens!
History of my poker setup
So, what is the short history of my sick poker setup? As a side note I don't consider it a "sick" poker setup; I just include the word for SEO reasons, meaning the keyword "sick setup" is being quite popular lately in search engines due to the Pokerstars' contest! Sick, huh (no pun intended)?
I began playing poker on an Acer laptop. Sorry, no photo. It must be lying at the attic somewhere. Besides, I only spent about a couple of months playing poker on a laptop. I quickly moved to a desktop computer with a dual monitor setup. That was in 2006. André hadn't even started playing back then according to his post. Not that it makes a difference as I presume he is far more successful in poker. I've since become a poker dinosaur!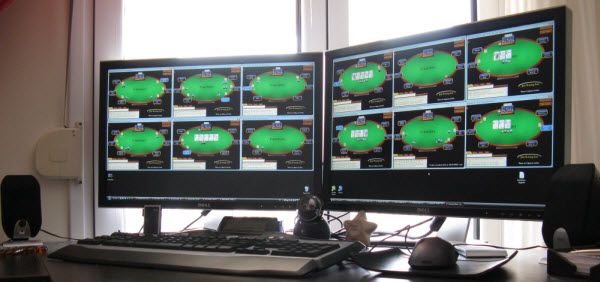 Fast forward to 2011 and I add 2 more monitors to the previous setup. Unbelievable, right? Me doing business with the same setup for 5 years! I also exchanged parts between the media server of the living room (newer, bought in 2009) with the desktop computer in my office.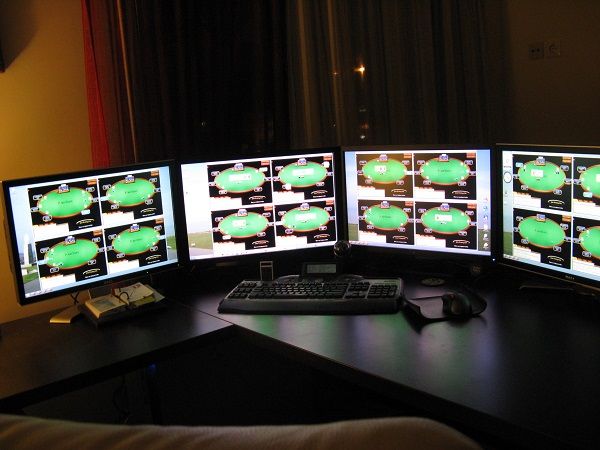 As a result, the 2006 desktop computer is now used as a media server for the family and occasionally for playing games with friends. The office computer used for poker among other things is powered by a 2009 CPU, a 2011 graphics card and a 2012 SSD hard disk. Two of the monitors are still the ones I originally bought in 2006, still in perfect condition (knock on wood).
And that is the history of my sick poker setup concluded. Period. The end. No need to burn more cash! And you'll probably agree that André's 2013 poker setup is pretty much alike, with fewer but larger monitors. If only though my wife would also make Supernova like André's girlfriend! Then I too would lend some of my old monitors to her, like André did and replace them with 30-inch ones! We all tend to keep the new stuff to us, eh boys? It's a man's world!