NBA Picks: Declines and… Fake Moves of Betting Odds
NBA odds behavior does not fall behind the actual game. They do have momentum and make fake moves that leave bettors defenseless!
Atlanta Hawks are on a great start into the NBA season, currently topping the Eastern conference table. The Atlanta team though is way behind the top favs for the championship, despite the 50% decline of their odds at sportsbooks. Maybe an even more impressive move is the Warriors moving into the second spot in the NBA betting market. Thus, we'll start from the Golden State as we break down the latest NBA odds behavior.
What do these dropping odds reveal?
Warriors' odds are trading at 5.00 following the drop from the high at 7.00. The last time we spoke of these odds charts, Warriors' odds were fluctuating inside a tight, one-point range (6.00 to 7.00). Given the breakout that took place due to the team's flawless performance till now, punters should have already backed at 5.50. Still, we're not late to the party, as the odds haven't slided that far.

Is Golden State's performance a surprise betting-wise? Most probably, otherwise the betting odds should remain above 6.00. Any team is expected to score wins and suffer losses. It's when something unexpected happens that forces the odds to move beyond well-defined levels, as demonstrated here.
The same can be said in the cases of Atlanta and Toronto's teams, both showing declining odds at betting exchanges. While an unanticipated decline does not guarantee a further drop, it creates the momentum needed to help a trend develop. And it's that very trend that traders and sharp bettors should take advantage of.
Out of these three declines, I would trust Warriors better, given the increased betting volume's credibility.
Holding steady
As I said, teams are expected to win some battles. That is why when Cavaliers perform pretty much the same with Hawks, their odds do not plummet in a similar way. Yes, they did fall a bit, but punters couldn't force them below the support level at 4.00. Should that happen we can admit Cleveland is overperforming and may trust them our money.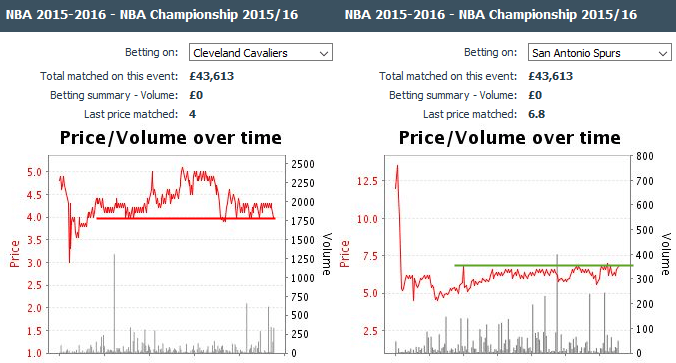 San Antonio Spurs on the other hand is on the verge of underperforming. Betting odds are dangerously retesting again and again that resistance at 7.00 and perhaps it won't be long before it fails. I will take a more risky line here and predict a breakout, before it actually happens – if ever. Hence, betting against Spurs now will likely bank on the imminent breakout, created by the disappointed San Antonio fans and punters.
And then, there are the fake moves
We've talked of reliable declines and trustworthy ranging markets. How about some fake drops that entrap bettors, like a successful fake shot leaves the defense exposed?
Check out LA Clippers' chart.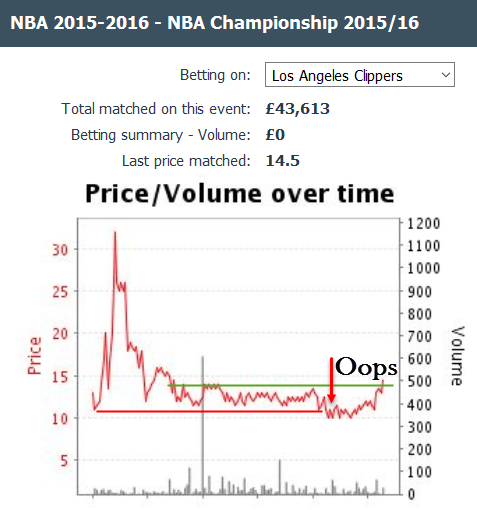 Someone would say that betting at 11.0 or even 10.0 right after the failing support of 12.0 would be a correct move. What would in fact happen though, is increasing the punters' stress levels with that NBA pick, as they would now watch their investment go south. Odds quickly went back up and even overcame the resistance met before at 14.0. That is considered a fake breakout and it's the reason why bettors should have a plan how to exit the market under any circumstance.
Don't wait for the unexpected to happen. Be prepared for all scenarios, watch for momentum and you will at least bet stress-free and enjoy the show.