NFL Super Bowl 50 Part 2: Four favorites but only one winner
NFL season is drawing to its close. With the Divisional matchups just around the corner, I pick the most promising teams based on how the betting odds markets are adjusting.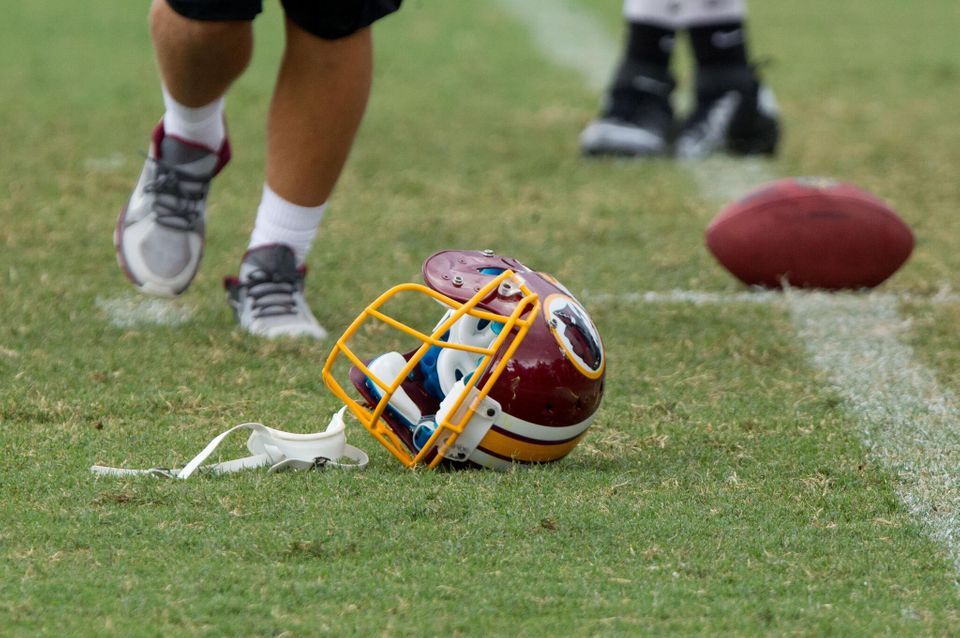 In my last article, we examined how NFL odds moved for the four underdogs still competing for the Super Bowl 50. I picked Steelers as the most promising out of the four, although Chiefs' declining odds also look tempting.
Today it's time to talk about the odds movements of the four big favorites. We'll start from the team that sits at the top of the table, the Patriots.
New England Patriots
New England's team is currently posing as the team with the biggest chance to win the fifth Super Bowl. That wasn't the case preseason though when they were sitting at the third place. Cappers could bet on them at 10.0 (+900) in September, which does look huge now that they are trading at 5.00 (+400). Back then, the alarming uptrend steered me away from picking the former champions to repeat their triumph this February.
Now that their odds are facing south and gamblers are trusting them with their money, a strong momentum is building up.
However, flags are raised as the decline has not only slowed down but higher lows are being printed on the odds chart as well. Patriots traded at 2.90 before their odds climbed back to 5.00, bouncing off 3.50 midway. Bet365 also offered odds higher than 5.00 momentarily, which might be a sign of a further rise. Another scenario is the resume of the downtrend, as odds approach the opening ones at 6.50. In that case, the support level will convert into resistance, forcing NFL odds to drop significantly quicker.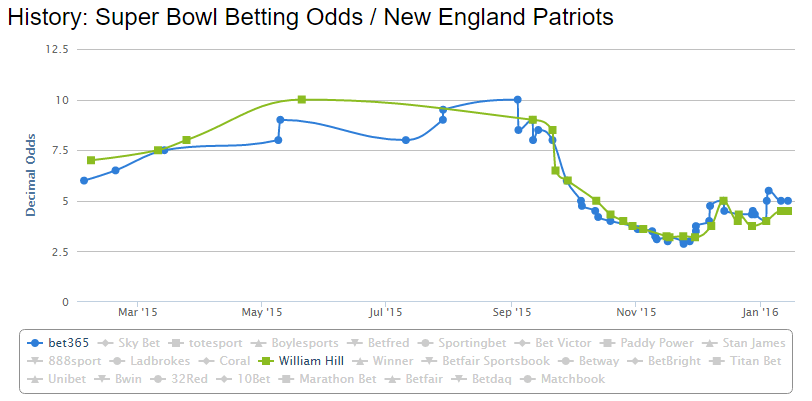 If I were you, I would not back Patriots at this point, rather wait for a new lower low to be printed. That means I wouldn't bet unless they trade below 3.50 again.
Arizona Cardinals
Arizona is up against Packers in the Divisional matchups. Green Bay's chances to win Super Bowl are very slim as we discussed yesterday, so I suppose Cardinals will advance to Championship. Then they will compete against either Seattle or Carolina. Again, as we saw in my previous article, Seattle's odds action isn't that favorable to them, so in case they go through the Divisional stage and beat Panthers, Cardinals' odds should continue to drop. In addition, they'll have a bigger chance to reach the Super Bowl, as Seahawks' odds would struggle to decline further.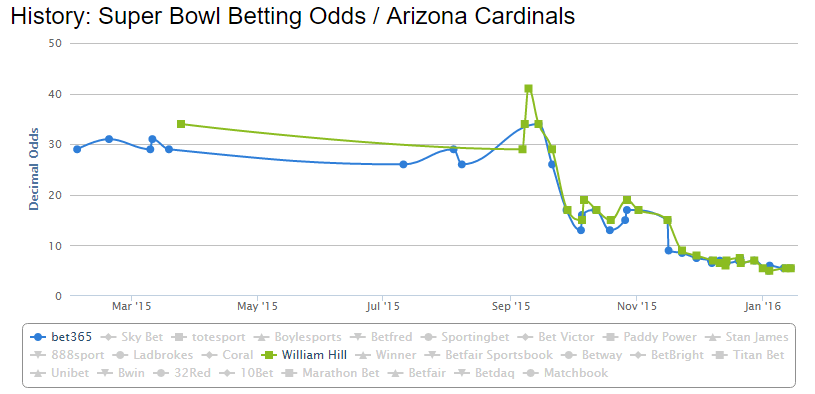 If you now combine all that with the very strong descend of Cardinals' odds, it's easy to realize why I'm picking Arizona to win Super Bowl 50.
Carolina Panthers
Panthers' odds also present a strong downtrend, yet that decline seems to have paused since December! Usually, that kind of slowing down is necessary if a strong trend is set to reverse itself. Thus, I wouldn't be surprised if 5.50 (+450) is the lowest price sportsbooks will ever offer for Carolina. Even if they get away from Seahawks and Cardinals beat Packers as predicted above, they'll still be considered underdogs in their Championship matchup most probably. The only time odds might break below 5.00 (+400) is if Packers score a surprise win this weekend!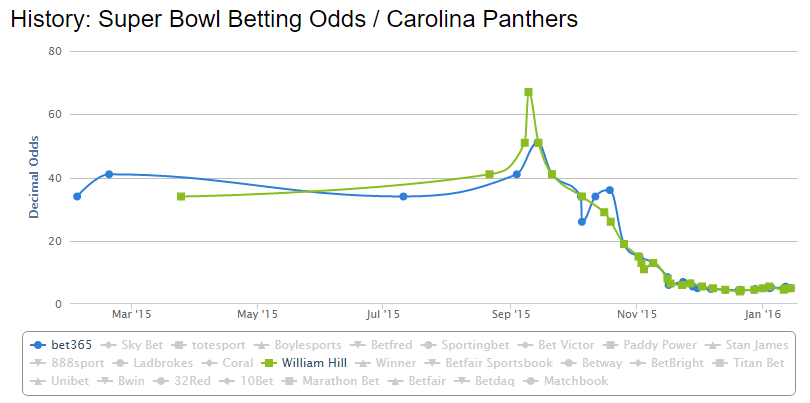 So, there's an option sometimes cappers neglect and that is the "no bet". I wouldn't bet against nor in favor of Panthers at this time of writing. Surely backers have trusted Carolina's team, but lately, that momentum is obviously lost.
Denver Broncos
That's a tough one. Broncos' odds are declining as well, but at the same time, Steelers' odds printed a breakout as I've already discussed. Two downtrends are competing against each other and we know that only one will prevail. They both look strong, maybe Denver's a bit more so I'll go with them. I'm not including them in my strong NFL picks, but it's a chart that I would otherwise trust blindly.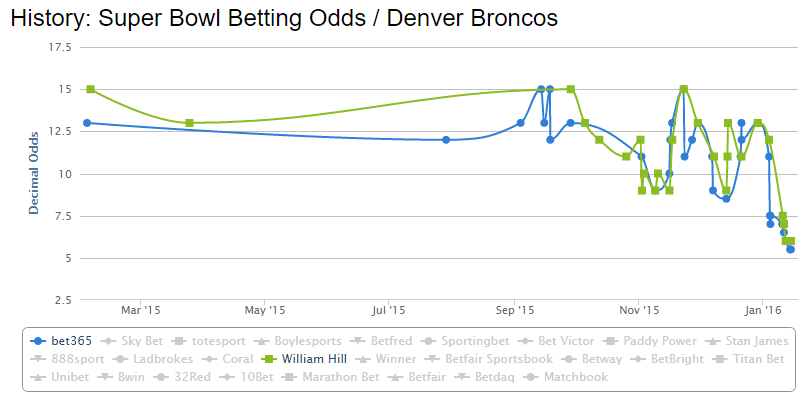 I would be more willing to back if I knew somehow they'd be facing Patriots in the next round, despite being a much stronger team than Chiefs, and that's due to the Kansas City's dropping odds. I'll have to wait for the weekend's results before making up my mind for Denver, though.
Photo credit: Keith Allison