NFL: Which of the remaining 8 teams stand a chance for the Super Bowl 50? (Part 1)
NFL season is drawing to its close. With the Divisional matchups just around the corner, I pick the most promising teams based on their betting odds action.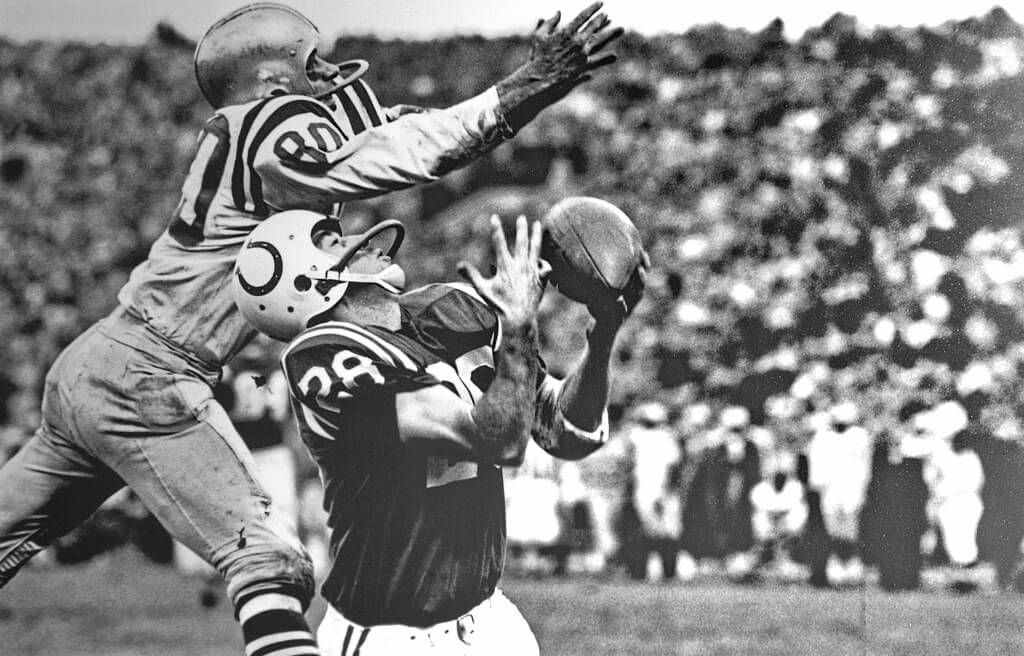 Eight teams have left competing for the 50th Super bowl. Among them, there are three out of the four teams we discussed of their odds action in NFL betting markets back in September. While that isn't a shocker, given they were the big three favorites at the time, the missing one was, in fact, my pick and a long shot: Indianapolis Colts.
With them out of the way and the Super Bowl being only 4 weeks away, let's take a closer look at how NFL odds moved this season for the eight contenders.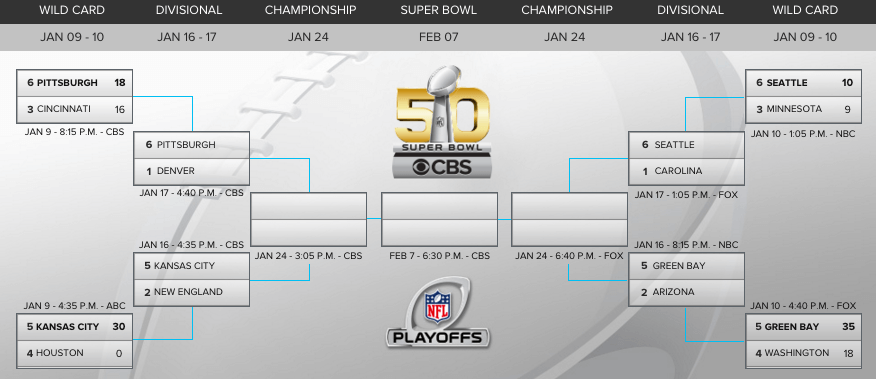 Seattle Seahawks
Seahawks are no more topping the odds table at popular online sportsbooks. They are sitting at fifth place, although their odds are at similar levels with the top ones. Actually, the first five favorites are trading between 5 and 6.50, so it's a close call who is the absolute favorite right before the Divisional games.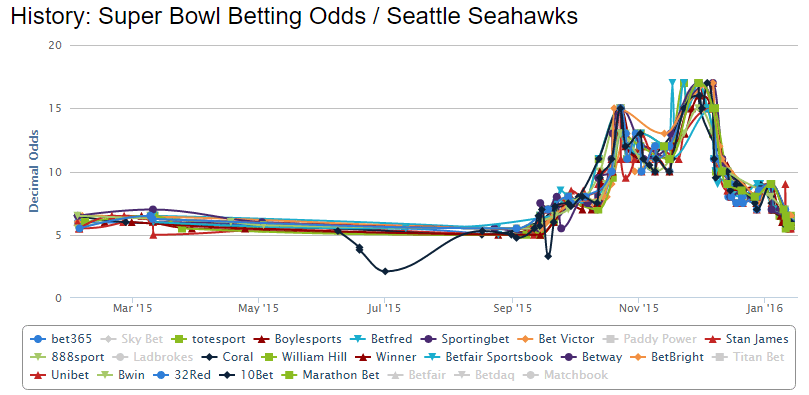 Seattle doesn't seem to be the one, especially when their odds drifted to 15.0 mid-season! They have now gone back down and someone who bet on them five months ago would think nothing has changed. However, this mountain that was printed on the odds chart for the Seattle team makes me think that their odds are pretty slim at this point to win the Super Bowl. I expect their odds to resume drifting and given the knockout nature of the upcoming games, it will mean elimination for Seahawks.
Green Bay Packers
Packers used to comes second in the cappers' preference in the season's start but that are now second from the bottom, right above Steelers. Their chances improved during the autumn, proven by the decline in the following chart.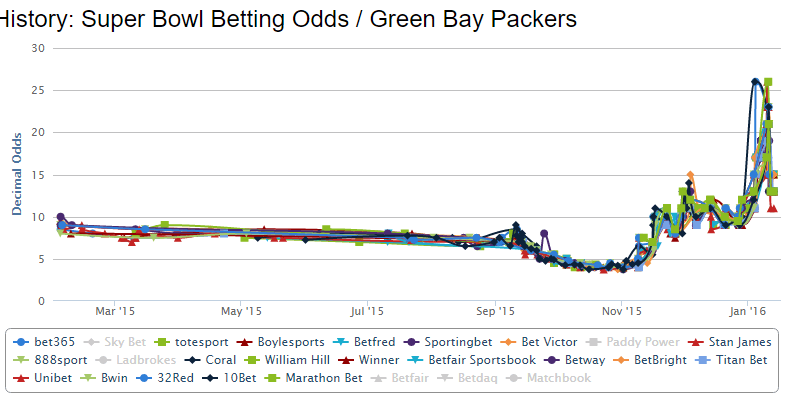 Starting November though, people began betting against them or in favor of other teams, leading their odds to drift and eventually print new highs. Although they are now trading below their all-time high (25.0), I cant' see how this uptrend is going to reverse.
Long shots
As we've started backward, let's get the long shots out of the way before we move on to the big four favorites. Steelers' win pays out a hefty 20.0 for anyone willing to take such a risk. And I myself may be one of those risk-takers and include Steelers in my NFL picks, noticing the breakout of the support at 20.0 at several bookmakers. They'll need to beat Denver to keep the trend going and finally overcoming the winner of the Chiefs – Patriots Divisional matchup to really make something out of this bet. Yet, the rewarding odds perhaps justify the risk. Besides, isn't profitable betting about estimating risk/reward ratio as correctly as possible?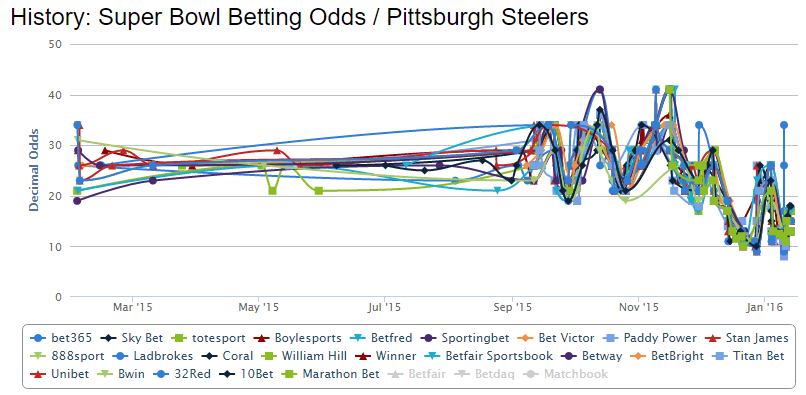 Kansas' odds, on the other hand, have come a long way. Right before the season, Chiefs' payout was a whopping 50.0. They went even higher in late October when sportsbooks priced them as high as 500.0! I can only imagine what it feels like having backed them so high and seeing them trade currently at 12.0! It's been a rollercoaster ride for Kansas team and maybe, just maybe this downtrend lasts till the end, fueled by their favorable results and, of course, backers' money. As they are now facing the top favorite, Patriots, I think whatever happens next in their odds chart will be the immediate effect of that matchup. Thus, I'd rather watch how odds move in that matchup before the weekend, which we'll be discussing on Friday or Saturday morning at the latest.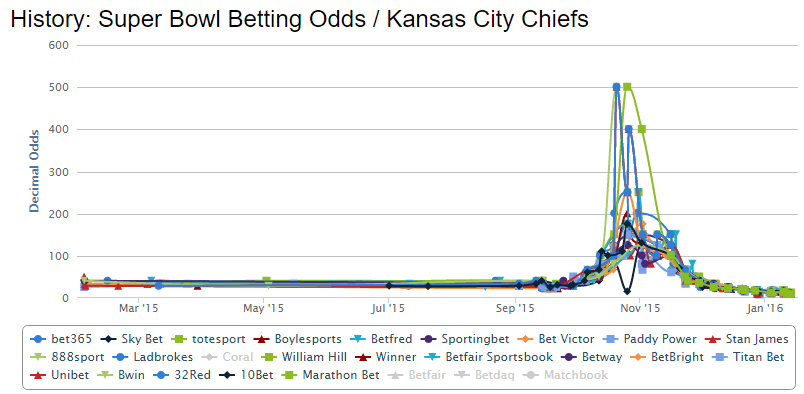 As this post is becoming quite long, I'll be taking a pause here and will come back tomorrow with the odds action for the four favorite teams to win the Super Bowl 50.
Photo credit: Cliff