Horse Racing Trading still beatable?
Apparently yes! Or so it seems. Today I took a look at Bet Angel web page and I noticed a banner in the right column with the title: "2008 £1k to £100k Challenge". That rang a bell since Adam Todd from RacingTraders had attempted such a challenge in the past. So I decided to visit the link wondering what kind of blog I will bump into this time. And I must say, it's a simple but VERY promising blog.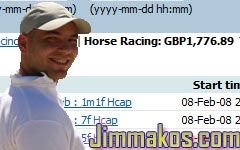 At first, I thought a fellow blogger had started that challenge, since the layout of the blog was almost the same with his. You see, the Betfair Trader has already paid for his wedding with his trading's profits and… Oh, he is also trying a £1k to £101k Challenge nowadays! However, this new blog seems like a fresh one but to tell you the truth not so original. Anyway, upon surfing for a few minutes inside the blog, the posted results are really impressive! It is certain he knows what he is doing and makes good money.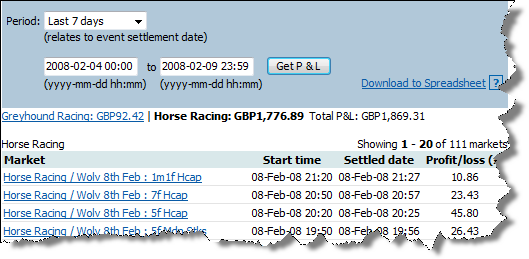 His results are posted as photos, captured from the main Betfair's P&L screen. He just shows the total amounts of each week though. His average weekly profit is about £2,000 and I consider that a top performance.

Take a look into the Betfair racing trader – £1k-£100k blog.
That made me do some sports trading this afternoon, and here is my own performance for the day. Amazing huh? 😛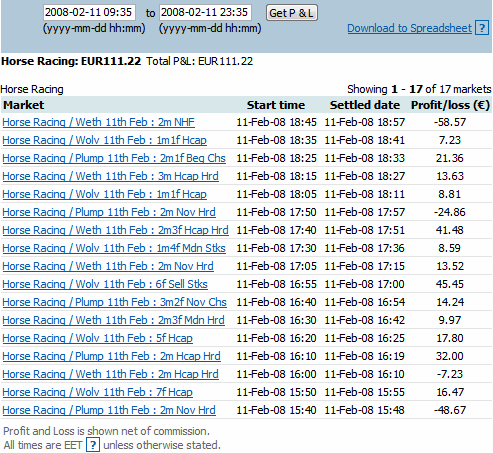 So, is horse racing trading beatable nowadays? Definitely. Making that much money in a month proves it in the best possible way. It's been a long time since I dealt with sports trading  for the last time, and I got melancholic looking at those images. So, here are a couple of mine taken during the good old days! <sigh>