Betfair trading in football betting can make you money before kick off
G10vanni7, a Greek Betfair trader, has just published in his betting blog an image proving that trading football games before the kick off can make you money. Most betfair traders trade the UK horse racing markets while others prefer trading the odds during a football game, when the in-play odds move a lot. However, another possibility for profitable trading in Betfair is trading the fixed odds before the football game starts as g10vanni7's picture proves.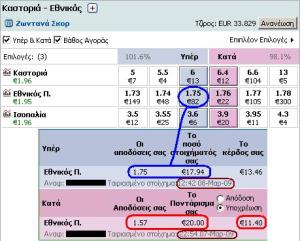 I myself have discussed about the trading options available before kick off in an article based on the Champions League Final in 2007. Obviously the odds movement wasn't that spectacular as this one but there were still possibilities for making money. G10vanni7 matched a lay bet yesterday night on Ethnikos Piraeus at 1.57, and closed his trading position this noon at 1.75 securing him a profit before the game kicks off. Although the amount of money won isn't such a big deal, the profit percentage is outstanding! We are talking about a 17.1% win whatever the football game's result!
G10vanni7's betting blog: Low risk, sure win betting
There's no better proof that trading instead of betting in football games before the kick off is profitable than this image! Nice trading g10vanni7!
If you are also wondering what the betfair graph of Ethnikos looks like, here's the screenshot of the chart: