Draytek 2710Vn: Recommended wireless broadband router with voip after ADSL speed upgrade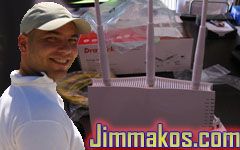 After deciding to upgrade my adsl line this week and moving up to 8Mbps, the maximum DSL speed available in my area, I encountered a lot of disconnections and finally my 2-year adsl router could not stay connected for more than 15 minutes. I had already done my online research on modem routers and had made my mind on the Draytek Vigor 2710Vn. I read a lot of good reviews about Draytek routers and although they are considered one of the most expensive broadband routers, I bought and installed mine today. I opted for the wireless router of the Draytek 2710 series which, apart from being a voip router, also offers N-draft (802.11n) connectivity. If you also deal with low adsl noise margin and high adsl attenuation, I highly recommend this wireless broadband modem router.
My old wireless broadband router was a Philips manufactured just for the Greek market. It was the CGA5720 model although the official Philips model is named as CGA5722. I originally purchased that when I installed an ADSL line at my girlfriend's apartment but I wasn't so fond of that move from the beginning. However the Philips router performed quite well during the last years. The problems started when I upgraded the ADSL speed from 2Mbps to 8Mbps this week. The telephone company had already stated that due to the from their telephone center they could not guarantee speeds more than 8Mbps so I forgot the idea of having a 24Mbps line installed and opted for the next available adsl upgrade. Although I knew I shouldn't expect breath taking speeds, no one had warned me of the disconnections due to failed ADSL synchronization the higher speed would result to.
On Thursday the broadband router encountered a lot of disconnections from time to time and I had trouble playing online poker so I quit for the day. Still at night the performance was sufficient and I stopped worrying until I woke up on Friday. After playing for about 2 hours early in the morning (6-8am local time) the Philips router never again kept the connection online for more than 15 minutes making impossible even the simplest net surfing, let alone risking money on the poker tables. After a lot of tries to surf the net efficiently, I found out a lot of thing about the ADSL line, like the signal to noise ratio and the adsl attenuation. Those two numbers can mean a lot if you have trouble with your broadband router and your adsl connection.
The higher the signal to noise ratio is, the better for your connection. You'll experience disconnections very rarely if that figure is 20 or more. The adsl attenuation should be as low as possible but it is not that important. However if it is 60 or more then you might deal with a couple of problems. Those figures are dependant of the actual distance between your home and the telephone company. The further you are, the worst for your adsl line. Due to this distance, your adsl speed is also affected and it is limited if you are far away.
How can you find out these numbers for your own adsl line? You should access your broadband router's interface and check out something that reads like adsl status, or adsl statistics, or line parameters, etc. You can check my Philips' page below: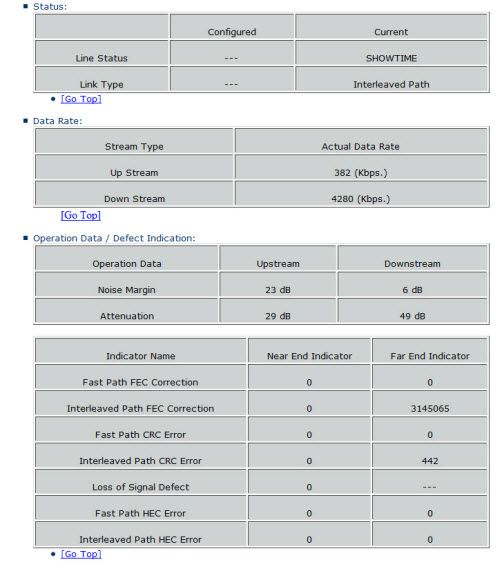 Of course you are more interested in the downstream stats rather than the upstream. You can see in the image that although I'm paying for an 8Mbps ADSL, my modem router  connected at 4.2Mbps data rate. Not that great but I was meant to expect such a performance. Honestly, that didn't matter to me that much. The continuous disconnections were really irritating and were killing my business. The reason for that was most probably the noise margin which read 6 for the downstream. Anything below 6 is considered a bad number and you should check your phone line for noise, call a technician, yada, yada, yada.
Searching online for bad phone lines, recommended modem routers and broadband routers that can handle bad lines you will surely bump into Draytek routers. I had never heard of them but apparently they have won a couple of awards lately as the best broadband routers available in the market. So, I had found the brand of my next broadband router. Deciding on the model, I wanted a wireless router and since n-draft is the latest addition in wireless connectivity, I went for the Draytek Vigor 2710Vn. This vigor router is also a voip router which means you can connect a Voip phone in your modem router along with your normal phone. I am planning on having a Voip phone sometime in the future as you get unlimited free calls with a couple of voip providers these days.
Let's take a look at the unpacking of the Draytek router.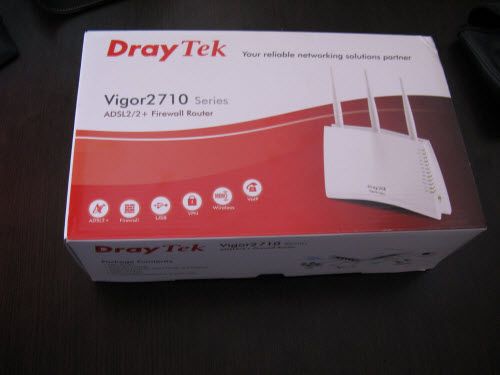 The original box.
The side view of the box indicating the actual model (2710Vn Annex A) and the model comparison chart for those who are looking for a cheaper Draytek router.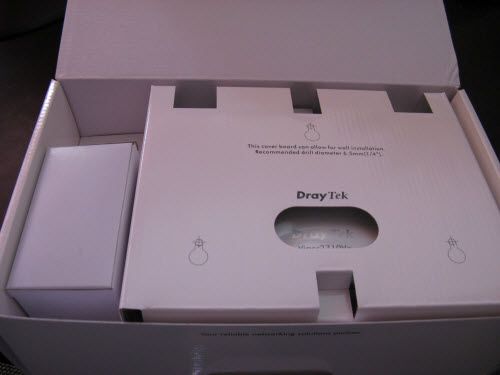 Opening the box. You can install the Draytek router on the wall.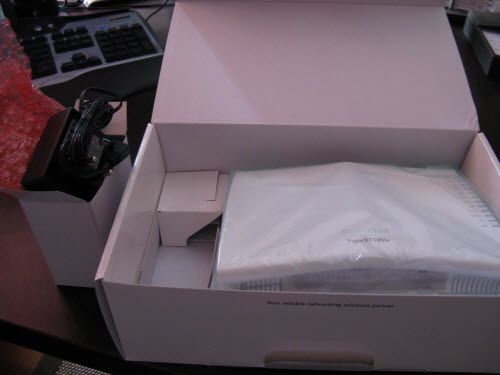 The actual router's packaging. I was impressed by the packaging overall.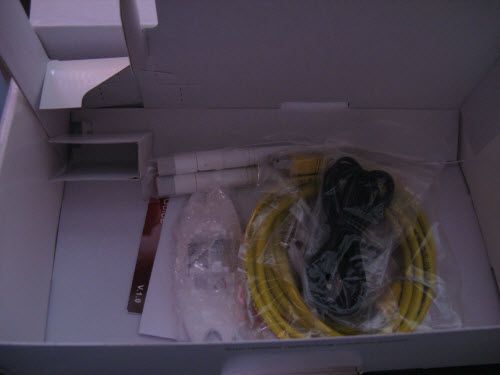 Under the Draytek router you'll find the line and ethernet cables, three antennas, the stand for vertical placement and some screws for wall mounting.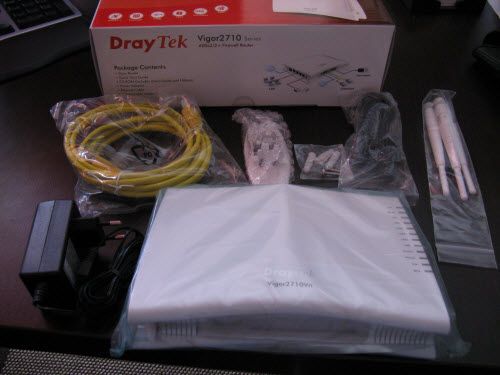 The whole box contents revealed. Everything in nylon bags. Neat.
Quality Check that no one has used the router after production.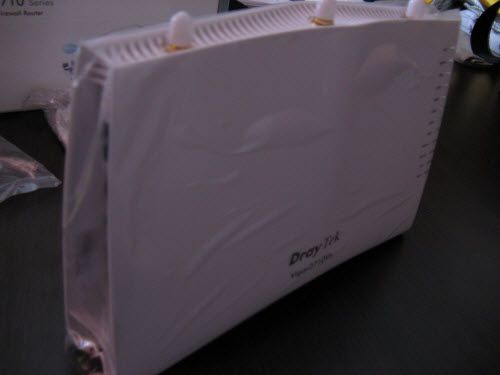 Surprise! After opening the nylon bag of the router, the Draytek Vigor is once again protected from scratches and the like by even more nylon! A very good packaging all together.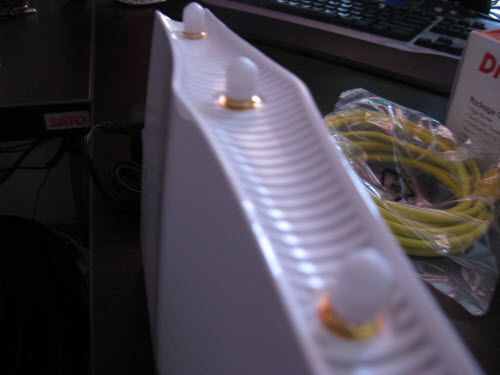 The antenna holders are protected as well with small plastic caps!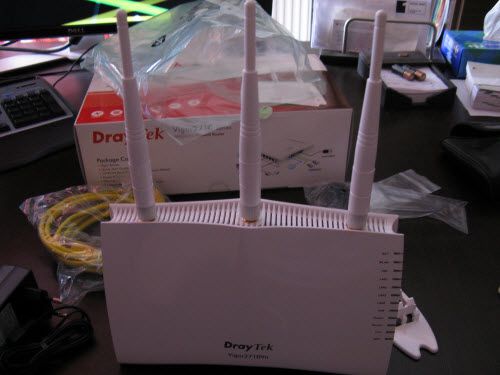 Installation of the antennas. They can pan and rotate.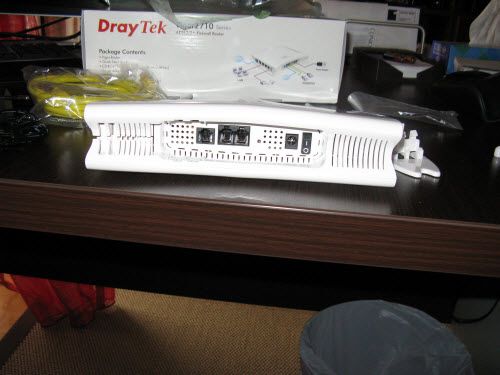 The bottom of the router. From left to right the phone line (not the ADSL line), two phone lines (phone and Voip phone), power connector and switch.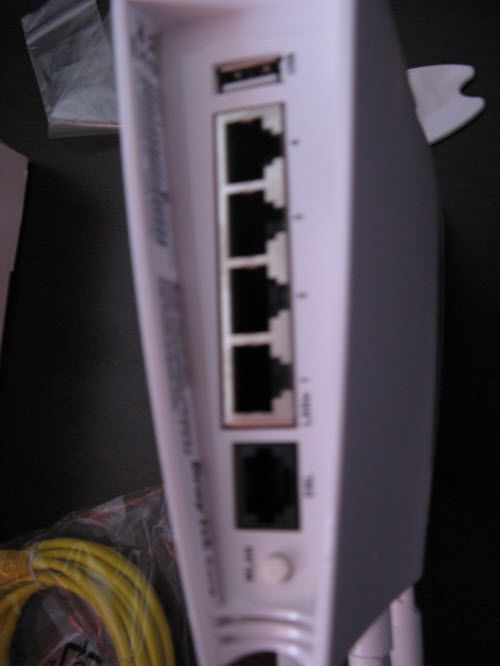 Side view of the Draytek router. Wi-fi switch (enable/disable), ADSL line, 4 ethernet inputs and a USB for USB sticks and external hard drives.
Now, after using the Draytek broadband modem router for almost a day, I have experienced zero disconnections and the SNR has actually increased to 8 using the exact same connections! I have also done the firmware update as every enthusiast PC user does with his equipment as soon as they buy it!
Model Name : Vigor2710 Series
Firmware Version : 3.3.0.1_232201
Build Date/Time : Aug 21 2009 15:14:11
The Draytek 2710 router is a wireless modem router which I highly recommend if your phone line is problematic and results to occasional disconnections.
Other than the router's performance, the 2710 offers a lot of functionality and has a lot of precious features you'll come to appreciate.
However there are a couple of difficulties I came across upon installing it. Firstly I lost the Caller ID functionality of my original phone. After some workarounds I wasn't able to re-enable it so I disconnected it from the router and reconnect it to the wall socket with a filter in-between. It seems the Caller-ID depends on the country-specific telephone system but I didn't manage to find out a solution, since Greece is not in the country list of the router's software. Additionally I found out that only FAT32 usb sticks or hard drives are supported. I connected an NTFS 120GB external drive but wasn't recognized. The same happened when I connected my new Corsair 32GB Voyager USB stick which is also formatted in NTFS. I don't want to use FAT32 storage since I mostly transfer files over 4GB which FAT32 cannot handle.
Still, I'm very happy with my new wireless broadband router. Currently the Draytek router connects with my Media Center computer, the DENON 3808 AV Receiver and the Panasonic BD35 BluRay all found in the living room while I connect wirelessly with my main computer in the office and with two laptops. I'll also look into building a small NAS to access my files via internet.
The broadband router modem is very important in online gambling. Read more in my article about how internet speed affects your online trading.