My new Sony Ericsson Xperia x10 mini pro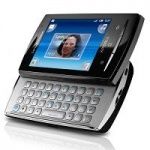 The replacement of my old phone is a new Sony Ericsson Xperia phone, called X10 mini pro. It is an Xperia phone based on Google Android mobile software and although Bluetooth issues exist and no Outlook sync option is available, I'm quite satisfied by my smartphone mobile. It is fast, easy to use and best of all I love its looks. The main reason to buy this Xperia mini pro phone was the size, while the mobile wireless features, Google applications and the keyboard certainly helped making up my mind.
As I have written in the past, I was looking for a couple of mobile solutions to aid me in my stock trading, online poker and blogging in general. Apple Iphone 4 was surely one of them, but the price didn't define it as a cheap mobile phone. Do I consider the Sony Ericsson a cheap mobile solution? Well, for giving me a very good touch screen, wifi, bluetooth and GPS, along with an easy to type keyboard and all these in a mobile that fits in my palm, I could have paid a bit more than €299. I may have ended up with the Apple mobile since I had downloaded iTunes a while ago, but giving away more than €1,000 for a mobile which loses reception didn't seem rational. On the other hand this buy of mine was indeed an impulsive action, as I bought the Xperia mini pro phone from a retail store rather than an online store and without first searching every forum and blog about opinions, reviews and problems.
Problems do exist with this mobile and I was only aware of the mediocre battery performance. I had read it can last up to 36 hours. Well, come on, obviously the battery isn't its full operational status in the first days and people do get busy with their new mobile phones, using every wireless feature they offer for hours. In fact, it is the first time I buy a mobile and I spend so much time with it the first day. I have owned a Sony Ericsson P800 in the past, but this little thing is a love at first sight. However all didn't go as planned right from the beginning.
I had it fully charged through my desktop computer's USB and then I wanted to do the first thing a businessman should do with his new phone. Connect it to the mobile software and sync his contacts. Apparently that's how I lost 2 hours of my day yesterday. You see the Sony Ericsson Xperia X10 mini pro was found by my computer's bluetooth, did pair with it but in the end the message that the phone couldn't connect came up. I must have tried for more than 10 times when I said, let's hook it up with USB. Again the same ending. I was getting worried, but fortunately it does connect via USB, it just need its time! Anyway, moving on and browsing innumerous forums online, I found out about the bluetooth issue and how you can overcome it by installing Android mobile applications. Although I installed the best rated Google application, I still haven't solved the problem.
Then came the problem about syncing the Outlook contacts with the mini pro. I will leave out the details and say that the best solution I have found and done is exporting your Outlook contact list as Excel CSV file through Microsoft Outlook, create a Google account, creating a Gmail account (not the same thing), importing that Excel CSV file into your Gmail contact list, setup your Gmail account into your Xperia mini pro phone and sync your mini pro contact list with your online Gmail contacts. Sounds like a lot of trouble? Trust it is the easiest, fastest and risk free solution.
I will be using my new Xperia X10 mini pro phone over the next days a lot, linking my Youtube and Google accounts and setting up connections with Facebook and Twitter built-in mobile applications. I will keep you updated of any findings in case you were interested in investing in a new mobile phone.