Fujitsu T900 Tablet PC: My Best Buy!
I have been using my new Fujitsu T900 for 2 days now, surprised by the multi touch capabilities and the excellent computer power of this tablet laptop PC. Before buying the Fujitsu tablet, I researched about laptops online as my previous Fujitsu P7120 died a week ago. My main target laptop would be a tablet as their technology seems to have matured and they offer more capabilities than normal laptops. I was looking primarily to Asus T91MT and Lenovo S10-3T, both at €500 price tag, then moved up to Fujitsu T5010 for €350, to end up with the Fujitsu T900 for the cheapest price I could find worldwide! Admittedly the price, the computer parts in it and the fact I regard the Fujitsu brand one of the best laptop makers led me to this purchase.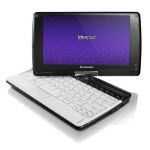 The Asus and Lenovo tablets are quite small, featuring 8.9 inches multitouch screens, while only Asus offers a pen with their tablet PC. On the other hand I kept reading better reviews regarding the Lenovo S10-3T tablet, but the lack of pen and complaints about the monitor quality persuaded me that the light weight tablet laptops still need improvements. Besides, their CPUs, an Intel Atom chip, couldn't hold up to the tasks I was interested in. I was mainly looking for a small and light laptop, possibly with a touch screen but not required, that could do web browsing, word processing and light web word effortless. Unfortunately they still have limitations even at these simple tasks, although their battery life is quite good and you can't go wrong if you are looking for web access on the go. They are extremely orientated to mobility, weighing under 1kg but I could go for a heavier PC for some extra money.
I then began looking for a normal laptop and gave up the whole idea of a tablet PC. My sole touch experience has come from my recently bought Sony Ericsson Xperia X10 Mini Pro, although I did own an Ericsson P800 almost a decade ago! Hewlett-Packard laptops seemed reasonably priced and offered good value for money. I have bought quite a few HP laptops in the past for relatives and didn't have a complaint from anyone, so that would be my choice if I bought a laptop. At around €600 I could get a quite fast laptop that could have the job done. But then I came across Fujitsu T5010, another tablet PC, which I have been researching about 2 years ago. Nowadays the tablet's price has dropped below the €1,000 mark and I began reading reviews about that, as the price difference wasn't significant.
I had already read very favorable reviews for the Fujitsu tablet years ago, so I was only interested to find out if the screen offered multi touch capabilities and what kind of computer parts were included for the €850 price tag in Greece. It turns out the computer power of the T5010 was almost equivalent with the contenders at that price, offering though an active digitizer screen and long battery life. I decided at that point to go for the T5010 which has been the choice of many professionals in the online business, and the €350 difference from ASUS and Lenovo tablet PCs was surely justified.
If T5010 is priced lower than ever, which is the most powerful tablet PC of Fujitsu? It turns out the Fujitsu tablet range has been populated by a couple of more tablet PCs. T4310 and T4410 tablets were also the laptops I had searched about in the past but their prices exceed the €1,500 and I certainly didn't want to spend once again a fortune for a laptop (the P7120 cost €2,100 4 years ago, a sad story). However they are not the only tablet laptop PCs Fujitsu offers to the public. Their top tablet nowadays is the Fujitsu T900 and I started to do a little research about this laptop. I quickly found out that they are being sold at Ebay, Amazon and the likes for more than €1,700 and I soon went back looking to the T5010.
While deciding on the Greek online shop I would place my order with, I found out that one of the most popular e-shops in Greece is selling the Fujitsu T900 for €1,299! Now, there would simply be a catch, I thought. I discovered that all other Greek shops (a few though, as Fujitsu is not that popular in Greece) sell the T900 for €500 more, so if I was to even look at this tablet laptop, I should do that with the online store with the great price. At first, I thought the catch should be the screen. The Fujitsu T900 was advertised having an active digitizer and no mention whether the screen was a glossy one or a matte anti-glare screen. The laptop is sold abroad with that kind of specs, and I didn't want to buy a tablet PC with an inferior touch screen. So, I said that the price difference comes down to the screen quality and, although the CPU, RAM and hard disk were far superior to the T5010, I didn't want to spend €450 more for just that.
Before I make up my mind about the T5010 though, I decided to send the online shop an email, asking about the T900's screen. We Greeks are infamous about our mistakes even worldwide, so the product description might have been wrong. And boy it was. The e-shop replied to me the next day, informing me that the Fujitsu T900 tablet PC included an anti-glare screen with dual digitizer capabilities! Ok, now we are talking about a tablet PC sold at major worldwide online stores for €1,700 or more! I immediately ordered a new T900, since 4 of them were actually available at my city! I could have my new tablet PC in a couple of hours for a really great price.

Upon visiting the shop to pick up my order, I was extremely skeptic. Once again, I was being cautious not to spend a lot of money on a machine that might probably not have what I buy it for. When they presented me with the box containing the Fujitsu T900, I went on and checked its specs mentioned above the barcode just to be sure. An Intel i5-520 CPU running at 2.4GHz, 4GB DDR3 RAM, 500GB 7200RPM hard drive and Dual Digitizer! Great! The Fujitsu T900 was exactly what I was expecting for, and… Oh, wait a minute. What's that in the specs? A 2MP camera!?!?! Well, that camera was never mentioned neither in the product description, nor in their email! No T900 found online featured a camera! I couldn't be happier, although obviously a web camera was the last I needed on my laptop. But I didn't refuse getting it as a bonus!
That is how I ended up writing this post on my new Fujitsu T900 tablet PC. Do I believe it's an expensive machine? I surely do, if you are going to spend about €2,000 for that. €1,300 seems very reasonable on the other hand and if you are getting the specs above, I truly think you are buying one of the best tablets if not laptops nowadays. So if you happen to be in Greece these days and looking for a laptop, you'd better hurry and pick up a Fujitsu T900 for €1,300. I even thought about buying all T900's and selling them at Ebay! And I'm not going to omit the dual digitizer, multi touch anti-glare screen and the 2MP camera on board in my product description!