My Online Poker Rankings for 2011 - Tournaments
According to official poker rankings, I have won $25,000 in online poker tournaments in 2011. That places me 80th in the Greek online poker rankings of this year, although they don't track my Ongame results, leaving about 3K out of the equation.

Although the best cash happened at Full Tilt Poker taking down the first place for $14,000, the EPT Grand Final satellite win at Poker Stars stood out, where my rank is about 5,000th, far away to compete with poker tournament pros. I also ran exceptionally at the Ongame network of poker sites, making into the money in 8 out of 15 tournaments (huge sample!) and winning more than $3,000 for a 121% ROI! I played an online poker tournament back in October for the last time, but that doesn't shock me as I don't really like playing poker tournaments for endless hours.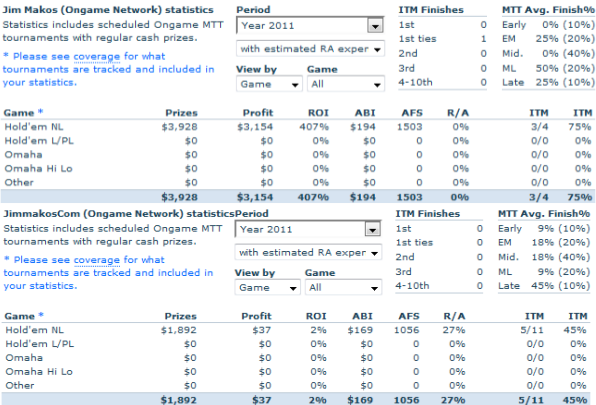 My 2011 online poker rankings aren't going to improve until the end of the year, but they won't get worse either. I'm not planning on spending another buy-in on any poker tournament in December, focusing on improving my poker skills at cash games, as I am really disappointed by my poker game there. Online poker tournament winnings were welcome in 2011 when I played awfully both in cash games and in live poker tournaments, such as EPT Grand Final and GSOP Live Greece. Although I hate travelling and the participation in live poker tournaments was the motivation to travel with the wife, that doesn't mean I shouldn't try my best. In fact I didn't like live poker either! There, I said it!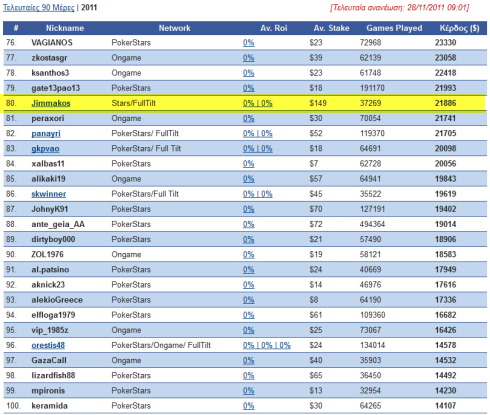 Greek Online Poker Rankings by Pokerland.gr
I'm not that optimistic for the future regarding online poker tournaments. Black Friday events have caused quite a stir in the poker industry and if I was an online poker tournament pro, I might be worried about my job. Discussing the matter with poker players, the majority of them don't consider the events that bad though; on the contrary they think they will boost poker revolution even more. I fail to see how worldwide poker tournaments such as Poker Stars Sunday Million will be successful when more countries limit access of their online poker players inside their borders, but maybe it's just me. Others don't believe the legislations about online gambling will take effect in the end. Either way, trust in online poker has certainly diminished, at least from my part having withdrawn almost all of my funds from Poker Stars, the poker room where I once spent 10 to 12 hours daily achieving Supernova status for 4 consecutive years and even trying for Supernova Elite in 2010.