Samsung Galaxy Note 2 Price Comparison at Amazon: France is cheaper than UK or Germany
Ordering the Samsung new mobile phone, Galaxy Note 2, from French Amazon marketplace is a lot cheaper that ordering the phablet either from German or English Amazon website! The quick price comparison I completed among the various Amazon websites revealed that delivering the new Samsung Note to Greece is 30 euros cheaper when purchasing from France compared to Germany, and a hundred euros cheaper than UK!

Upon reaching the final step of the checkout at Amazon, I can buy the Samsung Galaxy Note 2 for EUR584 including package and shipping costs to Greece when completing the checkout at the French Amazon.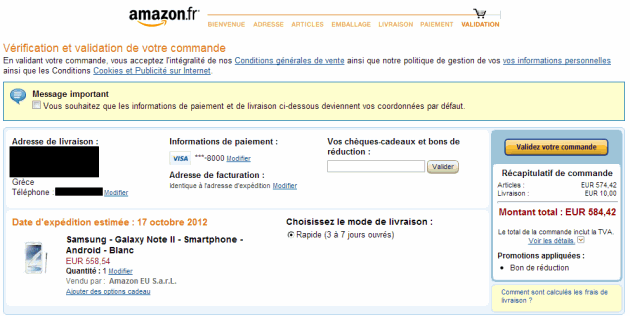 Moving on to the German website of Amazon, I need to spend EUR616 for the same mobile phone – by the way, it's called phablet as a combination of the words tablet and phone.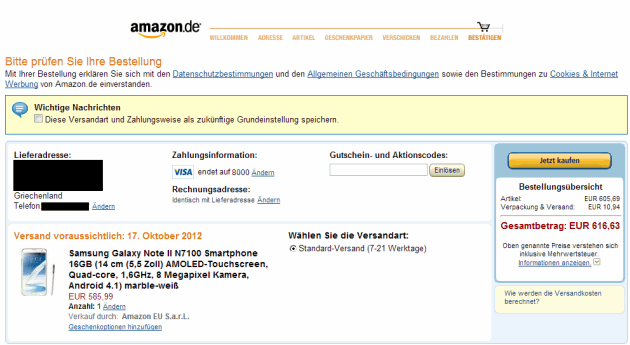 The most expensive Galaxy Note 2 can be purchased from the English website of Amazon for EUR689!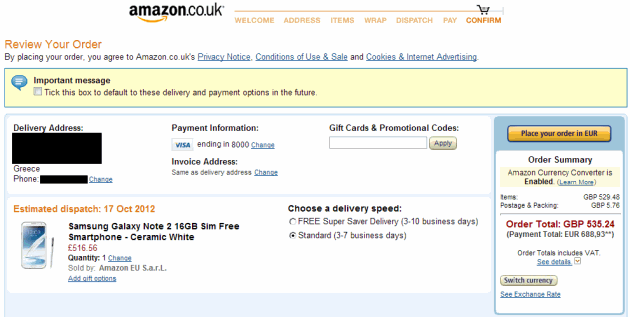 Excluding shipping and packaging costs, the Samsung mobile phone is still cheaper in France (EUR558), comparing the Samsung mobile price among the Amazon marketplaces. For the time being I'm patient enough to let the dust settles and wait for the mobile's price to come down to at least EUR500 before considering to buy the Note 2.
Did you know that the popular Samsung galaxy S3 can be purchased for about EUR450 nowadays when it first sold for about EUR600? And it was released just 4 months ago!