Sony Ericsson Xperia X10 mini pro Outdoor Night Video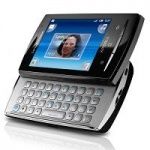 Following up my recent review of my new Sony Ericsson Xperia X10 mini pro, I recorded a video outdoors during the night. During the half minute video footage, I am watching live streaming video of the Mundobasket 2010 bronze medal game between Serbia and Lithuania on a 4-years old Fujitsu-Siemens P7120 laptop sitting at the balcony. The service is provided by Woop.gr which offered free High Definition real time video of the FIBA World Championship in Turkey.
Recording with the small Sony Ericsson mobile phone was piece of cake, switching the camera from photo to video mode in a second and turning on the flash light. The video is recorded with the LED flash on and you can see that it actually does a great job casting enough light to show objects nearby. I found the video quality quite good and the sound was recorded perfectly. Moving the video file (3gp filename) from the Xperia X10 mini pro to my desktop computer was done in a couple of seconds, although I could upload it to Youtube right from the mobile phone. When a video is recorded, there is an option to share the video via Gmail, other email service and Youtube, given you have already setup your Youtube account in X10 mini pro.
Apart from the excellent job the Sony phone did, I was really surprised by the Fujitsu-Siemens P7120 laptop's performance. I purchased it in 2006 and I could watch the basketball game in 720p High Definition quality, while running Skype, MSN Messenger and a couple of web browser's windows. Note that the video is in fact a live streaming video from Woop.gr using Google Chrome running at full screen. I also had an old web camera attached and connected, also working at the time of recording.
Although the Sony Ericsson Xperia X10 mini does have bugs specifically with its Bluetooth module and does not synchronize with Microsoft Outlook, it is a mobile phone that can do many more tasks quickly and efficiently, considering its size.